This hard-boiled futuristic thriller from rising star creators Alex Paknadel and Artyom Trakhanov stands out from a recent glut of sci-fi epics thanks to a smart, original premise and fresh, eye-popping visuals.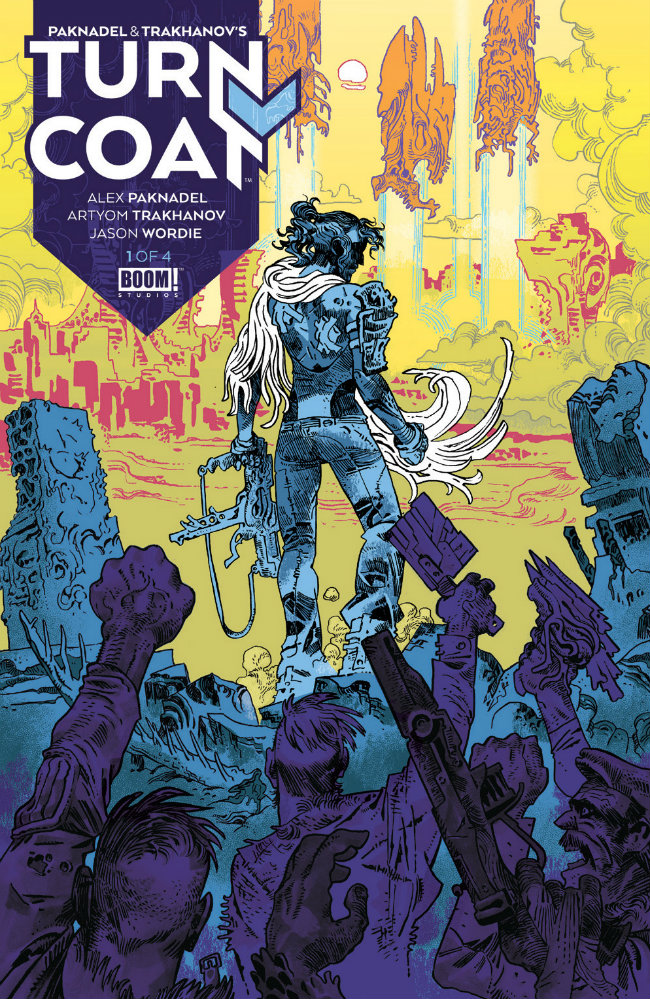 After three hundred years of alien occupation by a race known only as the Management, humankind has finally sent its oppressors packing, in Turncoat, the latest creator-owned series from critically acclaimed collaborators Alex Paknadel (Arcadia) and Artyom Trakhanov (Undertow).
The plot follows the story of Marta Gonzalez, once a loyal officer of the Management, who turned coat five years previously, providing the human resistance with the means to win the war against the alien occupiers. Three centuries is a long time, though, and the Management wasn't without its supporters among the general populace.
Loyalists view Marta with scorn and hatred, loathe to relinquish the benefits and rewards that came with obeisance. The resistance, many of whom now hold positions of power and influence in the post-occupation world, feel that Marta is untrustworthy because it took her so long to change sides.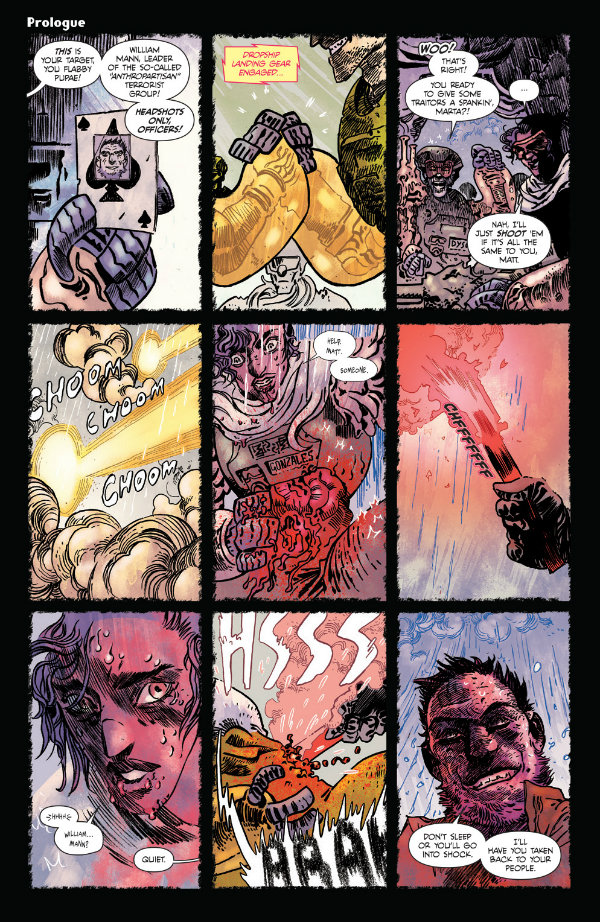 With no one to turn to but herself, Marta makes ends meet as a small-time private investigator, content to keep her head down and fade into the background. That all changes when a Management sympathizer hires Marta to find her missing son.
Sensing there's more to the case than her client is letting on, Marta starts digging deeper, uncovering a conspiracy that suggests the Management's interest in humanity reached far deeper than anyone could imagine. Their departure from Earth was abrupt and without conflict – a fact not lost on Marta, who spent most of her adult life in their service.
The world-building in Turncoat is rich and complex. Paknadel's twist on the classic alien occupation concept reaches deeper than most treatments of its kind. Marta's outsider status allows the reader to experience the world from a stark, cynical perspective that reveals the hidden pitfalls and unexpected triumphs facing any traumatized society.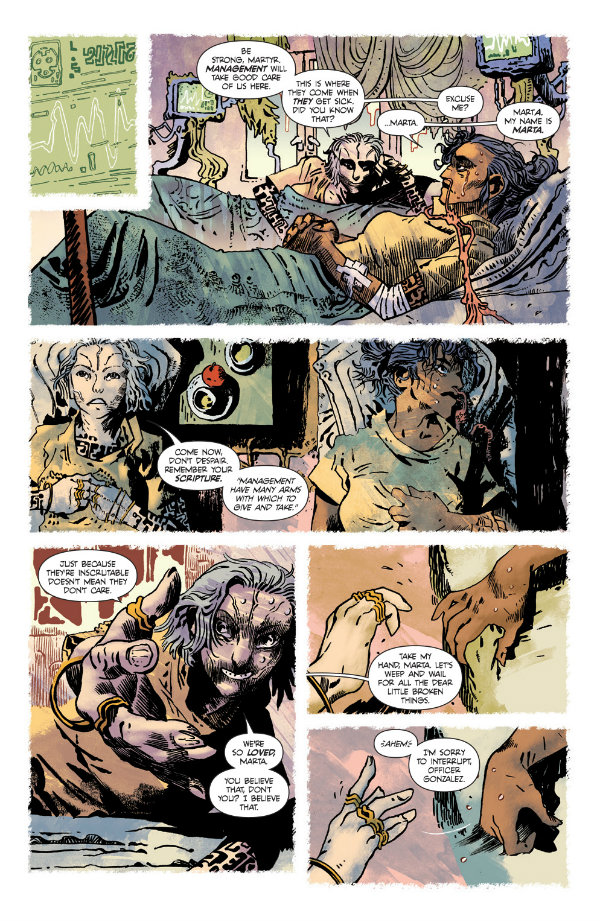 Ostracized by both former loyalists and resistance fighters alike, her assessment of society's current fluid state is honest, grounded in the cold, hard truths of her experiences on both sides of the fence. Even if the whole hard-boiled detective thing in comics is getting stale (it seems like there's a new handful every month), Marta's voice is strong and clear.
In fact, her chosen profession seems less like a job and more like the latest step in her ongoing resignation from her life. Considering that, I suppose her role as private eye makes sense.
Still, it would have been nice to see her cast in an occupation that wasn't so tried-and-true. The rest of Paknadel's vision is so strong and clear, to see it carried through to Marta's development would have taken the book to the next level for me.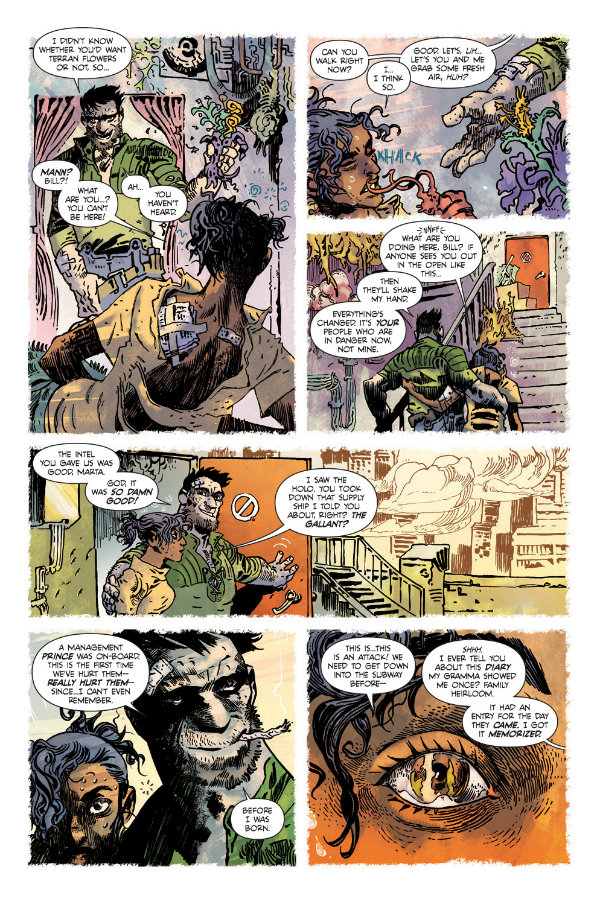 As is always the case in genre comics, much of the success of the visible world-building falls on the artists. In this particular instance, Paknadel's story benefits from the talents of both Trakhanov and colourist Jason Wordie.
The world of Turncoat isn't pretty. The Management's grotesque organic tech is visible everywhere, clinging to buildings and latching onto human skin when necessary, generally taking the place of traditional Terran technology in day-to-day life.
Trakhanov packs each panel with dirty, greasy details, his line work textured and raw. The world of the reconstruction feels cluttered and claustrophobic, a simmering, largely unspoken tension permeating every aspect of life.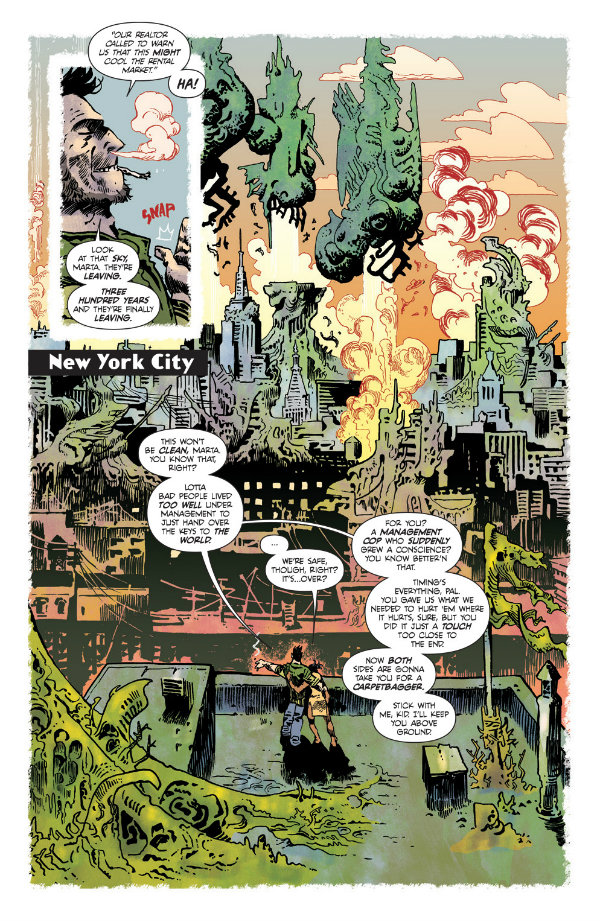 The Russian artist's bold, kinetic style captures the impending conflict with near-constant movement and innovative page layouts that underline the book's emotional drivers. Coupled with Wordie's robust, lurid palate, the end result is a refreshingly brighter visual tone than is typical for most stories of this ilk.
The past couple of years have witnessed a huge increase in the number of gritty, sci-fi comics on the shelves. It's getting harder to find really great examples of books that really take advantage of the genre's inherent strengths.
It isn't enough to create yet another near-future society with yet another angst-ridden protagonist to sneer their way through a global/galactic conspiracy: Blade Runner pretty much nailed the coffin shut on that particular motif.
Thankfully, Paknadel, Trakhanov, and Wordie have crafted an articulate piece of science fiction that digs a little deeper than most, delving into society's tragic flaws and ever-shifting loyalties with fresh insight and style.
Alex Paknadel (W), Artyom Trakhanov (A) • BOOM! Studios, $3.99