Last year saw a new comics event debut in Glasgow when João Sobral (O Panda Gordo), Jules Scheele (Queer: A Graphic History) and Jessica Taylor co-founded and launched Ghost Comics Festival spotlighting some of the very best alternative talent on the local indie comics scene. Sobral and Scheele are currently organising the second edition of the festival which this year expands to include exhibitors from outside of Glasgow as well.
João Sobral spoke to us at Broken Frontier about phase 2 for Ghost Comics Festival: "Following the success of last year's event, we secured a bigger venue this time and we opened applications (until 15 August) to give an opportunity to other local artists to exhibit, as well as other artists and small presses from across the UK. The main event – the comics fair – is happening on 26 October 2019, 12–5pm, at The Art School, in Glasgow. We're also offering workshops on the same day and venue as the comics fair, just like we did last year."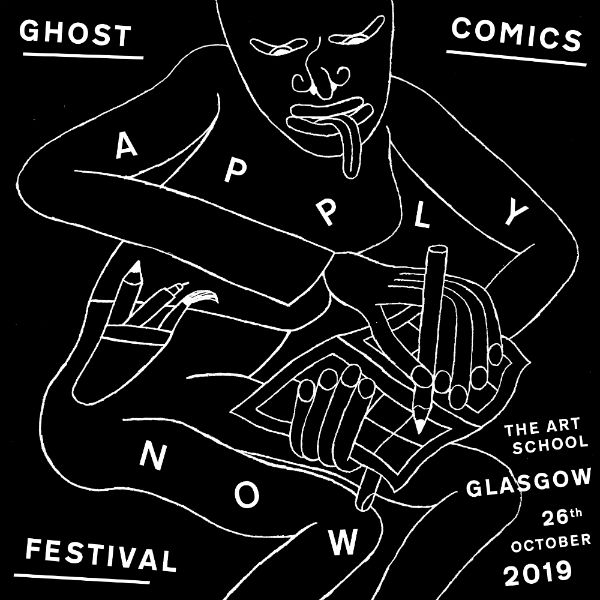 Sobral continued "Apart from that, we're commissioning someone to make this edition's poster and we're having an international guest. We're also partnering up with a couple other venues in Glasgow (independent bookshops) to host smaller events in the weeks leading up to our main event. Details regarding these issues will be announced soon…
"We aim to showcase a wide range of original, unique, and challenging work that promotes and represents the potential and diversity of comics, visual narrative storytelling, and sequential art. We want to provide an outlet for this kind of work to be seen and appreciated in Glasgow, as we believe it is often overlooked within both comics and visual art scenes."
It's always exciting to see indie events building up around regional comics community hubs and Ghost Comics Festival comes from two comics activists who have a proven track record of championing alternative and small press work; Sobral through micropress/distro O Panda Gordo and Scheele via the much missed One Beat Zines. Keep following the festival on Twitter for updates.