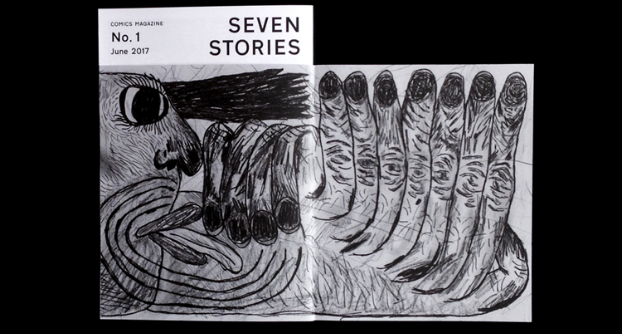 João Sobral's micropublishing venture O Panda Gordo began its life in Portugal several years ago. The project has since moved to the UK and is now based in Glasgow but, unsurprisingly, it retains a very cross-European sensibility to its output. A casual browse of the books on offer on their site underlines the alternative nature of the work they promote.
Seven Stories is an anthology from O Panda Gordo with a specific focus that reaches beyond the usual uniform theming that such enterprises often involve. It's an examination of literary critic Arthur Quiller-Couch's contention that all stories are essentially based around seven core concepts: man versus man, man versus nature, man versus himself, man versus god, man versus society, man caught in the middle, and man and woman. The gender-specific language of those classifications obviously reflecting the time in which they were written (they're amended to an inclusive version by Sobral in each official story title in the anthology).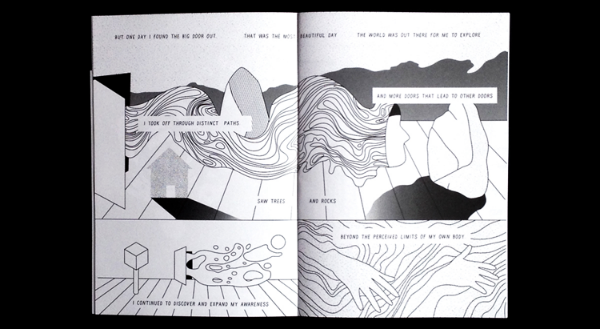 Sobral's objective with Seven Stories is to interrogate the validity of Quiller-Couch's arguably reductive definitions but one also suspects he's aiming to have some fun with the premise(s) he has appropriated as well. Seven comics creators have each been assigned one of those categories and present tales that range from the oblique to the more traditionally narrative-based. The artists taking part in this first issue include Amanda Baeza, André da Loba, Ed Cheverton, Joana Estrela, Nathaniel Walpole, Paula Puiupo, and Teresa Ferreiro.
André da Loba's opener tackles the conflict of 'Human Vs. Human' (above) with an abstract piece of storytelling that is all the more effective for the contradictions it embodies. Rather than removing the audience's connection with its "protagonist", its use of obscurer symbolism actually underlines the humanity at the story's heart all the more. Visual metaphor is juxtaposed with relatable coming of age narration allowing for greater empathy despite the step back from recognisable reality.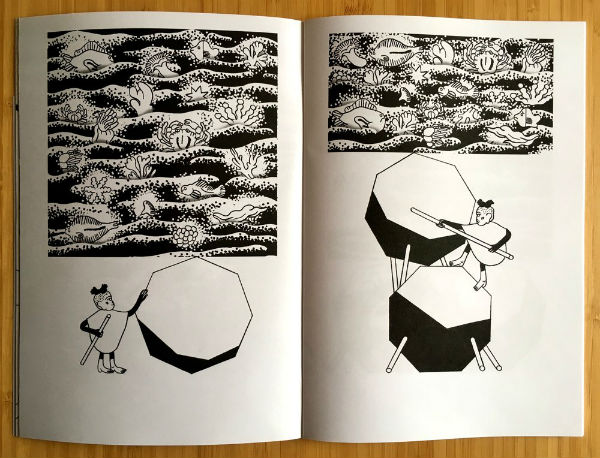 Amanda Baeza, who some may remember from her  kuš! comics Mono series offering Brume last year takes on the  'Human Vs. Nature' segment (above) in the finest piece of pure comics storytelling in the issue. If Baeza's name is new to you this will have you rushing to check out her work elsewhere. It's a silent offering pitting humankind and nature on opposite sides of the page with each realm impinging and impacting on the other (with humankind the aggressor) until an ultimate and inevitable convergence. An elegantly simple but quite brilliantly executed concept.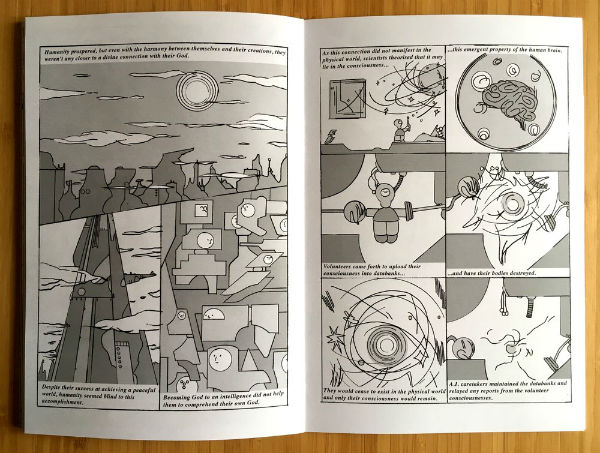 Other notable offerings include Ed Cheverton's 'Human Vs. God' (above) which plays with notions of artificial intelligence against a science fiction backdrop. Cheverton's distinctive representational, compressed artwork adds extra layers to this cyclical, ontological parable. Teresa Ferreiro sees the issue out with 'Man and Woman' (below) which evolves from a seeming slice-of-life story about a couple meeting at a book fair to a far darker exploration of the nature of objective morality. Its final page coda will undoubtedly stay with the reader long after putting the comic down.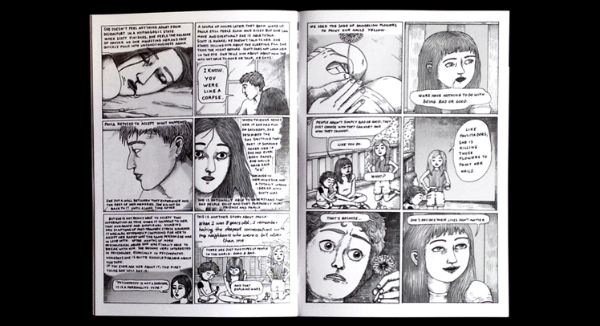 In terms of pure craft the contents of Seven Stories are perhaps varied, with some of the work getting to grips with its subject matter with confidence and inventiveness while others are noticeably rawer in delivery. The core conceit, however, is such a neat one that it can only be hoped Sobral's intention to publish new editions of Seven Stories on a semi-regular basis is realised. For the Baeza and Cheverton entries alone this is well worth the price of entry. 
You can buy O Panda Gordo comics including Seven Stories here and follow them on Twitter here. 
For regular updates on all things small press follow Andy Oliver on Twitter here.
Review by Andy Oliver