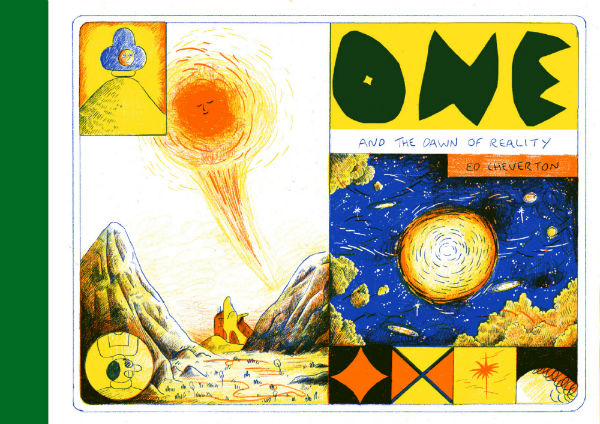 SAFARI FESTIVAL FORTNIGHT!
Combining old school space opera with re-imagined creation myth, Ed Cheverton's One and the Dawn of Reality is an A4 landscape format comic published by Otto Press. Intended as part of a larger ongoing epic this opening chapter acts as both an origin piece and an introduction to the fictional setting that Cheverton will be exploring in his 'Saga of the Spectral Pilot'.
The Spectrum is a rift that exists between the known and the unknown; described as "a dimension in a constant chaotic flux, home to an infinite number of cultures and species." Our point of reference in this sprawling neverwhere is the Spectral Pilot, the newly anointed spiritual messiah to the Spectral Guard whose quest for knowledge has taken him to the Guild Archive of the Astral Watch.
Here our protagonist is given access to ancient scrolls that chronicle the six Eternities that formed the universe and describe how the Spectrum came into existence. What he learns from them will reshape not just his own future but also the destiny of the strange stellar realm he inhabits…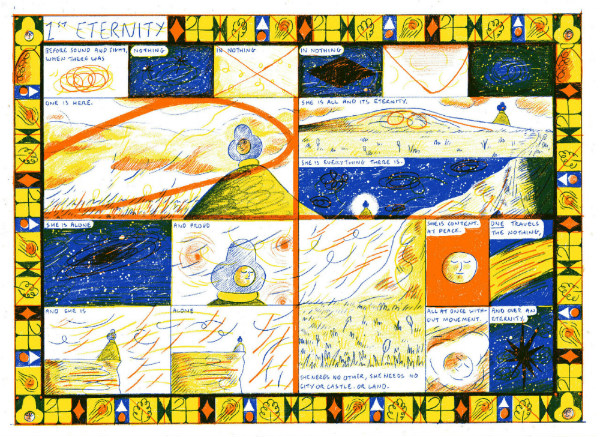 Those familiar with the output of minicomic and zines specialists Jazz Dad Books will, no doubt, already be aware of the work of Ed Cheverton. His small press imprint have put out some memorable short form work over the last couple of years and featured artists of the quality of Disa Wallander and David Biskup, and his own offerings from Jazz Dad have been among their most memorable publications.
With One and the Dawn of Reality Cheverton has taken on not just a longer-form project in terms of page count but also as a continuing serial venture. This first instalment is largely a set-up for what is to come with the Spectral Pilot's role contained in bookending framing sequences. What sits in between that premise-building is a gorgeously freeform interpretation of the genesis of reality that seems determined to manipulate every last iota of the singular potential of panel-to-panel storytelling.
In these pages we have a tale of creation that somehow manages to anthropomorphise eternity as a cute smiling cartoonish character but without ever undermining the integrity of the deeper themes it is exploring. Cheverton puts his own spin on those traditional stages of the creation myth, meditating on the concept of this state of being and attempting to lend definition to something that simultaneously remains indefinable.
Here "god" is not simply an entity but rather a canvas on which reality is written. Familiar religious standards are transformed into playfully skewed variants and the structure of the page is exploited inventively and dexterously to communicate the passage of time across millennia. The three colour risograph printing also gives events a slightly alien otherness – recognisable but one step removed from the mythology we are linked to.
One and the Dawn of Reality ends with prophecies to be satisfied and preordained roles to be filled in the future but I found myself far more intrigued by Cheverton's clever and intricate use of page, panel and the spaces in between to convey his slightly subversive theological ruminations than I did the overarching storyline. Still, this is a distinctive and fascinating opener and I eagerly await our next visit to the Spectrum and the opportunity to see exactly where Cheverton takes this story next.
One and the Dawn of Reality is available from the Otto Press online store here priced £8.00. Follow Otto Press on Twitter here and Ed Cheverton here. 
Otto Press and Jazz Dad Books will be exhibiting at Safari Festival on August 27th.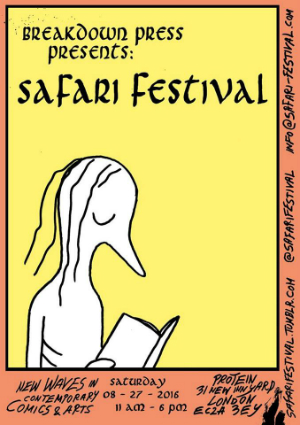 For regular updates on all things small press follow Andy Oliver on Twitter here.