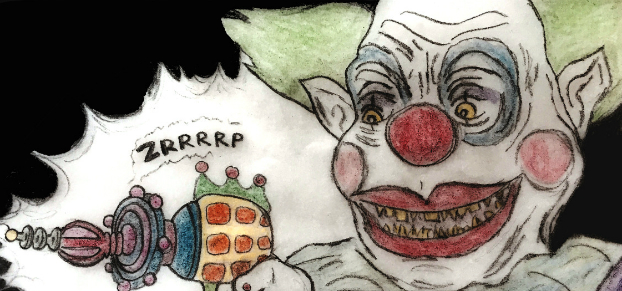 SAFARI FESTIVAL FORTNIGHT!
A newer face on the small press comics scene, Ally Russell makes her Safari Festival debut with the print version of her Killer Klowns from Outer Space comic. An adaptation of the Chiodo Brothers film it's a meticulous re-creation of the sci-fi/horror cult classic that is also available to read as a webcomic.
As part of our ongoing Safari coverage at Broken Frontier I chat with Ally Russell today about the challenges of translating cinematic narrative to the comics page, her love of low budget horror, and reaching a wider audience as a new self-publisher… 
ANDY OLIVER: Anyone following you on Tumblr or social media will be aware of your multi-disciplinary interest in the arts. Can you give us a brief overview of your journalistic endeavours to date?
ALLY RUSSELL: By day I work in the film and TV entertainment industry, interacting with both mainstream Hollywood programming and more niche genre content. I've always gravitated towards American mass media and popular culture, which is perhaps my reaction to growing up in an isolated and relatively conservative part of Australia. Age-inappropriate movies and trashy TV have been responsible for a large part of my cultural education, the influence of which is reflected in both my journalistic and comics output.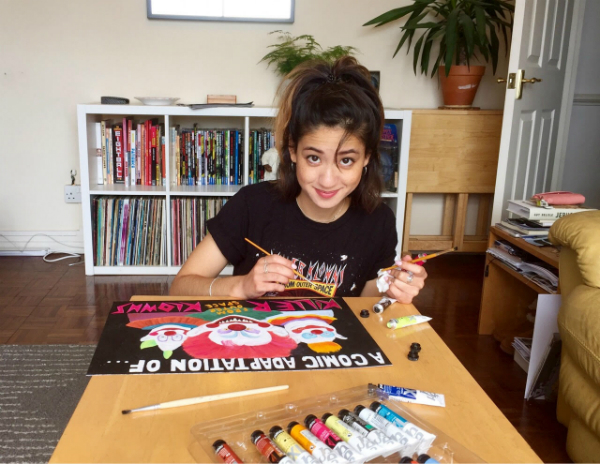 In terms of comics, which creators, genres and styles do you gravitate towards? Who do you count among your inspirations?
My first introduction to comics was via Daniel Clowes and Charles Burns, who will always remain major influences, and my all time favourite comics series is Paul Chadwick's Concrete, which is so intricately detailed in both its art and storytelling. Clowes, Burns and Chadwick are all masters of working with black and white, which probably explains my leaning towards that aesthetic.
More recently, I've been going back and reading the Alan Moore-era Swamp Thing issues, Junji Ito's Museum of Terror, and everything by Michael DeForge. I tend to favour narrative comics over the more abstract, but I'll read just about anything. I'm sure it all has some influence on me in some way or another.
As a side note, I am an avid listener of the Comic Books are Burning in Hell podcast. Joe McCulloch, Chris Mautner and co. are so superlatively knowledgeable about comics; I try to absorb as much of it as I can.
Your first major comics project is an adaptation of the 1988 Chiodo Brothers film Killer Klowns from Outer Space. What's the appeal of that cult classic for you?
The low budget horror genre has always appealed to me by the strength of its imagination, and I've also always been drawn to films where children and teenagers find themselves suddenly burdened with the very adult responsibility of saving the world (Night of the Comet, Babes in Toyland (1986 version), The Monster Squad etc.). This is probably because I was a such a serious and existentially fraught child.
I think Killer Klowns spoke to me for an adaptation because of the ingenuity of its visual effects, and because of the great female character in Debbie – she's notably one of the few '80s horror damsels saved from having her clothes torn off to gratuitous effect. There's also what I read to be an interesting comment on suburban conformity (check out Nick Drnaso's Beverly for the best recent comics exploration of this theme), and I love the childlike exuberance of the three Chiodo brothers creating a weirdo universe of their own well into adulthood.
Adapting something as niche as Killer Klowns from Outer Space could be seen as a difficult project in terms of appealing to a wide audience. Has there been an element of creating this as much for yourself as a potential readership? Of perhaps learning your craft in the process?
Yes, absolutely. I don't have any formal background in visual art (which you'll be able to discern from the inconsistency of the characters' appearances), so the project has really been an extended exercise in drawing and panel pacing. I've never expected for the comic to be something other people might be interested in, so audience appeal has never been a real concern.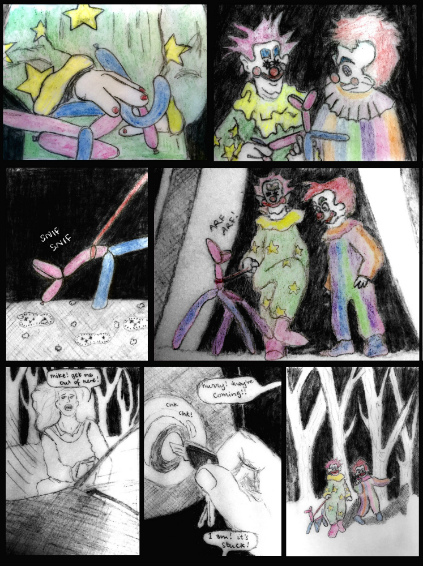 Have there been any particular challenges in adapting certain sequences to the comics page? Any parts of the film that have been difficult to translate in terms of pacing or visual continuity? Or any sections that you were tempted to use the language of comics to re-imagine?
The parts I've found the most challenging to adapt have been what I think of as the standout moments in the film. The balloon animal sniffer dog (above), the shadow puppetry sequence (below), and Tiny confronting the motorcycle gang, for example, are executed so beautifully by the Chiodos that I felt the most pressure to draw those pages really well. The action of those scenes also happens to be completely driven by fluid movement, making them the least amenable to conversion into still images. I hope they're legible to readers who haven't seen the film beforehand.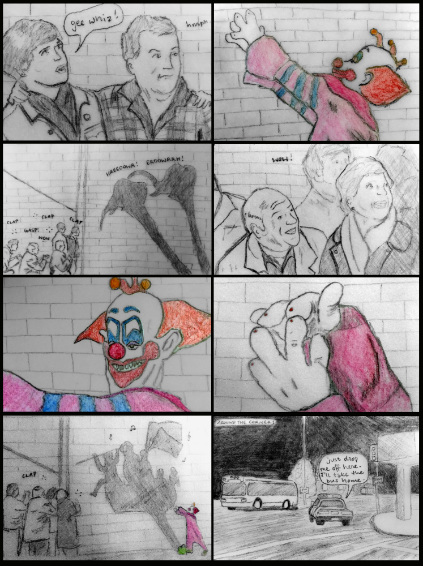 The print version is in black and white but the webcomic makes interesting use of colour that accentuates the Klowns' eerie nature. Can you tell us a little about those colouring decisions?
I'm glad you ask about the colour! Going back to the suburban conformity which I believe to be challenged by the film, I've always viewed the Klowns not so much as villains than as outsiders. (Okay, admittedly they do kill half a town and store their bodies in hanging cotton candy cocoons, but we can gloss over that part for now).
The symbolism of the Klowns' otherness is why I've accentuated the clownish hairstyle of one of the 'young offenders' unfairly brought in by Officer Mooney near the start of the book. Crescent Cove is a conservative setting ruled by stuffy older people, where a kid wearing a leather jacket and being in what's implied to be a same sex relationship is an arrestable statement of nonconformity. Then the status quo gets disrupted by an outside force, and it's up to the younger generation to work out a peaceful resolution. By drawing the Klowns in colour and the human world in black and white, I hope not only to illustrate their difference, but to suggest that said difference is something vibrant and full of life, to be embraced rather than feared.
That being said, the print version's in black and white to keep costs reasonable.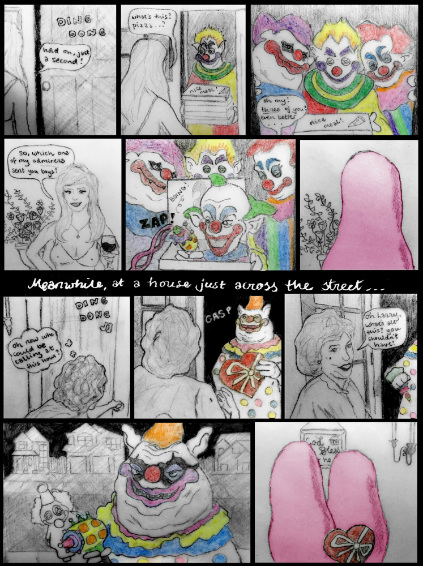 Could you describe your creative process on the comic strip? What materials do you work in?
Almost every panel in the book has been drawn during my lunch break at my  day job, using a promotional pencil from some hotel or other, and a pad of tracing paper, which gives the comic its smudgy, translucent look.
There's been a long mooted sequel to the film rumoured. Has the thought of creating your own sequel ever appealed to you?
I have mixed feelings about the possibility of a second Killer Klowns film. Actually, they're not so mixed. I quite decisively don't want for there to be another film! Only because a modernised sequel would most likely lose the analogue essence that makes the original so inventive, while on the other hand, a nostalgic, throwback approach risks becoming a little too pastiched. I realise that sounds hypocritical coming from someone who's redrawing the whole thing shot-for-shot for no particular reason.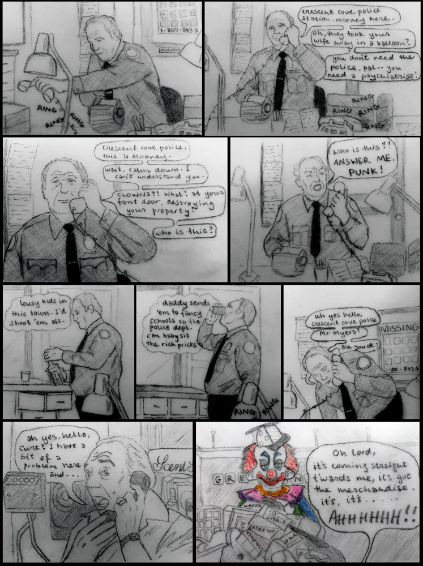 As a newer face on the small press scene how have you approached building a profile for yourself and your work? What have been the advantages of online delivery in reaching a wider audience?
I haven't set out for the comic to sell hundreds of copies or anything, but it is nice having people know that it is out there, should they be interested in taking a look. I tend to drift around comic shops and events saying hi to people I don't know, and I've been lucky enough to have Tom from Breakdown Press take an interest in what I'm doing, which has led me to be included in the amazing lineup for this year's Safari Festival. I was so inspired by last year's event; it's really positive seeing so many people turning out to support independent comics. Most of the time I view comics as an introverted hobby to retreat into, so it's nice to be reminded of the other like-minded people out there making really great work.
And, finally, what's next for Ally Russell? Do you have any plans for future comics-related projects you can tell us about?
I'm currently in the process of finishing Part II of Killer Klowns, however I'm very excited to finally move onto my next project, which will be an adaptation of the 1986 road thriller, The Hitcher. That's the Rutger Hauer version, as opposed to the 2007 Sean Bean remake. And it has nothing to do with Noel Fielding. I can't stress those last two points enough.
For more on the work of Ally Russell visit her tumblr here and follow her on Twitter here. Part 1 of Ally's Killer Klowns from Outer Space is available to buy in print here or you can read the webcomic here. 
Ally Russell will be exhibiting at Safari Festival on August 27th.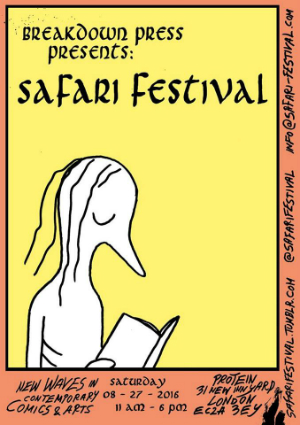 For regular updates on all things small press follow Andy Oliver on Twitter here.