SAFARI FESTIVAL FORTNIGHT!
I first came across Luke Stuart's work when tabling next to him at last year's Safari Festival, whereupon I was struck by his black and neon poster prints (which swiftly sold out), and drawn in by the dark humour of his horror-infused mini comics, 'Welter' and 'Ride'. Ahead of his return to Safari, I caught up with London-based illustrator Luke to find out more about his inspirations, process, and what we can expect to see from him at this year's festival. Here's what he had to say.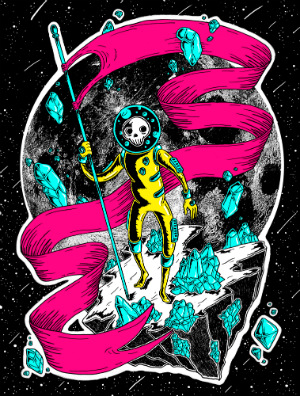 BROKEN FRONTIER: Your Instagram profile curates the types of imagery that inspire shades in your work (vintage cigarette adverts, giallo films, Tom of Finland style erotica)… How would you sum up your aesthetic in a few words?
LUKE STUART: I'm most broadly influenced by horror culture, queer culture and history, so I suppose my basic aesthetic is a mash up of all those things.
Your illustrations use motifs of Minotaurs, dragon slayers etc. Can you tell us more about your interest in mythology?
When I was younger I loved reading myths and legends from around the world. I also love the films of Ray Harryhausen and the amazing creature puppets he had. I guess I've never really lost my fascination with mythological creatures, they're always fun to draw and because they are so ingrained in popular culture it's easy to use them in lots of interesting ways.
You're evidently proficient in all sorts of styles, from pencil, biro and marker drawings, to inks, and digital colouring. Would you say you have a particular process? What's your setup when you work?
When I first started out I experimented with a few different techniques and materials to try and find a style that worked for me. I still try to experiment a little but I mainly sketch out my ideas in pencil first, then ink them using pens, and then scan the inked picture and colour it in Photoshop.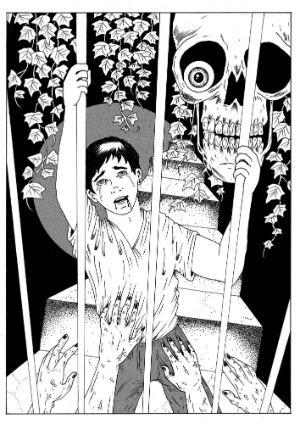 You use a very striking palette of colours. How do you make those decisions?
I really like bright colours, and I try to only use three of four different colours for a picture in order to try and keep it bold and striking. The way I choose them is just basic colour wheel stuff really, but I've always had a soft spot for certain colours, particularly neon pink.
You're also enviably prolific! Do you keep a sketchbook? Do you draw every day?
I always have a sketchbook on the go and I try and draw something every day, even if it's just a little doodle.
I love the storytelling in your more narrative work, as well as its great sense of humour. Who are some of your comics idols?
Thank you very much! Some of my favourite comic artists are Richard Corben and Suehiro Maruo, both masters of horror comics but in very different ways, and Bill Ward's erotic gay comics are fantastic. I also really love Aubrey Beardsley and Harry Clarke for the amazing mix of the beautiful and the grotesque in their illustrations.
Can you reveal what you'll be bringing with you to Safari Festival this year?
I'll be bringing three brand new zines: Bloody Mary, Rot Garden and Welter 2. Also I'll have copies of my old comics, as well as some art prints and stickers!
Is there anyone on the line-up that you're particularly looking forward to seeing?
I'll be definitely checking out the Decadence Comics and kuš komiksi tables and of course Breakdown Press. But half the fun is finding new cartoonists and illustrators and seeing what they've brought.
Follow Luke's latest work on Instagram here.
Luke Stuart will be exhibiting at Safari Festival on August 12th.