A SAFARI FESTIVAL TIE-IN!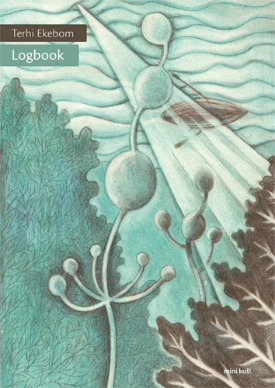 With Latvian micropublisher kuš! making a welcome appearance at London's Safari Festival on August 22nd it seems an appropriate time to take a look at the last four releases in their mini kuš! series of minicomics. The kuš! quarterly output consists of a digest-sized anthology (the economically titled š!) and four simultaneously released single comics with a double aim of both pushing Latvian creators in a country with little comics traditions and also showcasing a whole array of cross-continental artists. They will be launching their next set of books – including a fashion-themed collection – at Safari.
This time around the four mini kuš! offerings consist of work from practitioners from France (Marie Jacotey), the U.S. (Lala Albert), and Finland's Amanda Vähämäki and Terhi Ekebom. Ekebom's offering (mini kuš! #30 below) is the haunting Logbook, a metaphorical fantasy that deals with themes of loss and moving on.
A mysterious house, inhabited by two women and one ailing man, sits semi-submerged in a vast watery expanse. The man is bedridden and being slowly consumed by a ball of darkness. It's only by harvesting strange light-producing pods from the sea that the women can keep the shadowy malady at bay. Ekebom's irregular panel placement and construction echoes the sense of being adrift – both physically and emotionally – that is such an intrinsic part of the narrative; the soft, rounded panels feeling almost like they are floating across each page. Powerful and haunting, Logbook is a painfully beautiful piece of storytelling.
Fellow Finn Amanda Vähämäki's It's Tuesday (mini kuš #31 below) is an oddly rhythmical tale of small town life in Finland. There's a delivery at the local charity shop, apples are being gathered, and an art class is coming to a close. It's life at its most pedestrian and inconsequential until the shadow of something more sinister falls over the proceedings in its latter pages. A slightly unsettling juxtaposition of the humdrum and the disturbing brought to vibrant life by the delicate colouring. As a complete narrative it does feel perhaps a touch unresolved but that's often the nature of slice-of-life storytelling.
Lala Albert's R.A.T. (mini kuš #32 below) is a far more rigidly structured short story working its way to a twisting piece of poetic justice. The R.A.T. of the title is a Remote Administration Tool – a piece of malicious software that allows remote viewing of its victim through her webcam – that a cyber-stalking loner has placed on a young woman called Candy's PC. A tortuous tale of revenge, irony and just desserts, Albert fosters a suitably tense atmosphere of paranoia here through her eerie colouring and claustrophobic panels.
Finally, Marie Jacotey's BFF (mini kuš! #33) follows the weaving relationships of two best friends – Stan and Rob – and Amy, the woman they have both been in relationships with. The use of BFF in the title is a somewhat biting one in tone as, for all of Stan and Rob's professed loyalty to each other, indulgent self-interest will prove to be the victor here. Jacotey's soft focus art and muted colouring adds to the air of sexual tension and raw emotion that permeates each panel, and her use of cursive lettering for dialogue gives the story an appropriate naturalism given its subject matter.
The joy of the kuš! approach to publishing is always in the true diversity of the work they curate for their publications. This set of mini kuš! is another fine example of that spirit. If you're in the UK and you have yet to discover their output then I would suggest their table is your very first port of call at the upcoming Safari Festival. It's a visit you won't regret.
For more on kuš! visit their site here, their online store here, and follow them on Twitter here.
For regular updates on all things small press follow Andy Oliver on Twitter here.
kuš! will be exhibiting at Safari Festival on August 22nd.