From his days overseeing Jazz Dad Books to his minicomics and self-published practice, one of the great joys of picking up an Ed Cheverton offering is that he always plays by his own rules, eschewing the conventions of the form with an idiosyncratic approach to graphic narrative that is very much part of the offbeat allure of his work. The City is another example of how the standards of both narrative structure and presentation are often subverted in his comics. It's pure Cheverton in its merging of the existential and the experimental with an unashamedly DIY culture vibe to its physicality.
There's no cover per se to The City with the comic's title and creator credit sitting unobtrusively along the spine of its back page and the reader being launched straight into events from the very first outer page. The story focuses on a lone explorer of what either appears to be an empty city or one that has been abandoned. As they travel through its silent environs – from its lofty heights to its grounded walkways – they speculate on the reasons behind its design and functionality and, as they do so, begin a journey towards their own epiphany of self-discovery.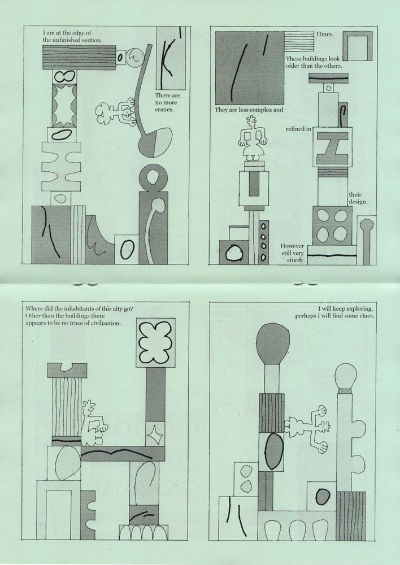 The City is a story that allows the reader to find their own truths in its pages, whether you desire to interpret it on an allegorical level about finding our place in the world or as a more abstract, symbolic, stream-of-consciousness. Cheverton's protagonist wanders through this urban landscape, their perspective ever shifting as their interactions with its odd shapes and structures elicit a similar twisting, turning change in our own connectivity with the comic's pages. Strangely otherworldly in the telling contrast between its single character's eerie solitude and the redundancy of the empty locale they find themsleves in, The City is a fleeting and ephemeral experience, and yet a peculiarly profound one at the same time.
For more on the work of Ed Cheverton visit his site here and follow him on Twitter here. You can buy The City from his online store here priced £3.00.
For regular updates on all things small press follow Andy Oliver on Twitter here.
Review by Andy Oliver