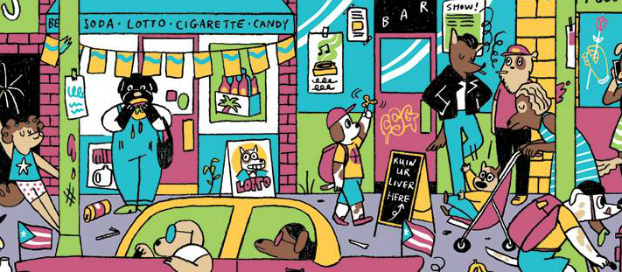 BROKEN FRONTIER AWARDS – BEST ONGOING SERIES NOMINEE!
Latvian-based micropublishers kuš! comics celebrated a decade of publishing in 2017 – a year that also saw their alternative comics fare nominated for an Eisner Award. Their acclaimed quarterly š! anthology was also recognised in the Best Ongoing Series category in our 2017 Broken Frontier Awards and, in another BF link last year, kuš!'s Sanita Muižniece was also a guest on the Broken Frontier Panel I chaired at ELCAF 2017 talking about 'Comics and the Micropublishing Revolution'.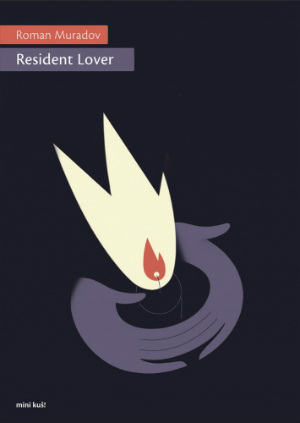 kuš! have provided a platform for creators from across the globe over the last ten years, giving a spotlight to international  approaches to the form and bringing them to far, far wider audiences than they would have seen otherwise. They've also published work from some of the cream of contemporary indie creators including Michael DeForge, Lala Albert, Theo Ellsworth, GG, Roman Muradov (new mini kuš right), Inés Estrada, Gareth Brookes, Noah Van Sciver, Simon Moreton, Alabaster Pizzo (cover sample from š! #30 above) and Jesse Jacobs. 
With the next š! anthology and mini kuš! set of minicomics released this week it seemed an opportune moment to catch up with co-publishers David Schilter and Sanita Muižniece for the first time since our 2015 interview. They talk about the highlights of the last ten years, their wider comics activism and what we can look forward to from kuš in 2018… 
ANDY OLIVER: For those coming to kuš! comics for the first time how would you describe your publishing philosophy and output?
kuš! comics: We publish small books by alternative comic artists from all around the globe and have a special focus on works from Latvia and Northern Europe. Yearly we publish about 4 anthologies on a certain topic with 20 participating artists each and about 16 short comics by individual artists.
In 2017 kuš! celebrated its tenth anniversary. What have been some of the absolute highlights of that decade of publishing for you?
The official highlights are certainly the Angoulême award for best alternative comic in 2012 and the Eisner nomination as best anthology in 2017. Personally, we are delighted to work with so many accomplished and rising artists, and there's a special gratification we feel seeing that we have motivated young Latvian artists to start creating comics that has led to starting a vibrant and exciting local comics and illustration scene in Latvia.
š! #29 – cover and sample pages by Mārtiņš Zutis, Elīna Brasliņa and Rasa Pavilona
Your flagship title – the š! anthology – is a themed collection of stories and was nominated for a Broken Frontier Award for Best Ongoing Series for 2017. Can you give us some background on last year's #29 which was a (near) all-Latvian celebration issue?
So as our first ever issue didn't include any Latvian artists, except for the cover drawing, we thought we should turn it around and make an all-Latvian issue for the anniversary. König Lü. Q. was the only non-Latvian, but he is in every issue, so he couldn't miss this one. It was surprisingly easy to make an all-Latvian issue after all these years. And as we had a summer school of comics with Hamish Steele (Pantheon) and Alexis Deacon (Geis) in Riga last summer, we discovered many more local talents, so we might have to make even more Latvian-only issues before our 20th anniversary.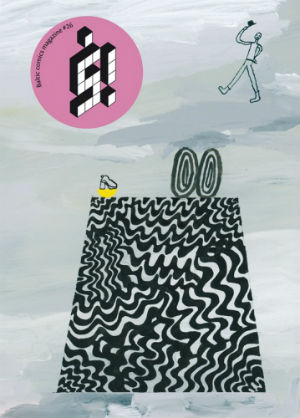 Speaking of awards you were, of course, nominated for that Eisner Award for your 'Dada-themed' issue (right, cover by Zane Zlemeša) as well last year. How did it feel to see that level of recognition for kuš!'s work?
It was a pleasant surprise and an honour as usually it seems the Eisner awards are not nominating that many alternative comics. It sure was great to get slightly wider known in the US. Such recognition from the jury members gives an extra motivational boost to us as well.
The most recent ŝ! anthology (#30) was another special issue guest-edited by Gabe Fowler (Smoke Signal) and featuring mostly Brooklyn-based artists. What was the genesis of that very focused theme for the issue?
After Comic Arts Brooklyn 2016 we joked with Gabe we should exchange anthologies. Surprisingly Gabe took us up on it and we exchanged our issues which were due to come out for CAB 2017. So we did Smoke Signal and Gabe told us he wanted international artists from around the globe, except Northern America, while we asked Gabe to invite American artists and he decided to do a special focus on his closest artists, living basically in the neighbourhood of Desert Island in Brooklyn.
You're back to the usual international line-up with ŝ! anthology #31 in an issue featuring artists from across four different continents. What can readers look forward to in the 'Visitors' edition?
The usual, but the selection was quite specific. It's basically another anniversary issue! All the artists invited have at one point visited us in Riga, or we have visited them abroad. Except Power Paola who unfortunately had her trip cancelled at the last minute. But basically it is a get together on paper of old friends and almost a little "best of kuš!". But readers don't need to worry, the stories are not focused on Riga or on kuš! but generally about all kinds of visitors; some friendly, some imaginary or spooky.
Pages from the Brooklyn issue of ŝ! by Rob Corradetti, Caroline Paquita and Kevin Hooyman
In late 2016 you opened an issue up for submissions for the first time in a while. What was the response to that like and do you have any plans to do it again in the near future?
We got a huge response. Even though we didn't promote it very much, we got over 250 submissions, which were mostly especially made for the open call. Gladly we had an intern at the time who could handle our inbox. What is kind of funny about open calls is, that you get much more response for the competition than for the actual release of the book. Still it's always a great way to discover new talents and as we have another intern this spring, we decided to do another open call, which will be announced in about 2-3 weeks.
The 'Visitors' issue released this week – cover and interiors by Aisha Franz, João Sobral and Līva Piterāne
Complementing the main anthology is your mini kuš! series of minicomics which continues to attract some hugely acclaimed names in indie and alt comics like Roman Muradov, Noah Van Sciver, Patrick Kyle, GG and Michael DeForge. You have another very eclectic line-up for the next four issues. Can you tell us a little about the curation process for the line?
For the mini kuš! we usually invite artists with whom we have collaborated in the anthologies. Sometmes there are artists we havewanted to invite for a long time, but they didn't fit in any anthology, so we invite them for a mini. When considering whom to invite, we apply the same principles as for the anthologies and look for artists with a distinctive style and interesting stories.
The series started as a way to give young artists a way to do something in between a short anthology story and a graphic novel, basically as a step to try to create longer stories. For many of the artists it was their first longer comic, while some of the more established artists of course have done longer work. For them we offer it basically as a playground where they can create and experiment as much as they want, just based on the limitations of the format but with no restrictions on the content. While they might face restrictions by bigger publishers to do something commercial, with the minis they have the space to weird out.
Sample pages from the new mini kuš! issues from Abraham Diaz, Pedro Franz and Francisco Sousa Lobo
You also now have a Mono range of comics which give featured artists an opportunity to present much longer-form narratives. Who are some of the creators you've featured to date and will this be a regular part of the kuŝ! schedule going forwards?
As there are only 5 up to now I will mention them all: Roman Muradov, Theo Ellsworth, Amanda Baeza, Zane Zlemeša and Samplerman. We planned to do such a line for a long time, but finally Roman sent us work for an anthology which just was too big, so we decided to make a separate book out of it. Then the series slowly continued, we offered to artists to take part, or they offered us to do some special work for it.
There we also work with people whom we have published for a longer while. As the books are more expensive to produce, we also need to be very sure about the work that we can get the very best. For the minis of which we produce so much, we can just let it flow and be more free about it. So the monos are a bit more complicated. We certainly plan to continue the series, but currently have no specific title lined up.
kuš! mono books – Amanda Baeza's Brume and Theo Ellsworth's An Exorcism (reviewed here at Broken Frontier)
kuš! have always been involved not just in publishing but also in events and exhibitions. What have you got planned in that department for this year?
Hmmm, maybe after a very intense anniversary year with summer school, about 14 festival visits, several workshops and exhibitions it should be time to relax a bit. But it's probably not going to happen. Just two weeks ago I had a talk about Latvian comics at the Comix Home Base in Hong Kong and soon we'll have several exhibitions coming up in our temporary gallery space in the centre of Riga, and then we have a group exhibition in Helsinki and Belfast later this year.
In spring we'll have a workshop with Anna Haifisch in Riga, Rui Tenreiro is coming over in March for an Artist's Talk, Oskars Pavlovskis will be doing a kuš! workshop at Funhouse festival in New York. Līva Kandevica and Lote Vilma Vītina are doing a residency in Austria with House and Tonto. We'll send another artist for a residency with Entrevinetas in Colombia. In March we'll do a workshop with Anna Vaivare in Tyumen in Siberia and in March and April we'll present the results of the summer school at the Bologna and London Book Fairs. Probably still a bunch of things I forgot and of course many more festivals which we'll visit.
More from the kuš! mono books range including Zane Zlemeša's Fenix and Samplerman's Fearless Colors
And finally, what else can we expect to see from kuš! in 2018 in terms of comics projects?
As usual we plan to release 16 mini kuš! and 4 anthologies. We also get to guest curate a foreign anthology again. All projects are still secret, but there will be some very special issues coming out. After 10 years we don't want to just always repeat the same things, but try to find ways to surprise both us as well as the readers.
For more on kuš! visit their site here, their online store here, and follow them on Twitter here.
For regular updates on all things small press follow Andy Oliver on Twitter here.