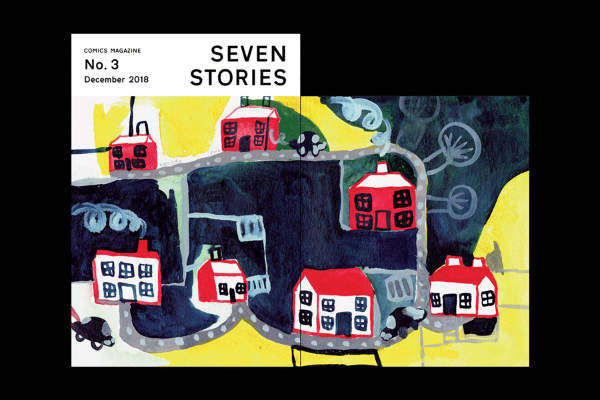 We're playing catch-up a little at the moment with anthology series Seven Stories – artist João Sobral's pet project through his O Panda Gordo micropress – given that two issues have been published since we covered #2 back in January. However, given that this unique anthology is fast becoming one of my very favourite offerings of alt comics out there at the moment I am keen not to skip any issues.
For those coming to the comic for the first time, it's based around nineteenth/twentieth century literary critic Arthur Quiller-Couch's argument that all stories revolve around seven basic premises. Those concepts are presented by Sobral in Seven Stories in more considered, non-gender specific terms than Quiller-Couch's original titles as: human versus human, human versus nature, human versus oneself, human versus god, human versus society, human caught in the middle, and woman and man.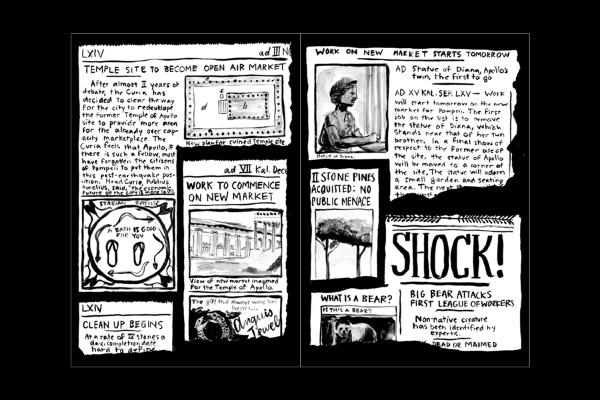 As with previous issues there's an inspiring introduction by Sobral on the inside of the comic's tactile outer cover (by Katie Lundie); this time talking about the Scottish small press community he is a part of and discussing the importance of this special number dedicated to the work of Glasgow-based artists. This issue features work by Johanne Deffarges, Suds McKenna, Jules Scheele, Jessica Taylor, Sobral himself, Kathryn MacDonald and Isobel Neviazsky.
The very reason I have come to enjoy this anthology as much as I do is also, admittedly, the same one that may make it seem a little daunting to others. Seven Stories can be experimental, raw, abstract and challenging but that's its charm. This is a publication that always explores and pushes the boundaries of comics as a narrative form and #3 is no exception. One of the highlights this time around, for example, is Jessica Taylor's 'Human vs. God' (above) which re-imagines events in Pompeii prior to the volcanic eruption through a scrapbook-style series of newspaper fragments, adverts and other ephemera. It gives a different perspective on the "sequential" part of "sequential art" with contemporary reportage echoes to its commentary on celestial involvement in proceedings.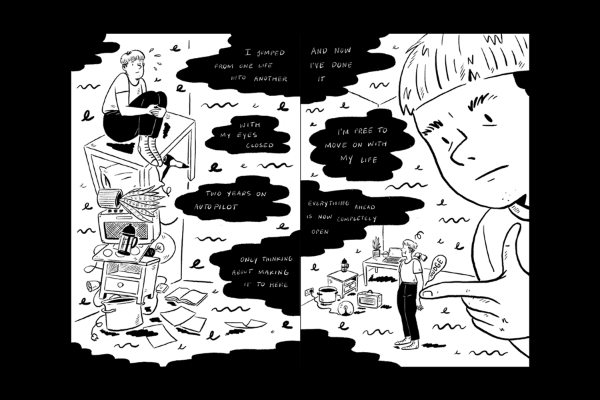 Long-time BF favourite Jules Scheele provides a four-page interpretation of 'Human vs. Oneself' (above), a self-reflective piece that underlines their skill at immersing the audience in a state of mind through vivid visual metaphor. Scheele's work always speaks to the reader with a profound emotional strength and, as ever, I have a genuine longing to see something longer-form from them in a solo capacity.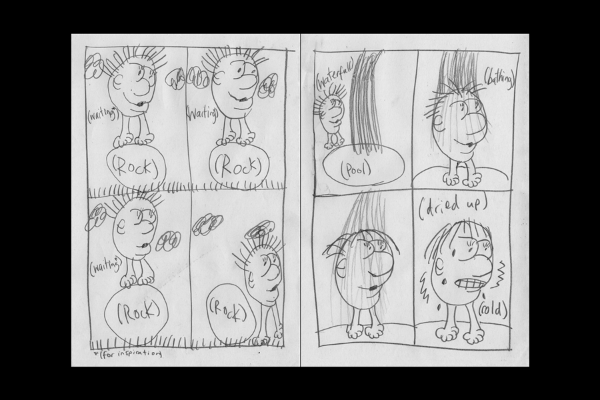 In another strong issue I was also taken by Suds McKenna's stripped back 'Human vs. Nature' (above) which by embracing an overt crudeness in presentation actually showcases the raw mechanics of the form and, in a meta way perhaps, says as much about comics as a structural narrative as it does the surface theme of the story. Also playing with the tools of the medium is Sobral himself who, in his 'Human vs. Society' (below) brilliantly manipulates page composition, speech balloon placement and panel spacing to express lives briefly converging and passing within the confines of a bus.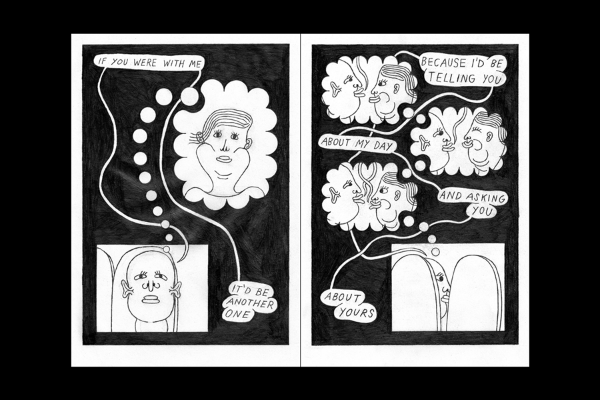 Seven Stories is probably the most intriguing British-based small press anthology that I suspect many of you are currently not reading. O Panda Gordo, and this project in particular, deserve far more press than they've had to date. If alternative comics are your area of interest then this collection is an essential acquisition. We'll be returning to Seven Stories with a look at the fourth issue in the not too distant future.
You can buy O Panda Gordo comics including Seven Stories here and follow them on Twitter here. 
For regular updates on all things small press follow Andy Oliver on Twitter here.
Review by Andy Oliver