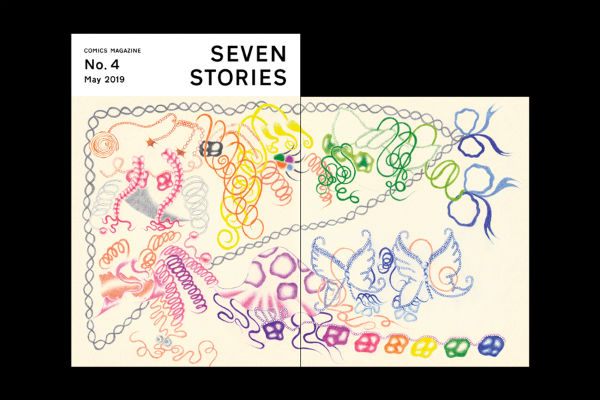 If you've been following our coverage of micropress/distro O Panda Gordo's Seven Stories so far then you'll be aware that the anthology's ostensible premise is based on 19th-20th century literary critic Arthur Quiller-Couch's contention all stories revolve around seven basic premises. If you haven't picked up this twice-yearly comic to date then those fictional foundations are presented by Seven Stories editor João Sobral as: human versus human, human versus nature, human versus oneself, human versus god, human versus society, human caught in the middle, and woman and man. Every issue sees a different creator or collaborative partnership giving their take on each story starting point.
Seven Stories has become far more than just a playful rehashing of those seven themes every few months though. It's quickly evolved into one of the most important venues around for exploring and dissecting what comics are and what they can do, with some of the most experimental, challenging, and genuinely alternative work out there. As Sobral says in another fascinating editorial introduction it's a comic that is "not really about stories but about the possibilities of comics." At this point you are probably beginning to understand exactly why we've been giving it so much time here on Broken Frontier.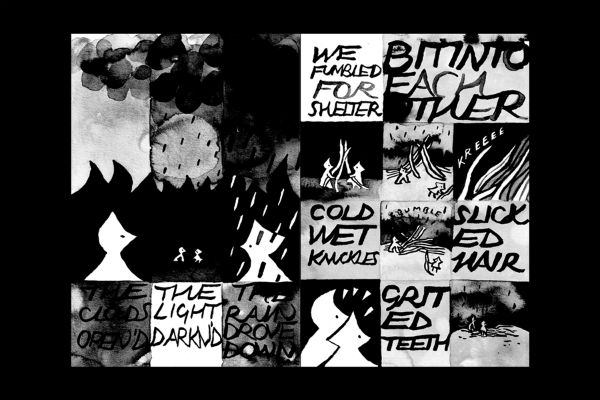 Rosie Brand's 'Human vs. Nature'
This fourth issue of the twice-yearly publication features work by Mariana Pita, Rosie Brand, Chloé Bertron, Haejin Park, Maria Medem, Zane Zlemeša and Jooyoung Kim (with a cover by Ema Gaspar as seen in the top image). The neat twist this time around is that Sobral has selected a number of artists best known for working with a powerfully expressive application of colour and asked them to create their shorts in black and white. The results are intriguing whether you're aware of the contributors' practice or not, with Sobral's intro inviting us from the outset to think about the storytelling opportunities and tools unique to a b&w output.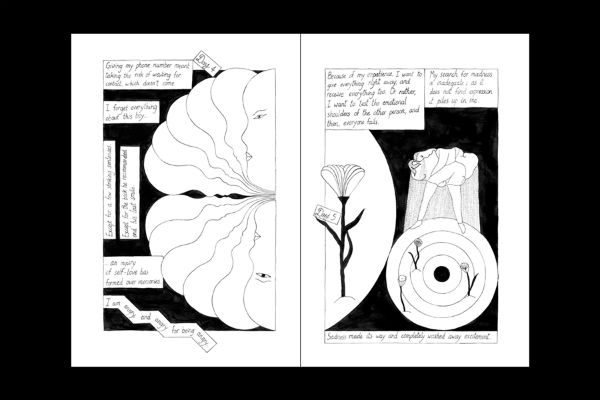 Chloé Bertron's 'Human vs. Oneself'
Rosie Brand's 'Human vs. Nature', for example, follows a couple hiking through a wilderness who finds themselves caught exposed to the elements and forced to take shelter. Brand uses a mixture of greys, black and stark white contrast to create a feeling of both movement and environment. The stripped back, representational figures at the heart of events, the placement of narration as panels in itself, and the dramatic shading capturing the emotional immediacy of the moment and connecting with the reader in a way that a more "realistic" depiction never could.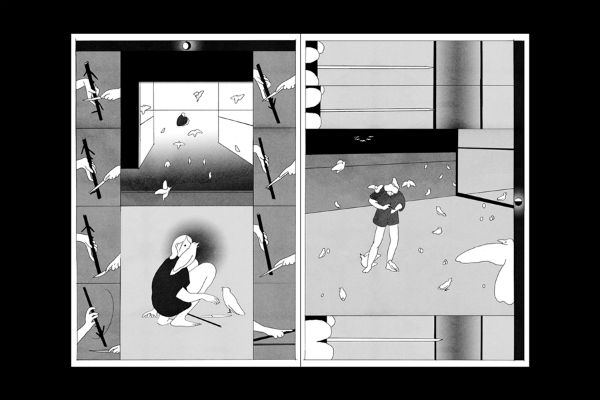 Maria Medem's 'Human vs. Society'
Chloé Bertron's 'Human vs. Oneself' is a self-reflective piece that spins out of the anxieties the day after giving a potential love interest your phone number and awaiting their call. From initial fretting it turns into a deeply introspective piece but it's as much page structure as narrative content that is of note here with Bertron's pages not so much flowing sequentially as being constructed to give the essence of her character's self-analysis in unpredictable and ever changing ways. Similarly, Maria Medem's 'Human vs. Society' is an emblematic silent story that presents motifs of isolation and community and the divide between them. Parallel panel sequences and a poignant use of comics' relationship with the passage of time make this one of the standouts of the issue.
Jooyoung Kim's 'Man and Woman'
To some, Seven Stories will undoubtedly be seen as too boundary-pushing, too experimental, too affected or even too raw (one of my favourites this issue, for example, is Jooyoung Kim's unlikely love story 'Man and Woman' which will be too alternative in style for the unadventurous) but all those things are among its paramount strengths rather than its weaknesses. If you are in any way interested in publications that look beyond defining what comics are and instead are concerned with their limitless potentialities then Seven Stories is the ongoing investigative work-in-progress project for you.
You can buy O Panda Gordo comics including Seven Stories here and follow them on Twitter here. 
For regular updates on all things small press follow Andy Oliver on Twitter here.
Review by Andy Oliver