Last week at Broken Frontier we gave you a full pre-order review of one of the acclaimed Black Josei Press's two new projects The Gift. Also currently available for preview is their new anthology magazine Gladiolus which we've seen an advance copy of and can assure you all that it's well worth your time and money. Full details in the press release below where you can also check out an astonishingly excellent creative line-up!
Black Josei Press announces the release of the inaugural Gladiolus Magazine, edited by Jamila Rowser (Wash Day Diaries) and funded by Oolite Arts.
Gladiolus Magazine is full of incredible comics and prose focusing on Community, Culture, and Care. The magazine embodies a "for us, by us," as we do with all Black Josei Press projects. The Creator Grant from Oolite Arts funded the magazine.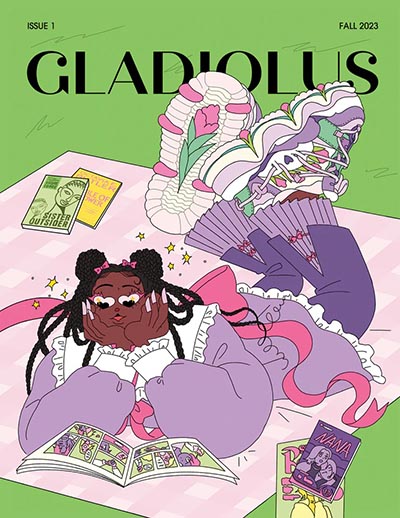 Black Josei Press is excited to announce the upcoming release of the inaugural Gladiolus Magazine! The magazine was funded by The Ellies Award Creator Grant that founder Jamila Rowser (Wash Day Diaries) received from Oolite Arts and The Miami Foundation. Gladiolus Magazine is intended for adult readers and has 134 black-and-white pages that feature 23 comics, essays, short stories, interviews, and guides by 38 amazing creatives of color from marginalized genders and sexualities.
Gladiolus Magazine includes everything from Jackie Ormes cut-out paper doll print to guides for josei manga and horror films, comics about sex, horror, romance, gaming, mental health, essays about burnout in the comic industry, and so much more.
The magazine features creators and interviewees such as Stephanie Williams, Sloane Leong, Vita Ayala, Robyn Smith, Steenz, Jamila Rowser, Deb Aoki, Shannon Wright, and Whit Taylor, to name a few.
MAGAZINE DETAILS
Available to purchase on com
134 black-and-white pages
Print Magazine: $25
Digital Magazine: $12.50
Rating: Adult (18+)
To be published on October 11, 2023, by Black Josei Press
CONTRIBUTORS
Production
Editor-in-Chief: Jamila Rowser
Art Director: Alexandria Batchelor (aka Foxee Design)
Assistant Project Manager: Jemar Souza
Copy Editor: Victoria Johnson
Cover Artist: Sarula Bao
Comics
Aaron Reese, Alexandria Batchelor, Emma Rust, Iman Daydream, Jamila Rowser, Kameron White, Lauren Franklin, ONeillJones, rin ascher, Robyn Smith, Steenz, Stephanie Williams, and Vincent Cecil.
Prose
Ashanti Fortson, Christina Santi, Carrie McClain, Christine Pasalo Norland, Jacque Aye, Jemar Souza, Shannon Wright, Sunmi, Lillie J. Harris, and Whit Taylor.
Interviewees & Participants
Daisy Ruiz, Danny Lore, Jamila Rowser, Sharon Lee De La Cruz, Shar Tuiasoa (aka Punky Aloha), Sloane Leong, Vita Ayala, Aisha Soleil, Deb Aokii, Laura Neuzeth, Shamika A. Mitchell, PhD, and Jessica Tseang.