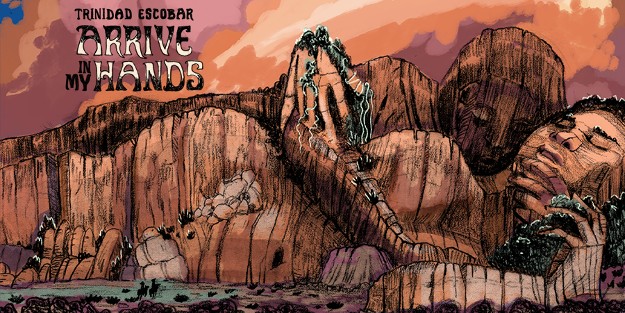 Trinidad Escobar's rising profile over the last few years has been a testament to her artistic versatility. I can't remember exactly where I first came across the Filipina cartoonist's practice (it was either via micropublisher Laneha House/anthology The BAYlies or The Nib/IDW's queer comics anthology Be Gay, Do Comics a couple of years back) but it was the subtle nuance of her quietly powerful artwork in the Black Josei Press one-shot Ode to Keisha that for me best showcased the connective qualities of her visual storytelling. That collaboration with writer Jamila Rowser went on to win a Broken Frontier Award last year, and Escobar's links to Black Josei continue in 2022 with Arrive in My Hands, a collection of poetry comics and queer erotica available now in digital format and for pre-order in print here.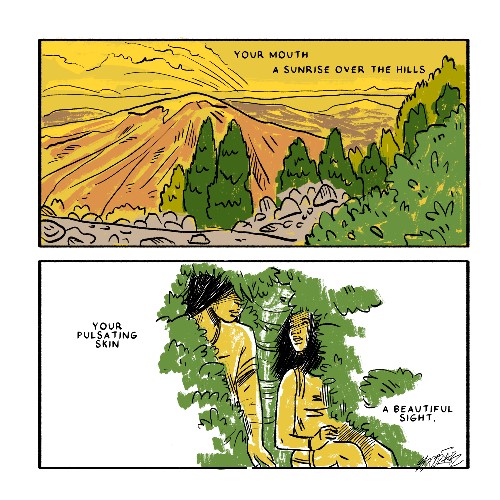 'You Grew Up By Climbin' the Birches So High'
Poetry comics are most effective when they do more than simply illustrate original verse and instead add extra metaphorical layers. Words and imagery reflecting each other, both building upon and complementing the other as they communicate with the reader on an instinctual level as well as an interpretive one. In Arrive in My Hands Escobar presents just over 20 short comics, some just a page long and others multi-page offerings that explore both her "demisexual lesbian experience" and also act as "Escobar's rebellion and response to the violent images of the hypersexualized and submissive Asian woman."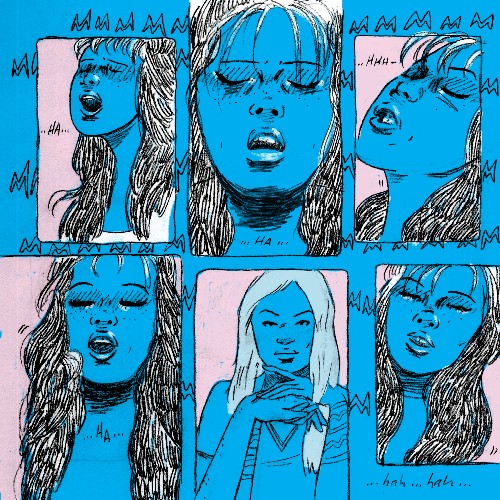 'Sinister Laughter'
What's key here is the way in which Escobar finds the sensual across a vast panorama of diverse scenarios: as varied as an escape in a collapsing society in 'Patient & Seething' to the punchline-led bedroom humour of 'Part-Time Tutor' or the dark fantasy of 'Everlasting', with its gradual build-up into frenzied passion and emergence of self. A moment of intimacy revisited in 'Sinister Laughter' where intensity of experience is amplified by the interplay of pure visual characterisation, and 'Thursdays 3pm' where a hole in a garden fence becomes a portal to voyeuristic connection.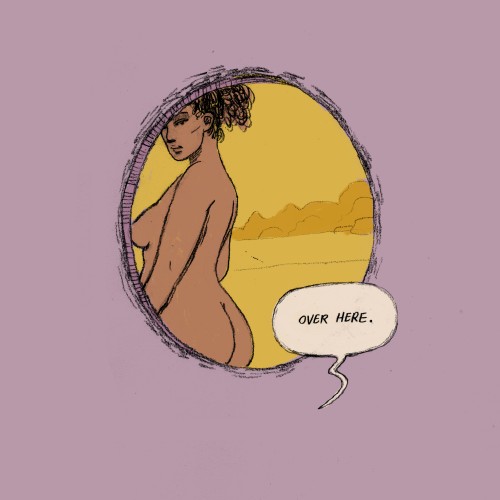 'Thursdays, 3pm'
Her use of colour to accentuate mood and theme is also exemplary throughout, from the moody, subdued hues of the forbidding 'Devil's Bluff' to the bright accentuation of the sense of discovery in 'Two Witches', or in 'You Grew Up By Climbin' the Branches So High' wherein monochrome bursts into vibrant colour as the advent of a relationship is recounted. The titular 'Arrive in My Hands', co-written with Meredith Hobbs Coons, is perhaps the highlight of the collection, an eerily magical piece of visual metaphor with its motifs of personal discovery and embracing of self.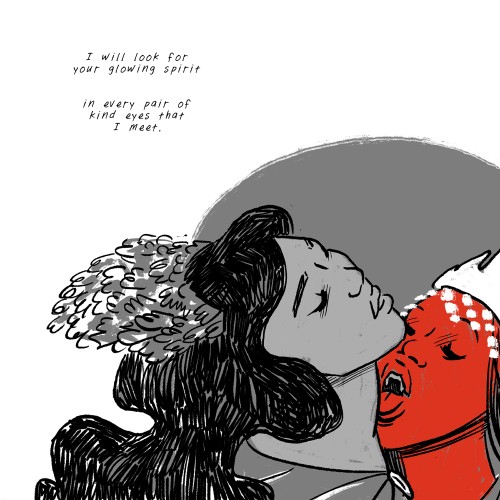 'Everlasting'
Arrive in My Hands is a lyrical, sometimes dreamlike, and often spiritual foray into queer comics erotica that speaks to us on a purely emotional level as much as it does a literal one. Its careful pacing inviting the reader to dwell far longer on each image, allowing them to immerse themselves in the passion of each scenario. Liberating and triumphant, this is another impressive offering from Black Josei Press who are fast becoming the micropublisher to watch in 2022.
Trinidad Escobar (W/A) • Black Josei Press, $30.00 (print), $10.00 (digital)
Pre-order in print or buy in digital here
Review by Andy Oliver