Earlier this year we reviewed Lawrence Lindell's autobiographical comic From Truth with Truth exploring identity, mental health awareness, Blackness and recovery. Expressively candid, Lindell's powerfully connective work has been one of my top discoveries of 2020. So when Lawrence got in touch recently about the Kickstarter campaign for The BAYlies, an anthology featuring the work of "22 Bay Area Cartoonists of Color and Queer Cartoonists", it was a project I just knew we needed to get behind. Especially given some of the names involved (Maia Kobabe, Tyler Cohen, Fred Noland and Trinidad Escobar) and the newer creative talent contributing.
I caught up with Lawrence to chat about the crowdfunding campaign, what we can expect in the anthology and the importance of small press comics history…
ANDY OLIVER: We recently reviewed your autobiographical comic From Truth with Truth at Broken Frontier so before we start discussing the anthology and the Kickstarter campaign could you fill us in about your own work and your comics practice to date?
LAWRENCE LINDELL: The first print run of From Truth with Truth is sold out! So I'm really grateful about that. I am 1 of 30 winners for this years MICE Mini-Grants and I printed a new comic called Comics be Comics with the grant. I also just finished a new comic called Queerland. I'm not sure what it will be, but it's been fun to draw. I also got to do a workshop for The Believer Mag, a panel for SPX, and was a recent judge for the short form comic category for the Prism Awards. And I did my third comic for the New Yorker Daily Shouts, 'Repeat After Me". Oh, I also graduated with a MFA in Comics this summer. I think that's everything. Seems like a lot, but we haven't talked in a while.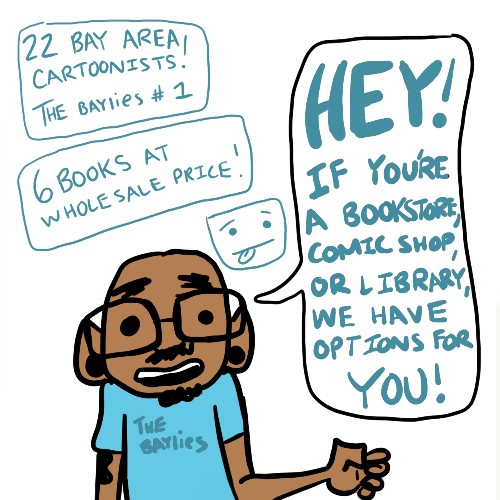 AO: You've just launched a Kickstarter campaign for anthology The BAYlies #1. Can you elaborate on the mission of The BAYlies project "to archive, connect and document Cartoonists of Color and Queer Cartoonists" in the Bay area"?
LINDELL: It started as a way to connect the cartoonists I share space with here. It seemed like at every show there were always people who didn't know each other. It started as an Instagram thing and I would ask different cartoonists to take over the Instagram for a week and share comics. I asked them to keep it loose and fun and try and create something that won't put too much pressure on them. I never thought it would grow beyond that. We did a short run of a print anthology in 2018. And then life kinda took over. LOL
Then we returned in 2020 with a website and now the anthology magazine. I just want to have a place people can look to when they ask what was happening in comics here. Some of the BAYlies cartoonists we've archived have been active in comics for decades. The stories some look to when researching comics history, they were actually here for it. And I'm especially interested in preserving and highlighting the BIPOC (Black, Indigenous, People of Color) cartoonists and Queer cartoonists history here.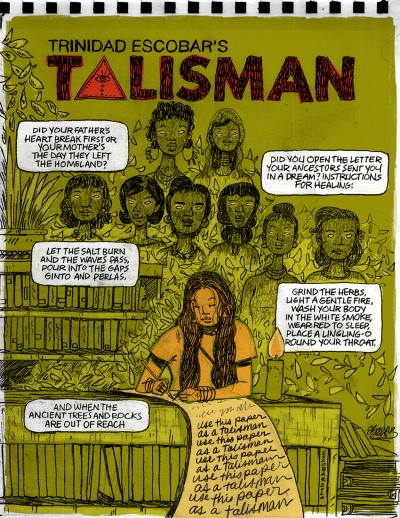 AO: What kind of mix of strips, subject matter and styles can readers expect in the comic?
LINDELL: The magazine has no theme because I wanted the cartoonists to have autonomy and free range to express whatever they may be feeling at the moment. We have 2 comics that creators have submitted already, Maia Kobabe's 'Top Surgery: It's A Process' (below) and Trinidad Escobar's 'Talisman' (above). But me just knowing the other cartoonists, I know you can expect topics to range from race, gender, queer magic, autobiographical comics, and slice of life. I'm really excited because it's such a wide range of artists' voices and hopefully will inspire a wide range of people.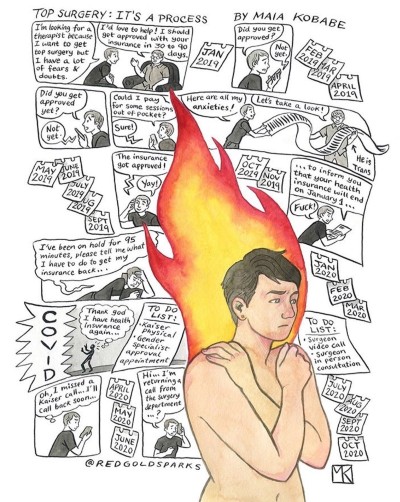 AO: The Kickstarter will be used to pay artists while the proceeds from future sales of the anthology are going to The BAYlies Art Grant. Can you tell us a little about that award and how it benefits artists?
LINDELL: Yes. I put money aside from a comic workshop I did with the specific intention to put it back into the community. I received a grant from Annie Koyama of Koyama Press and there is a strong presence of mutual aid and community support here in the Bay Area. So I said I will do a "grant" for Cartoonists of Color and Queer Cartoonists since that is the focus of The BAYlies.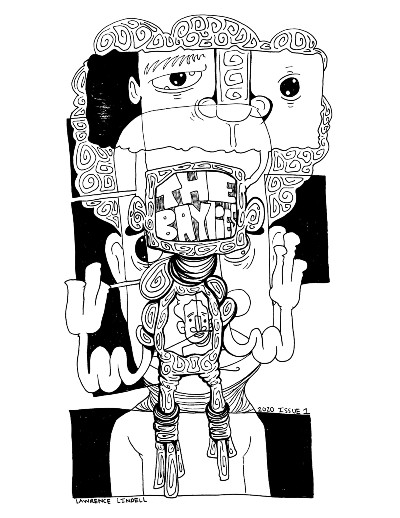 $100 to spend on nothing but art supplies (which is what some of the grantees used it for) goes a long way. I told my partner Breena Nunez (fellow cartoonists) and they said they would match the funds I put aside. Then 4 cartoonists in the community who wish to remain anonymous sponsored additional cartoonists. So 11 cartoonists got $100 each instead of 6 like originally planned.
With the fund from the magazine we can increase that amount and also the number of grantees. It benefits the artist because it's money that is coming from the community. Grants can be a very pretentious and exclusive thing. This way we can help the community without having to jump through hoops. The only requirement is that you are a person of color and/or queer and make comics in whatever capacity.
This is nothing new by the way, I'm just following the footsteps of what people have been doing for years.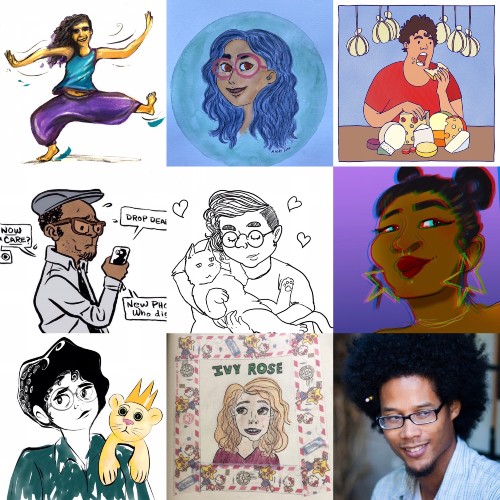 AO: Broken Frontier readers will recognise names like Maia Kobabe, Tyler Cohen and Fred Noland from the line-up from our past coverage. How important is that mix of "different generations" of artists to the philosophy of the anthology?
LINDELL: I am so PUMPED! When I take the time and remove myself and just allow myself to be a fan, I get incredibly excited. It's proof in my head of just how eclectic the comics scene is here. Sometimes anthologies can feel like the same person made the whole book. But the ones I love are the ones where it's clear how different each artist is. Also, it's a reminder and marker in time to show that there truly is no one way to make comics.
AO: Following on from that – and given that we're always looking out for emerging talents at Broken Frontier – who are some of the newer voices involved in the project that we may not have heard of yet?
LINDELL: Ivy Rose, we met at various Zine Fest here in California. I'm so excited for people to experience her work, it's so warm and heartfelt. Queenlioncomics, I saw their work in a zine anthology 'Queering Friendship' from Mixed Rice Zine and I looked them up and when I asked them to be a part of The BAYlies, I later realized "Hey it's you! I know you!". That's the thing about pen names, and IG avatars, you never know. Lol
Also, Mike Rossi. We were actually in the same cohort for our Comics MFA program at CCA.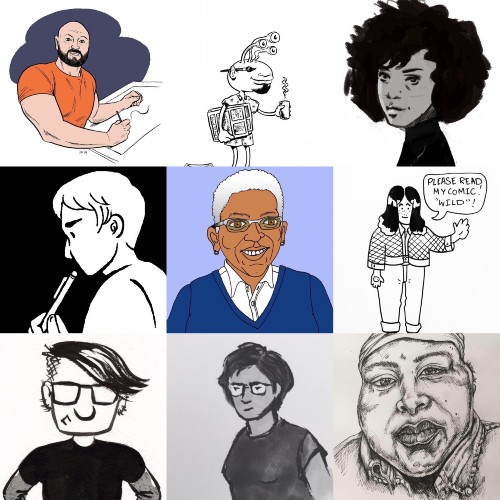 AO: Small press anthologies are always a great entry point for readers looking to discover potential new favourites but would you agree that they also serve a purpose in fostering a sense of comics community between creators too?
LINDELL: I do and not only that, but they preserve history! That's the big one for me. I love looking through anthologies, comics magazines and tabloids. I always try and imagine what it was like. I feel anthologies are a gateway into the past and our history as comic creators.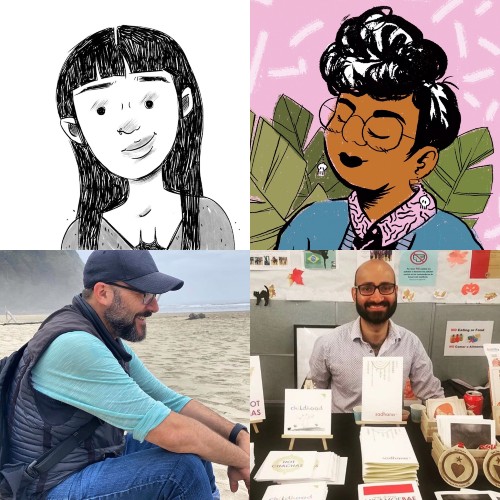 AO: Finally if you had just one sentence to convince a reader to back the Kickstarter what would be your pitch to them?
LINDELL: When you back the Kickstarter your dollar goes straight back into the community, pays the cartoonists a fair rate, backs us keeping it in the DIY spirit and backs the larger community of cartoonists of color and queer cartoonists here in The Bay Area.
I think that counts, LOL. Run-on sentences is my jam!
Interview by Andy Oliver