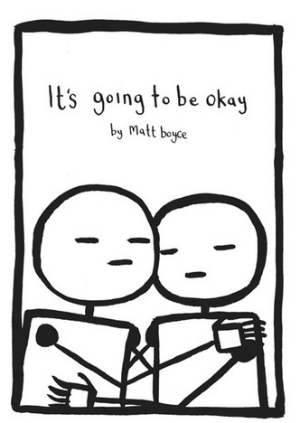 The greatest strength of Matt Boyce's comics is his instinctive ability for conveying complex emotional states with the most economical visual clarity. That was a point I made a couple of years back at BF when I looked at his comic Everything here saying, similarly, "while much of the work here may seem unassuming to the eye, Boyce has a sophisticated understanding of the communicative power of the form." That connectivity, and ever inventive playfulness with the structure of the comics page, is once again in evidence in his latest collection of existential angst – the touchingly titled It's Going to Be Okay.
In around twenty pages of short strips Boyce examines ideas of loneliness, anxiety and solitude through his peculiarly expressive near-stick figures. Many of these resonant vignettes have a meta quality to them – characters escaping their emotional isolation by breaking down the borders of the page, for example, or a shifting panel placement sabotaging two individuals as they attempt to express their affinity for each others' plights.
That stripped-back self-referentiality is never bettered than in a two-pager where Boyce proclaims his own dissatisfaction with his creative process; perfectly paced self-deprecation evolving into muted helplessness. Here, changes in perspective give pause to the reading experience and allow for a potent yet subtle understanding of his on-page avatar's despair.
Throughout, a sense of detachment from others – a feeling of powerlessness to have any effect on our environment – abounds, whether that be feline ghosts unable to affect the material world, a homeless man rejected by his relatives on the most spurious of grounds, or the impersonal stresses of the big city.
It's that titular one-page strip with its clever final page placement, though, that the reader will most empathise with. A beautifully timed final moment of respite that reminds us that in amongst all the horrors of the modern world hope lives on in the kindness of others. On a superficial glance, It's Going to Be Okay may seem slight and rudimentary in construction. It's anything but, though. Once again, Matt Boyce has reminded us of the uniquely empathetic qualities of comics as a method of communication.
For more on the work of Matt Boyce visit his site here. You can buy copies of It's Going to Be Okay from his online store here priced £5.00 and follow Matt on Twitter here.
For regular updates on all things small press follow Andy Oliver on Twitter here.