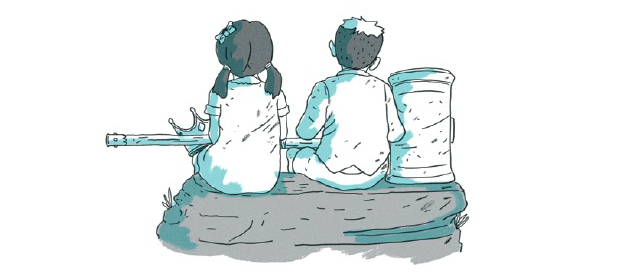 SMALL PRESS DAY IS COMING!
Autobio work is undoubtedly one of the true staples of the small press world. To a degree that's probably because self-publishing provides the perfect opportunity for creators to bring a raw and uncompromising honesty to the page that it would perhaps be more difficult to find a platform for elsewhere. It's also an often unfairly derided use of the medium; that scorn generally based on the misapprehension that autobiographical work equals self-indulgent diary comics.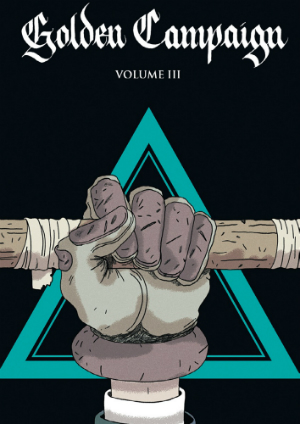 In reality, however, this very personal slice-of-life strand of storytelling comes in all manner of forms. Writer-artist Cristian Ortiz's Golden Campaign is a case in point; co-written by Daniel Martin it's a sprawling and dark fantasy series that acts as an allegory for his own experiences coming to Europe as a teenager and making a new life here. I reviewed the first issue a while back at Broken Frontier here.
In this case the nature of those real world parallels is a matter of supposition because Golden Campaign essentially acts as one giant narrative metaphor, taking its inspiration from the author's personal history but never explicitly referencing it. Set in the world of the Key-Lords Empire it follows Monty, a newly arrived young artist looking to earn a meagre living on the streets of Key City, who instead becomes drawn into the military conflict in the region.
Finding employment with the Mercenaries who work with the K-Korps, the official army, he becomes embroiled in the war of attrition with their enemies the Mechs. Under the leadership of the grizzled veteran soldier Azul, Monty and his new friend Caprille soon learn the harsh realities of the battlefield…
The immediate observation about Golden Campaign is how ambitious an undertaking it is. A vast exercise in complex world-building that has had the difficult job of juggling the development of its core cast of characters with communicating the history and customs of this familiar, yet alien, civilisation. Consumed in one sitting, the first three issues are a much more satisfying read with the multiple subplots gelling in a way that wasn't quite so apparent in its serial form.
Indeed, as the series has progressed its earliest and most noticeable weakness – a lack of cohesion due to so many plot points and characters – has slowly been replaced by a relatively more confident and poised storytelling that has pulled some of those elements together, revealing their place in the greater tapestry of Golden Campaign.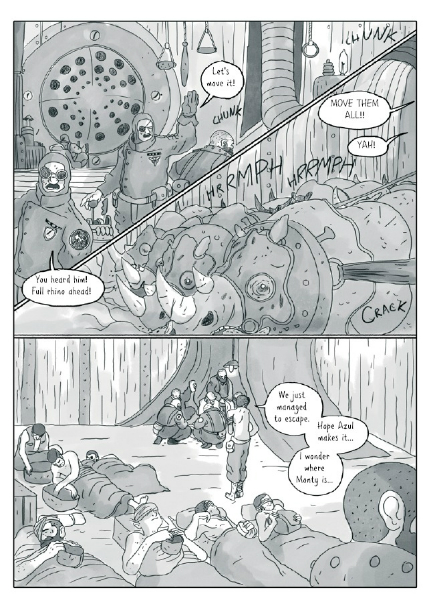 That bigger picture explodes in the third issue as we learn more of the history, politics and geography of this realm and some of the less fleshed out threads of previous issues come to the forefront, particularly one concerning the mysterious assassins who have been trailing Lord Isenbergh, the man in charge of the Mercenaries.
What #3 also emphasises is how phenomenally effective Ortiz's kinetic and free-flowing action scenes are. Just take a look at the example below. There's a true sense of epic scale to his battle scenes and cityscapes as well, giving us a fictional reality that feels fully realised in conception. The world of Golden Campaign is both majestic and foreboding, exhibiting a squalid splendour that provokes feelings of awe and discomfort in equal measure.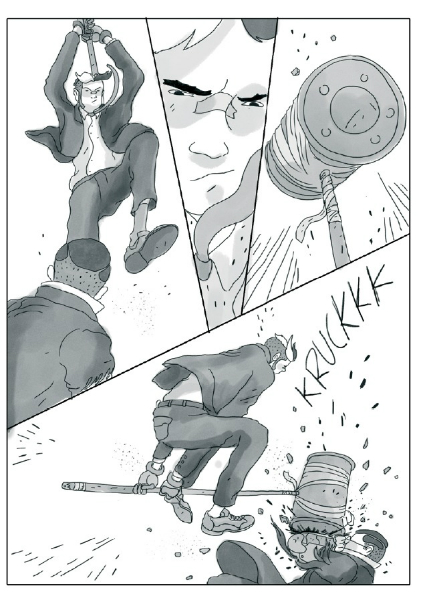 With the most recent issue the tremendous early potential of Golden Campaign is finally being fully realised. The most disciplined and coherent chapter of this intriguing piece of fantasy-with-a-twist to date, it's a reminder of what a genuinely promising talent Cristian Ortiz is.
Cristian Ortiz is a guest artist at tonight's Gosh! Comics and Broken Frontier Drink and Draw. Full details here. Cristian is also signing at Orbital Comics on Small Press Day. Find out more here. 
For more on the work of Cristian Ortiz visit his website here and follow him on Twitter here. You can buy The Golden Campaign from his online store here priced £6.50 each.
For regular updates on all things small press follow Andy Oliver on Twitter here.