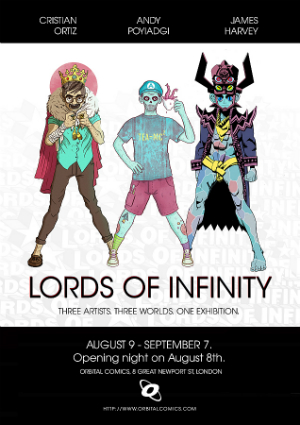 For indie comics fans this has been – as ever – an outstanding year for exhibitions in the gallery space at London's Orbital Comics. Liz Prince, Shaky Kane, Satanic Mojo Comix, Sally Jane Thomson and a memorably energetic opening night for the Ghosts collective's CULT show are just some of 2014's highlights to date. From August 9th the latest exhibition Lords of Infinity opens featuring work from three creators – Andy Poyiadgi, Cristian Ortiz and James Harvey – who have all been showcased in 'Small Pressganged' here at Broken Frontier over the last couple of years.
The Orbital team have provided us with the press release in italics below to describe the show, and underneath that I've linked to that past Broken Frontier coverage of the trio for those wanting to investigate further. If you're London-based, or visiting the capital in the next month, this is a must-visit event, and a vital opportunity to immerse yourselves in the work of three exciting new(er) talents in British comics!
***
Lords of Infinity Exhibition
When it comes to comics, as long as something can be drawn, it can be real; making it the perfect medium to bring the brilliance and ingenuity of its creators to life.
In Lords of Infinity, three of the most talented up-and-coming artists in the British comics scene are brought together to populate the walls of the Orbital gallery with worlds of their own.
Whether it's with a bit of sci-fi, fantasy or simply the extra-ordinary, Cristian Ortiz, Andy Poyiadgi and James Harvey all bring a little something extra to the world we know. In this exhibition we invite you to step into the fabric of the realities they have created.
The exhibition runs from August 9th to September 7th, with a private view on Friday, August 8th, where all three artists will be in attendance.
***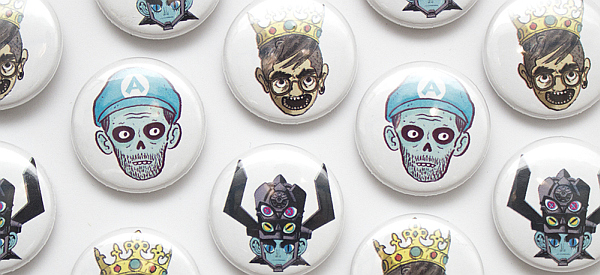 Andy Poyiadgi (A J Poyiadgi) first came to prominence when his comic Teapot Therapy was shortlisted for the Observer/Jonathan Cape/Comica prize. Poyiadgi's beautiful and delicately constructed comics narratives – including an unforgettable origami comic – have seen print in a number of UK anthologies that I've reviewed at BF including ink + PAPER #2, Wu Wei, Score and Script and Tiny Pencil #3. I also looked at his webcomics here and there's a major interview with Andy that was published in 'Small Pressganged' last year here. His book Lost Property from Nobrow Press is published later this year.
Cristian Ortiz's Golden Campaign debuted to critical acclaim in 2012 with its unique set-up of autobiography hidden in the metaphor of an ongoing fantasy series. I reviewed Golden Campaign Vol. 1 here at the beginning of last year. And finally James Harvey's A Long Day of Mr. James-Teacher, from Blank Slate's Chalk Marks series, was a book I was very positive about back here in the early days of this column.
For more on Orbital Comics visit their website here and check out photographs of previous exhibitions and events here.
For regular updates on all things small press follow Andy Oliver on Twitter here.