"There's so little sex in American comics, and when it is done, it's done terribly. Nothing erotic about it."
Next Wednesday, the second season of Alex de Campi's Grindhouse series hits from Dark Horse in which everything that can be xploited will be exploited once again. Stay away if you value your sanity or if you're the kind of person who sticks to a really orderly rationale and demands his sequential readings be ketchup and nekkid free.
By all means, stay clear of this comic too if you're a 45-year-old still living in his momma's house – you wouldn't want her to find those greasy, dirty floppies tucked away under your mattress. Momma will sure whoop your sorry ass with a broom for spending three hundred and ninety-nine cents on 22 pages of such filth and gore.
Everybody else, have at it!
Broken Frontier spoke to de Campi about returning to the madness that is Grindhouse for another eight issues after last year's volume of two-and-dones, Doors Open At Midnight, became a cult-favorite faster than Pulp Fiction's mayonnaise scene.
Based on the success of the first series, was Dark Horse immediately sold another go-round?
Alex de Campi: Ha, no! I wish it had been easy. Totally the opposite, in fact… we really had to struggle to get a second season approved. And by "we", I basically mean, my editor, Brendan Wright. He went to bat for the series and pushed hard through an imposing and thorny thicket of nos/disinterest to finally get a yes.
It's been a rush, though, to get the first issues out.
Between all the sexploitation, blaxploitation, hacking, slashing and what have you, is there a specific grindhouse subgenre you're most partial to?
Ohhh… it's so hard to narrow it down! I haven't done a really good giallo yet. And I love blaxploitation… But the teen slashers… African sparrow… no, American… no, AAAAAGH. I can't choose.
Has there ever been a point where the publisher or your editor had to express discomfort over some of the contents, or are they giving you free rein to execute whatever you want?
Dark Horse was really unhappy with Bee Vixens. I think it was all the sex in the opening pages, it gave them curious feels in their fundaments. Now, I'm always happy to please, so I offered to change anything that crossed the R-rating, if they could show me a specific panel… and that was the last I heard about it.
My editor has always supported me, and we've been getting more and more nudity into the book as time goes on and, well, as we became kind of famous for it. Nobody cares about the violence. It's just the sex. Oh! We sorta kinda had to censor part of the Devil Doll concept in issues 7 and 8 (her tail was originally going to go into the dudes' butt) because the boys said no. A 16-person gang rape of a girl under the age of consent? Not a peep. Ass-rape a couple truckers? LAWKS, THE RUCKUS.
It's totally weird that gore and violence always fly, but even a hint of a nipple is so not done.
I agree completely. There's so little sex in American comics, and when it is done, it's done terribly. Nothing erotic about it. Look at the mess with Manara drawing covers for Marvel! I'd have Manara draw a cover for Grindhouse in a hot second, if we could afford his rate. But what Marvel commissioned from him… it was just a misuse of a great talent. The wrong person for the wrong job.
Speaking of creative freedom, presumably you don't lose any sleep over how people might react to a woman writing objectifying scenes where men scream 'Boobies!' and topless teenage girls play Pie Night at their dorm?
Nah, I love sex/sexuality and it's fun to put that into comics. Lord knows so few others are putting it, er, about.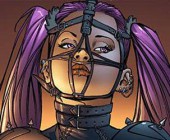 Well, there once was this young brat called Grindhouse (displayed on your right – ed.) who appeared in a couple of issues of Marvel's Heroes for Hire, but she hasn't been used since, I think. That says it all. [Laughs]
…oh. I did not know that! Looks like someone read too many Warren Ellis books. Yeah, a woman dressed up in sub gear, what a surprise in comics. Internet dudes' brief obsession with Suicide Girls has a LOT to answer for.
Has it been easy recruiting the artists for your various stories on both volumes?
Yes, really easy. There are specific people I wanted to work with, and everyone's said yes. A two-issue story is very easy to slot into schedules, even very busy ones…
How does the process work for you? Do you start with an idea, find an artist for it and then flesh it out based on their strengths and their own 'dirty' ideas?
That's pretty much it. The script is mostly set once I send it to the artist but we then throw things back and forth and I tweak and revise. I usually just think up a ridiculous title and tagline and then write a story based on it a couple of months later.
Is there a specific setting or state of mind you want to get yourself in when writing Grindhouse? I can imagine middle of the night, slightly sleep-depraved and with a nice drink next to the keyboard makes for a good starting point.
Nope! My best writing times are the days my daughter has full-day daycare, and I climb back into my bed with my laptop on my lap, the Wi-Fi turned off, and my elderly pit-bull, Cathy, snuggled by my side. And coffee on the nightstand.
My favorite story from Volume 1 was 'Bee Vixens from Mars', so I'm happy that we'll get to see deputy Garcia return in a few months. Was she one of your strongest characters in the first season seeing as how she's the only returnee from the previous run?
Weirdly, she was the one with the least character arc. But I gelled really well with Chris Peterson and Nolan Woodard, and fairly early on those two started campaigning for a sequel. There's even a Facebook thread somewhere, on the pic of an abattoir waste pool, where they think up the title and some plot specifics (which have since changed, of course).
I'm a pushover. If you're a good artist and you campaign hard enough to work with me, I will write stories just for you.
Have you struck relationships with people like Chris and Nolan, and perhaps others, to work with them at some point in the future on a new book?
Yes, most definitely. My next year is pretty planned out, so at this point we're looking at 2016 books. But certainly I want to work with many of the Grindhouse artists again.
Shifting to the stories of Volume 2 specifically: what's the first story, 'Slay Ride', about?
It's about what things we believe in at Christmastime and how those things come to life. It's a brutal, really spare, Western horror story. So much space, so little dialogue. SO MUCH BLOOD.
Parts of it make me really, really uncomfortable, which means hopefully it's good and will have that same effect on others. The monsters are fairly nontraditional, but all the more horrifying for it. And RM Guéra brings the noise.
RM and you go way back. What was it like creating Slay Ride out with him?
Rajko is the kindest person in comics. We met ages ago through Igor Kordey, and at the time he was looking for US work because he had a big Spanish tax bill to pay. I introduced him to Will Dennis, back in the days when Vertigo still spoke to me, and he landed Scalped!
My working relationship with Rajko is pretty much the same as with most other artists. I write a tight script, and then I tell the artist they can ignore as much of it as they want to, if they have better ideas. Then I letter it and fit/rewrite the dialogue to suit the art that came in.
Rajko has had a ton of great ideas with the story, even though he's been under real deadline pressure he takes the time to make each page sing… and will go back and revise pages completely unasked, if he thinks of a better way to do the page. He has such enthusiasm for the medium, and you meet very few people who want every page to be their best… he is one of them.
A selection of artwork from the first Grindhouse: Drive In, Bleed Out story, 'Slay Ride': the covers to issues 1 and 2, the opening sequence in inks only by RM Guéra of issue 1 and the first six pages of issue 2, with Giulia Brisco adding atmospheric colors over RM Guéra's art.
What about the three stories we'll be seeing afterwards?
Up next after 'Slay Ride', we have 'Lady Danger: Agent of B.O.O.T.I' – my blaxploitation/martial arts story with Afua Richardson. It takes the one thing blaxploitation films didn't really have – a budget – and adds jets and big action sequences and international locations* and a purple Ferrari Dino.
*(yes, pedant, I know aaall about Cleopatra Jones and the Casino of Gold.)
Then the aforementioned Bee Vixens sequel, 'Blood Lagoon', where Garcia goes with Wayne to meet his estranged father in small-town Alabama, and what happens next. Mostly, what happens next is giant blood sucking insects attacking the town.
We end with a bang – in fact many, many bangs, in all sorts of positions and combinations – in Le Voyage Fantastique de Veronique, aka 'Nebulina', my cinecitta space sexploitation book with Ulises Farinas. I hope the publisher doesn't read it because oh, so much sex. SO MUCH. And some rrreally nasty gore.
The first Grindhouse trade is out now, and the second one is due out on November 19. You can read a new chapter of Alex de Campi's supernatural thriller Valentine every Wednesday on Comixology and every Thursday on Thrillbent. Her Lady Zorro mini just wrapped at Dynamite (boobs! swashbuckling! VIOLENCE!), and her supernatural horror series Semiautomagic is about to start in Dark Horse Presents. Plus, in April, she's tackling the one comic you never thought would happen: Archie vs Predator!