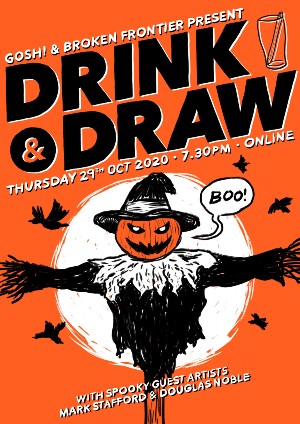 We're back this Thursday October 29th as our fortnightly online Gosh! Comics and Broken Frontier Drink and Draw for a Halloween Spooktacular! As usual we start at 7.30pm BST on Twitter. Not only do our online D&Ds keep all those who would meet at The King's Arms in Soho, London every month (in those fondly remembered pre-March 2020 days) in regular contact, they also allow us to expand our reach for the event to a more global audience.
(Poster art, right, by Joe Stone).
So, once again if you're joining us online, here are the "rules"…
We're using our regular pub format, adapted for a digital platform. So if you've never attended one of our monthly sessions this is how it will work. Our guest artists will each choose a drawing theme for three sessions across the evening. We'll post each of these prompts with the hashtag #GoshBFDD in three batches at 7.30pm (GMT), 8.15pm and 9.00pm from both the Gosh! Comics Twitter account and the Broken Frontier Twitter account. You have 30 minutes to draw something fitting that theme, after which we'll spend 15 minutes picking a winner before the next round begins. Don't forget to post your drawings with the #GoshBFDD hashtag so everyone can see and join in. And also so we can easily retweet!
Our guest artists this fortnight are no strangers to the worlds of the eerie and the uncanny! Mark Stafford has made a name for himself as a true master of the horror comics genre with his fabulously creepy and detailed cartooning. Mark frequently collaborates with writer David Hine including such memorable projects as an adaptation of Victor Hugo's The Man Who Laughs and Lip Hook for SelfMadeHero, The Bad Bad Place at Soaring Penguin, and contributions to the Broken Frontier Anthology and Heavy Metal. He was also one of the artists involved in Ravi Thornton's HOAX: Psychosis Blues and co-created Cherubs! with Bryan Talbot. Mark's work has been on show in a plethora of anthology offerings including Save Our Souls, The Corbyn Comic Book, Adventures in Science and soooo many more. He's a very busy chap.
You can pick up one of his most recent offerings Kangkangee Blues (a full colour romance comic produced in collaboration with the Kankangee Arts Village in Busan, South Korea).online here and why not check out Mark's merchandise store here and buy a fetching mask or two?
Equally prolific with work that is often unsettling in both theme and presentation is Douglas Noble, another creator whose output is perfect for Halloween! Last year's Douglas's Class of 1922 one-shot was nominated for a Broken Frontier Award. I said of it here at BF: "flirting with the futility of life and the darkest existential slapstick, this is prime Douglas Noble at his disconcerting best." Douglas is a frequent collaborator with Sean Azzopardi and I've called their horror comic Sightings of Wallace Sendek "one of the creepiest and most unnerving horror comics you'll ever experience." Through his Strip For Me imprint Douglas is also behind the Horrible Folk series of self-published comics, the guiding light of the BF Award-winning anthology Jazz Creepers and the co-creator of Black Leather with Sean Azzopardi.
You can buy Douglas's comics in print here and digitally on ComiXology here.
We'll see you all again on Thursday! Whether you're a regular or a newbie all are welcome so please do join in and be part of our international Drink and Draw fun! And if you enjoy this event why not check out the Gosh! Comics webstore here?