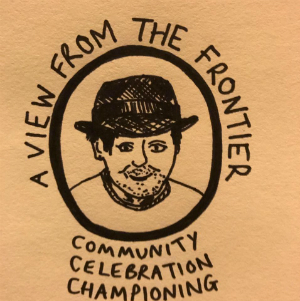 The self-publishing explosion in comics over the last several years has meant there has never been a better time for new creators to get their work out there and in front of an audience. Correspondingly, there are also more opportunities than ever before to become involved in the wider comics world – to interact with fellow readers, practitioners and published artists.
In today's 'A View from the Frontier' I want to talk a little about the many folk who help enable that sense of community. Those who go the extra mile to create welcoming and friendly environments with the aim of bringing people together.
Because I'm going to be talking about my own geographical location this is therefore going to be London-centric and spotlight institutions and collaborative ventures in my own vicinity. But, hopefully, it will provide food for thought for investigating similar practice within your own local areas. And read all the way to the bottom even if you aren't UK-based because I have a proposition for you all…
Shops – Just last week in 'A View from the Frontier' I spoke about the Gosh and Broken Frontier Drink and Draw and the chance it gives attendees to engage with established comics creators in a relaxed setting. It's just one of a whole host of regular events that Gosh! Comics currently puts on every month that have built up their own loyal groups of attendees (their events listings are here).
Similarly in London, Eisner Award-winning Orbital Comics live up to their Spirit of Retail Award with an ever eclectic events programme that has included live drawing, music and panels (their events listings are here).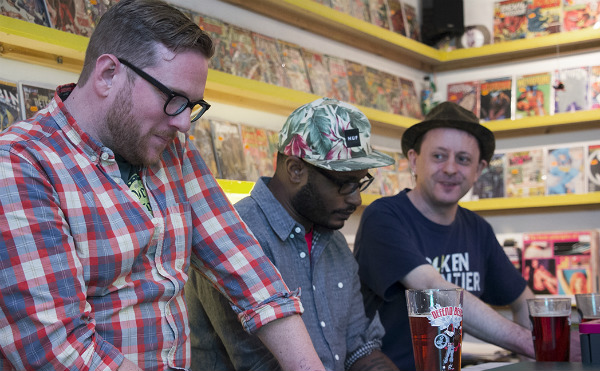 The Brooklyn Brewery Presents 'Defend Comics' panel at London's Orbital Comics with the CBLDF's Alex Cox, Khary Randolph and Andy Oliver. Hosted by Chris Thompson. Photo courtesy of Camila Barboza.
The position of the comic shop over the last few years, of course, has evolved significantly. Forward-thinking stores were already as much community hubs for their customer bases as they were retail outlets but there's a breathtaking number of "after-hours" events now available – from book groups to creator talks to gallery exhibition nights and beyond. Check out your local store's listings to see what they have on offer.
Groups and Events – Organisations that exist to promote new work or to bring creators and readers together play an invaluable role in ensuring the creative health of the medium. The presentations on comics process and inspiration that Laydeez do Comics, for example, put on at their monthly meet-ups are an essential part of the comics calendar providing fascinating insights into a wide variety of practice.
They were good enough to give us an entire Broken Frontier-themed night last year when I spoke about the site and BF 'Six to Watch' creators Rozi Hathaway and Danny Noble talked about their work. There are LDC chapters operating across the UK and on an international level as well.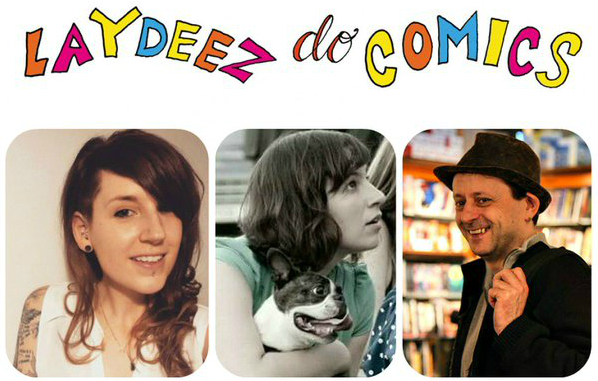 Comica also put on a monthly social club at the Royal Festival Hall that is intended to give creators and enthusiasts a chance to mingle and make contacts informally over drinks. Another helpful venture designed to connect people in a friendly setting, and the Cartoon Museum hold regular events themed around their own exhibitions. The London Graphic Novel Network is also an excellent place to start your search if you want to find a graphic novel-style book club. And don't forget the ever inclusive Small Press Day is coming soon as well. You'll hear about it here at BF in the not-too-distant future.
Festivals and Fairs – From ELCAF to Comiket and CECAF, from DIY Art Markets to Safari Festival, the indie comics scene is well-represented all year round in London. Whether the fair/festival in question is a smaller one specialising in DIY culture, or a much larger happening, you can be assured there will be plenty of scope for chatting with creators about their work and finding out more about London's vibrant indie comics scene.
Many of these shows have advertised social events after where creators and attendees can mix. And you can always just look for a man in a hat and a Broken Frontier t-shirt if you want to know where all the best after-parties are…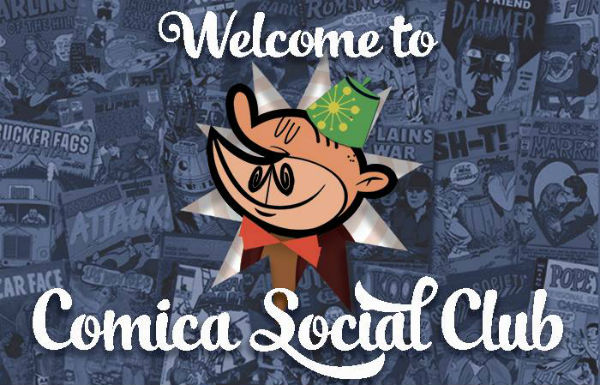 A very brief round-up taster, then, of just a handful of the opportunities on offer in London and one that doubtless may seem a little parochial and even, dare I say it, irrelevant to many of you. But there's a greater point to this week's blog. So here's the deal. Wherever you are in the world, if you currently run an indie comics-related group that meets on a regular basis – a book group, discussion group or comics collective perhaps (rather than one-off events) – then e-mail me at andyoliver@brokenfrontier.com and if we get enough interest I'll compile them all into a future 'A View from the Frontier'.
Welcoming and thriving comics community hubs are a vital local resource and those hard-working individuals who give up their time to make them happen deserve extra acknowledgment. Let's see what we can do to put a spotlight on some of them across the globe!
– Andy Oliver, Broken Frontier Editor-in-Chief, March 13th, 2017
This week's 'Andy Oliver cartoon' is by Keara Stewart, the editor of the excellent bad dreams and nightmares-themed anthology A Bit of Undigested Potato featuring work by Karrie Fransman, EdieOP, Gareth Brookes, Matilda Tristram, Rozi Hathaway, Andy Poyiadgi, Mike Medaglia and many more. The book was reviewed here at Broken Frontier and can be bought online here priced just £5.00. 
For regular updates on all things small press and Broken Frontier follow Andy Oliver on Twitter here.