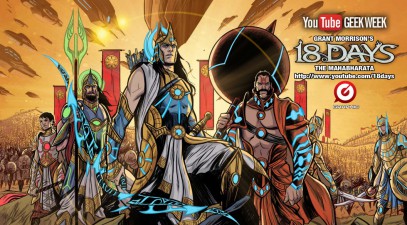 Graphic India announced today the launch of an original animated web-series called, "18 Days," with superstar comic book creator and Batman comics writer, Grant Morrison (All-Star Superman, Batman & Robin, The Invisibles) in association with YouTube.
The series launched today as part of YouTube's global "Geek Week" event, with the first episode available now http://youtu.be/WM27xmTN-uw and subsequent episodes to be launched exclusively on YouTube in weekly installments throughout the year.
"Mahabharata is an epic story and we are very excited to bring the animated version of this great Indian epic to YouTube users worldwide. Partnering with Grant Morrison and Graphic India for this YouTube exclusive will set the bar for more such high quality web original series" said Gautam Anand, Director Content Partnerships APAC for YouTube.
18 Days is a reinvention of the great Indian epic the Mahabharata.  The series will be ongoing and feature weekly episodes throughout the year for exclusive distribution on the Graphic India YT Channel. The series will be released in English, Hindi and Tamil.
An exclusive trailer for the series was posted last week to coincide with a over-packed panel at the San Diego Comic Con, global pop-culture event: and exceeded over 150,000 views within a few days of release.
18 Days follows the course of the climactic war that concludes the age of a race of supergods and begins the age of man. It is the prototype for every war ever fought, wherein the biggest armies ever conceived of face one another across the ultimate battlefield to decide the fate of the future.
"A genre mash of superhero action and mythology grounded in the all too human passions of its warriors, villains and monsters, 18 Days will rewrite the rules of epic fantasy," commented Grant Morrison, the show's creator.  "I'm very excited to be working with Graphic India and YouTube for the launch of my first ever web series. 18 Days updates and retells the timeless stories of the Mahabharata for a new audience on a whole new platform."
Graphic India, is a recently launched character entertainment company founded by Sharad Devarajan and Gotham Chopra's Liquid Comics and CA Media, the Asian investment arm of Peter Chernin's, The Chernin Group (TCG).
"18 Days takes one of the most enduring stories of the east, the Mahabharata, which is known by over a billion people, and places it in the capable hands of Grant Morrison, one of the greatest storytellers of the West," commented Graphic India, Co-Founder & CEO, Sharad Devarajan. "There is no greater platform than YouTube to enable this story to engage with audiences around the world and we are delighted to be working with them."
The first two episodes of the series are available today in English, Hindi and Tamil at the following links:
18 Days – Ep 1 "The Tale of the Four Ages" (English)
18 Days – Ep 1 "The Tale of the Four Ages" (Hindi)
18 Days – Ep 1 "The Tale of the Four Ages" (Tamil)
18 Days – Ep 2 "Krishna Speaks" (English)
18 Days – Ep 2 "Krishna Speaks" (Hindi)