In our final interview with 2021's Broken Frontier 'Six to Watch' artists I speak today to Hannah Carwardine whose flowing visuals, considered use of colour and inventive page layouts immediately drew me to her work. Hannah has been a part of the Drawn Chorus collective and earlier this year I reviewed her self-published fantasy comic The Keeper of the Curiosity Shop here. I caught up with Hannah to chat about her developing practice, her inspirations and life as an artist in lockdown…
ANDY OLIVER: Before we talk in more depth about your comics practice can you introduce yourself first to the Broken Frontier audience and tell us about your artistic background?
HANNAH CARWARDINE: Hello! So since I was a small child I have loved to draw and create stories, I was introduced to manga and comics as a young teen, and so my adoration for the medium started. At school I remember the art teachers discouraging my comics, though I was not deterred, I went on to study an HND in Fine Art. I then went on to study Illustration at University, where I focused on watercolour and storytelling.
AO: Where may readers have seen some of your past comics output?
CARWARDINE: Mostly from my Instagram and webpage, there is also an interactive web comic on the RAF Hendon website.
AO: You work in a number of mediums but what's the attraction of comics to you in terms of its unique storytelling tools?
CARWARDINE: The attraction of comics to me is the pairing of words and images; sounds silly, but it can really create a whole new perspective to a story. It's limitless. The pacing of how a story is told, word by word, panel by panel is the heart of it for me, controlling how much the reader can see into the world you are creating in each page. I'm a little obsessed over good details.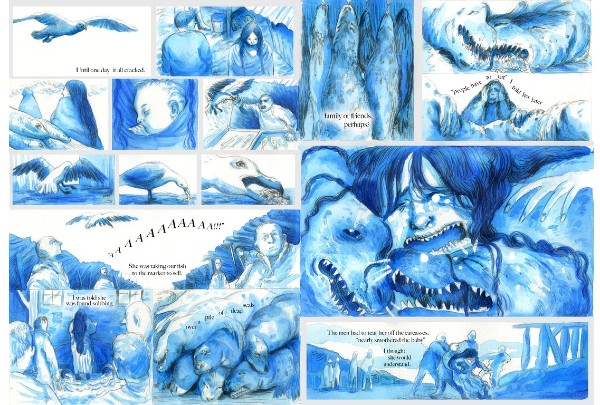 Art from Ruin based on the myth of the Selkie
AO: A lot of your comics have a distinct fantasy feel to them. What would you count among your influences and inspirations, both thematically and visually?
CARWARDINE: Hmm, that's tricky, it's quite diluted, I will take small aspects from any books and films that really spark an interest in me. I would say historical fiction is my go-to, especially medieval; things were quite twisted and dark back then, a lot of superstitions and myths that can add good layers to a story. Cannot recommend Company of Liars by Karen Maitland enough. I love a good insidious horror story.
AO: Readers may be familiar with some of your earlier work via your involvement as part of the Drawn Chorus collective. How important is participation in group initiatives like that in terms of interacting with peers and also in taking your work to new audiences through collaborative endeavours like anthologies?
CARWARDINE: It's the support of a group of fellow artists that is precious to me however to be honest I haven't been involved in many collaborative works as of yet. But I hope to change that soon.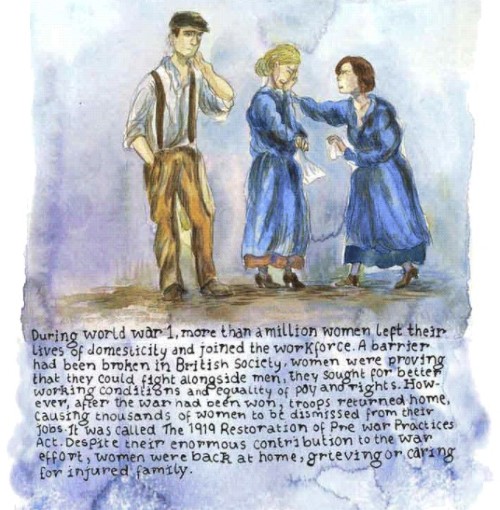 AO: Following on from that, when you were a Middlesex University student, you worked on the interactive online historical RAF graphic novel (above and below), tying into the museum at Hendon. How challenging was it to bring your part of that story to life? And, in a wider sense, how did your style and approach to comics develop and evolve through your degree studies?
CARWARDINE: Getting to work on the RAF graphic novel was a dream project for me! One of the challenges was the research. I wanted to draw a lot of details of factory life back in 1919 as I knew I had to be accurate in order to make a believable and realistic portrayal of this time. Most of my time was spent on researching but it's quite exciting when you can start piecing the visual story together due to this. By being able to experiment with a wide range of methods and mediums of illustration in my degree, it really honed my focus of watercolours and drawing, it's what I was good at and wanted to pursue. Also by being surrounded by creatives you are always inspired and encouraged by seeing what amazing work others were producing, that really helped me to push myself to develop my focus.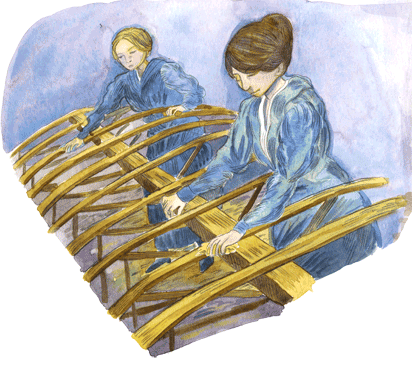 AO: Earlier this year at Broken Frontier I reviewed your comic The Keeper of the Curiosity Shop. How would you describe the premise of that story for those yet to read it?
CARWARDINE: The story begins when a young apprentice sneaks off from work to follow his interest through the grim streets of a city; a girl who works at the mysterious Curiosity Shop. He works up the courage to go inside to talk to her but what he doesn't know was that his fate was already sealed and he had just opened the door to greet it…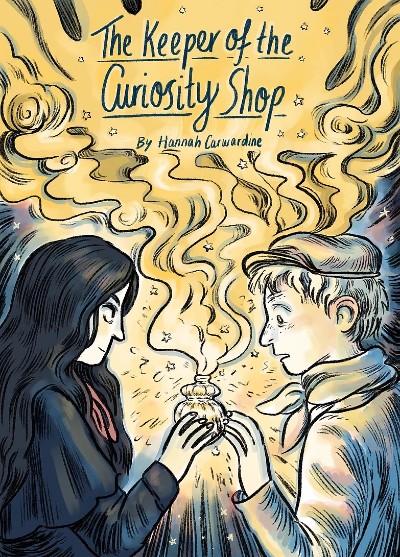 AO: You set up so much in that short story that could easily be followed up and expanded on. Do you have any plans to return to the world of The Keeper of the Curiosity Shop and its inhabitants in the future?
CARWARDINE: Hah! I kept it very vague even to myself. I have thought about some back stories for a few of the characters, and I can very much see some more mischief from Suzie appearing in future comics. However, there are a number of comics I want to create, they are in the queue.
AO: The use of colour in your work can be incredibly evocative. Can you tell us a little about your creative process and the mediums you work in to bring your stories to the comics page?
CARWARDINE: I have always admired comics with a very limited colour palette, I think it can really assist in the storytelling visually. It helped me to think practically what I want the focus in each panel to be rather than a realistically coloured drawing which can sometimes be distracting. This was my first ever digitally made comic! But my process kept quite the same – a lot of sketching on paper, roughing out where colours would go and then transfer that into Procreate.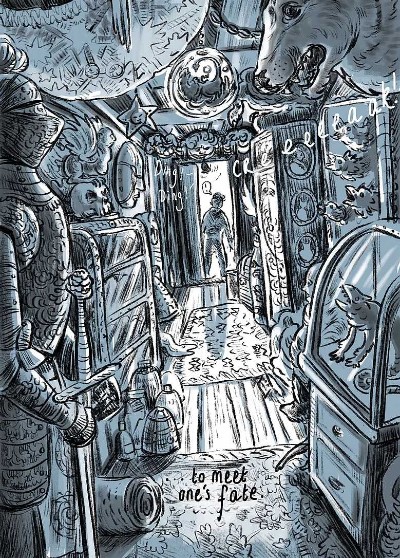 AO: How have the events of the last 18 months in our pandemic era times affected your practice and how have you had to adapt to reach new audiences in these strangest of times?
CARWARDINE: In truth The Keeper of the Curiosity Shop was made in the last few months of the first lockdown. I wanted to challenge myself as I had become completely complacent with my drawing. It was a lot of fast pent-up creativity that turned into that comic, and I think it's evident in its roughness. I'm not the best when it comes to reaching new audiences and social media, I will try hard at it for a few months but it will drain me to the point it affects what I want to create, so I go on long hiatuses. It's a balance that I need to work out still to maintain a good online presence.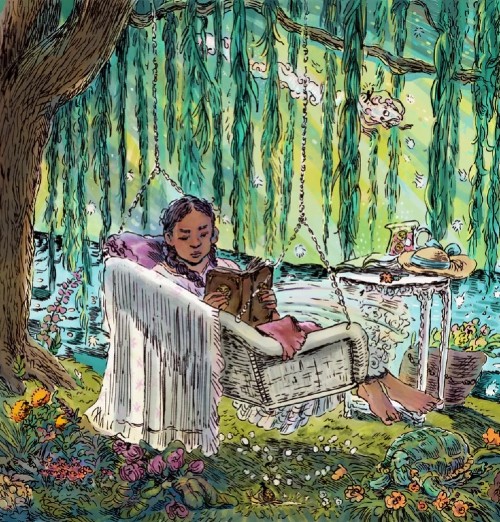 AO: And finally what are you currently working on in terms of comics? Are there any current or upcoming projects we should be looking out for?
CARWARDINE: Yes! I'm really excited about the comic I'm working on at the moment. To give a little taster, a lot of suspense and dread awaits two sisters in a rural Vietnamese village, everything is not as it once seemed…
For more on the work of Hannah Carwardine follow her on Twitter here and on Instagram here. You can visit her site here. The Keeper of the Curiosity Shop is available to buy here. 
Interview by Andy Oliver