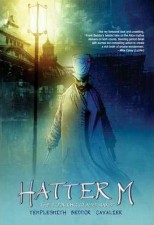 The Eisner Award nominated graphic novel series Hatter M released Volume 4: Zen of Wonder (ISBN: 978098187377052499) to both book and comic stores today.  Hatter M is part of author Frank Beddor's Looking Glass Wars universe, which offers a unique and edgy take on Alice in Wonderland, and has also given birth to a trilogy of New York Times best selling novels.  Renown comic artist Ben Templesmith (30 Days of Night, Wormwood) illustrated the interiors of the first graphic novel and Sami Makkonen (Hellraiser, DeadWorld) continues his run illustrating the second, third and now fourth book in the series making this release a "must have" in comic fan circles.   Digital copies will be available soon.
About Hatter M: Zen of Wonder:
Royal Bodyguard Hatter Madigan's search takes an unexpected detour in the Zen of Wonder
when he travels 'within' guided by a mischievous and often maddening young girl named Nekko. Nekko's origin is a Zen mystery, but her devotion to Hatter's quest to find the lost Princess is unwavering. After Nekko leads him on a fearless chase across the rooftops of 1871 San Francisco, Hatter must acknowledge her as a teacher!
Creator Frank Beddor has worn many hats including champion skier, novelist and his current career as a film producer. He's currently in preproduction on THE JULIET for Sony Pictures and New Regency, a near-future science fiction tale based on the classic story "Fondly Fahrenheit" by Alfred Bester. Rupert Sanders (SNOW WHITE AND THE HUNTSMAN) has signed on to direct, and Brian Koppelman and David Levien (OCEAN'S THIRTEEN) have been hired to rewrite the previous script penned by Henry Bean. Beddor will be partnering on the project with producers Chuck Roven and Alex Gartner of Atlas Entertainment.
Want to learn more about the world of the Looking Glass Wars? Visit www.lookingglasswars.com