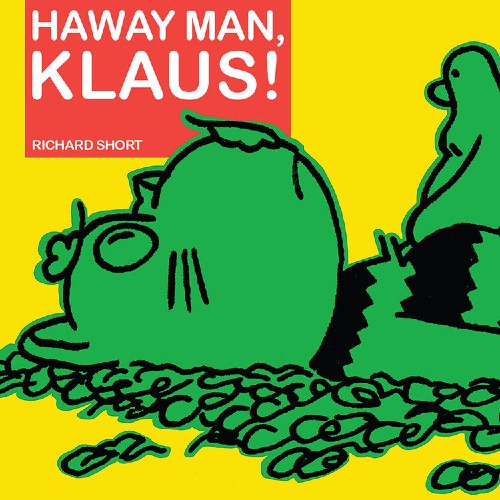 With its alluring design (in collaboration with Joe Kessler), Richard Short's Klaus Magazine from Breakdown Press has been a welcome presence on the shelves over the past few years. Haway Man, Klaus! is the longest collection of the daily-style four-panel strips so far, and it's richly imbued with a particular flavour of lyrical melancholy that will leave you with a smile on your dial.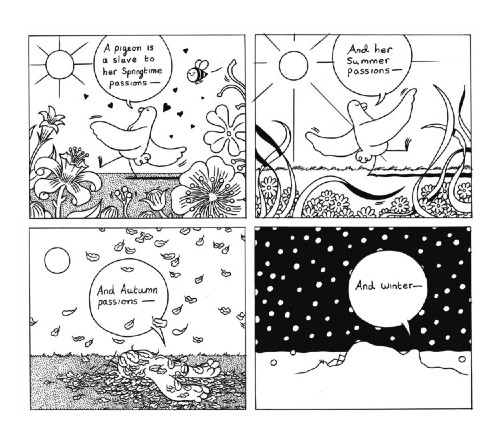 Set nominally in Short's home town of Hartlepool (hence the local dialect in the title), its cast is a motley crew of anthropomorphs locked in a maddening quest for unattainable contentment. Klaus himself is the romantic dreamer-in-chief, constantly looking to add a little poetic grandeur to his humdrum life. While he's always keen to stress the proud and wild nobility of his feline nature, he's equally hapless when indignity comes a-knocking – never moreso than when his reverie leads him to walk distractedly off an edge.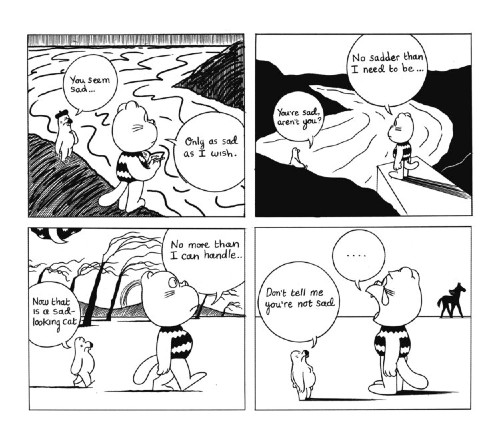 Elsewhere we meet Dieter the morbid mallard, with his sharp sense of the void that lies beyond our brief lives (and the Grim Reaper himself is a frequent visitor to these pages); Fancy, a former pet cat who's now a rabble-rousing revolutionary; Ivor the rat, Klaus's loyal frenemy (and the star of his own earlier "untamed" and "hallucinatory" comic by Short and Kessler); Laurence, the "romantically ruinous Aylesbury" (duck); and Klaus's reverso-counterpart Otto, a thwarted poet looking for his "intense experience": "where is the vim, the verve, the gusto?!?!"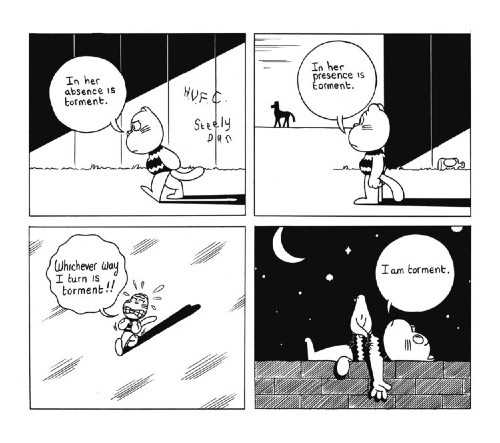 That sense of thwarted ambition and stasis permeates the book, embodied in Klaus's unrequited yearning for Lovely Horse ("the most beautiful horse in Hartlepool"), on whom he remains fixated after the briefest of dalliances. However, it's generally delivered with a calm acceptance – and often bathos – rather than angst. There's much miscommunication, with characters often having tangential conversations while gazing in different directions (seeking an answer somewhere to the Big Questions).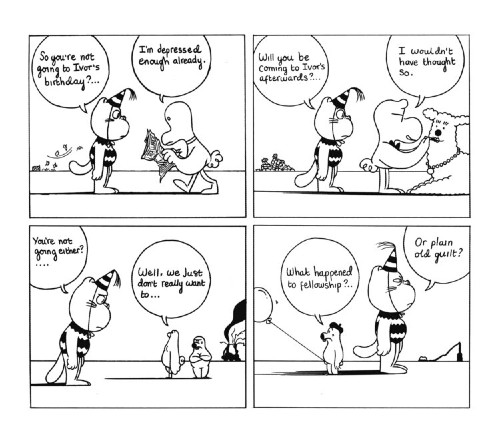 The four-panel model into which Short has boiled down his Klaus cartoons is the perfect bite-sized format for the humorous confirmation or deflation of his characters' take on life. And Short's familiarity with his characters (it's now 10 years since the first Klaus book came out from Nobrow) gives him an easy confidence with their body language. Tove Jansson, Charles Schultz and George Herriman are the usual touchstones for comparison with Short's work, but the gentle introspection and subtle surrealism of these comics fling this grizzled veteran back to the 1980s work of Fast Fiction stalwarts Phil Elliott (Tales from Gimbley) and Glenn Dakin (Abe – Wrong for All the Right Reasons). While Short's anthropomorphics and the strip's shifting, dreamlike environment take the level of absurdity one step beyond, his four-panel vignettes mix humour and poignancy to create something universal.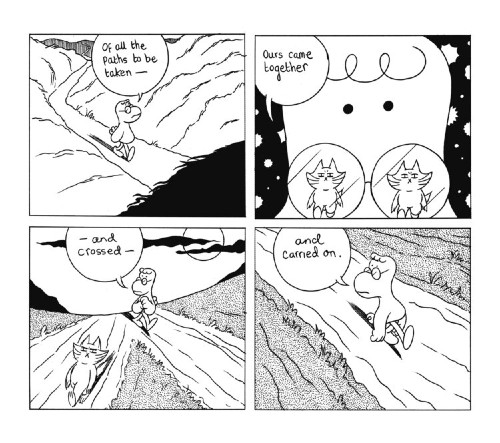 Dive into these pages and you can "[escape] the stifling dungeon of fact… ascend to the airy uplands of possibility… and take flight on the rejuvenating winds of delusion". And who couldn't do with a bit of that at the moment?
Richard Short (W/A) • Breakdown Press, £14.99
Review by Tom Murphy