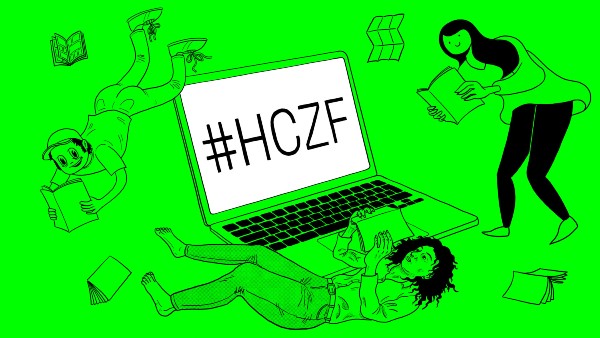 HCZF MONTH! This year's month-long Hackney Comic + Zine Fair kicked off over the weekend with great fanfare on social media. The brainchild of comics community activist Joe Stone this hybrid event of online marketplace, digital events and in-person happenings follows up 2019's hugely popular one-day fair at London Fields Arches. How better to begin our 2021 HCZF Month celebrations today at BF then than to interview Joe himself about what we can expect to see across September? We're delighted at Broken Frontier to be a festival partner for HCZF so look out for posts marked 'HCZF MONTH' for related reviews, interviews and features over the next four weeks.
ANDY OLIVER: Hackney Comic + Zine Fair was a hugely welcome event when it debuted in 2019. What were the origins of the fair and how would you describe its ethos? And, looking back now, what are your fondest memories of the fair two years ago?
JOE STONE: The initial idea was just to fill a gap that appeared in the comic scene after a bunch of other events announced they weren't going to be happening anymore. Tabling at comic fairs was so important to me when I was starting out, so I wanted to make sure there was a space where people could still have that opportunity and highlight some creators who I admired and whose work I enjoyed.
With HCZF I was really keen to make sure the focus was squarely on comics, zines and sequential art. I wanted to make it feel like a celebration of the medium, and make it about all the positive things comics can bring beyond just being great items to read and enjoy – mainly the idea of community and acceptance. I also wanted it to appeal to as broad an audience as possible, and leaned on everything I'd learnt in my day job as a graphic designer to try and create a strong identity for it which grabbed people's attention.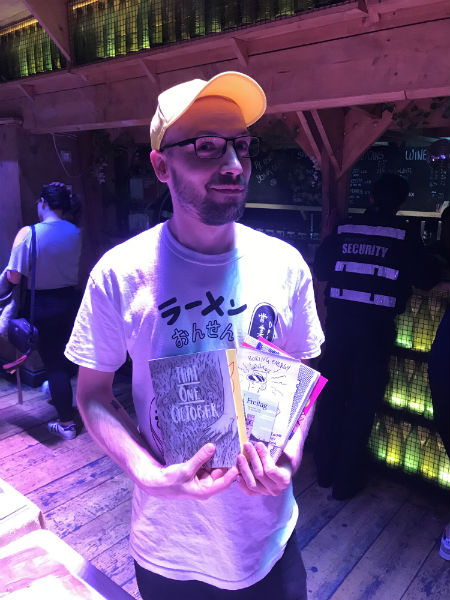 HCZF founder Joe Stone
The thing I'm most proud of with the 2019 event is that it managed to reach an audience beyond the usual people who attend comic fairs in London. The attendance was really good and a lot of people came along who had never been to a comic fair before, or even read any comics. It also led to a bunch of the exhibitors telling me it was their most lucrative ever one-day fair, which was very nice to hear.
Also, I drank loads of beer and it sort of felt like a big party and I had a really nice time.
AO: HCZF makes a welcome return this year as a blended event with an online fair and some associated "real world" events. How have you had to adapt to a post-March 2020 world in terms of programming?
STONE: Oh it's been a big shift this year, and has required a lot of planning.
Firstly, the fair itself is going to be online which is by far the biggest change. I'm sure everyone wishes we could go back to how comic fairs used to be in 2019, but HCZF being a digital event this year does also have some benefits. Firstly, anyone can attend from anywhere in the world. Secondly, we don't have to limit the fair to just one day or two days due to being dependent on a venue, so it's going to be on for the entire month of September. Being online means we also can open up how many exhibitors we can have and aren't limited to how many tables we can fit in a physical space. I've also integrated a tag word system into the website, so the audience can search each of the virtual halls by different tags like 'autobiographical' or 'graphic medicine' or 'feminist' or 'LGBTQIA+' to find exactly the sort of work they are interested in.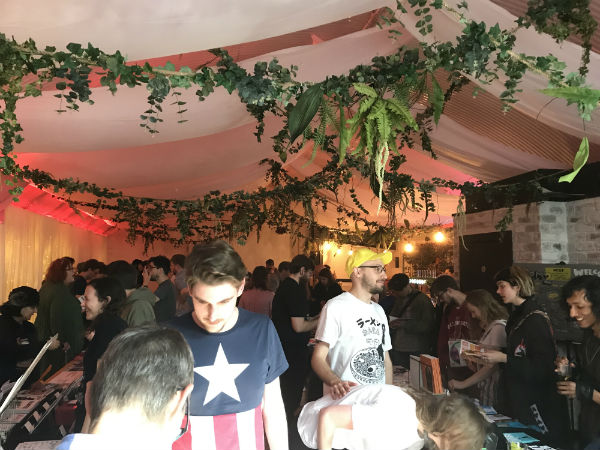 A reminder of 2019's in-person HCZF!
To keep people engaged throughout the month I also wanted to organise a programme of online talks and workshops, and to keep it rooted in Hackney I was very lucky to have help from my friend Nora Goldberg who has been working to organise a bunch of in-person events in the real world too. She has been great and we have a series of great physical events planned, including a live interview with Jenny Robins, some chalk drawing in the heart of Dalston and the very welcome return of the Gosh! Comics & Broken Frontier Drink and Draw to the real world at the end of the month.
Overall it's meant that the event as a whole has grown quite considerably in scope from the one-day fair we had back in 2019, which probably would never have happened if not for the pandemic making everyone think about alternative ways to do things.
AO: The list of exhibitors is noticeably diverse in terms of practice and approach to comics. How did you go about the curation process this year?
STONE: Another big change from the previous event was that this year I opened up applications, rather than just picking the exhibitors myself. We had hundreds of people apply, all of whom were wonderful and produced great work, but to make sure we had a manageable number of exhibitors I employed a panel of curators to help me out. They were fantastic at trying to highlight people they hadn't heard of and who were creating exciting work, and making sure there was lots of variation in terms of genre, themes, style and approach. It was also very important to all of us to make sure we were being inclusive and truly representative of the people who are making comics in the UK to showcase just how diverse and welcoming the medium is.
I'm so proud of the line-up, there is so much variety and hopefully the fair will help introduce these talented artists to a whole new audience.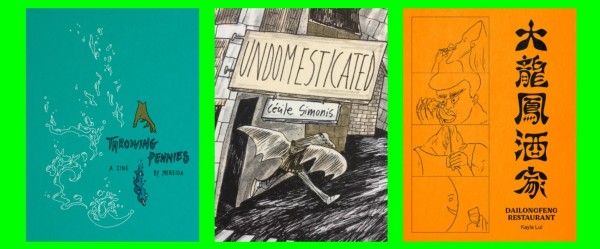 AO: There's a large number of debut books coming at HCZF (examples above!). Can you tell us about just some of those projects and the new voices we should be looking out for?
STONE: There are so many amazing looking books, I'm actually blown away by how many of the exhibitors decided to debut new work at the event. We have over 30 debut books which will all be highlighted on a special page on the website so the audience can find them nice and easily, and frankly all of them look great.
I'm very excited about getting my hands on Lulu's Flight by Yu-Ching Chiu, Burrow by Joe Callanan, Daddy by Beatrice Mossman and I Was Thinking by Lesley Imgart (below). All very different styles and tones, but they all sound fantastic and look like they'll appeal to my particular storytelling tastes.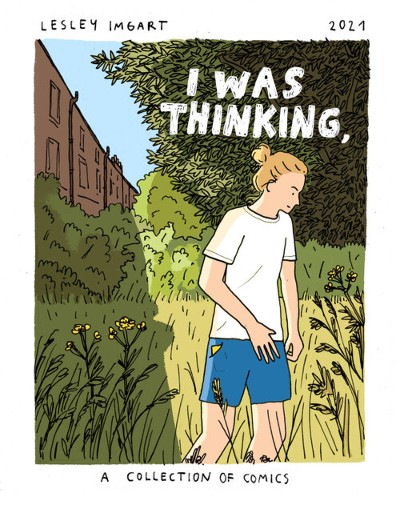 AO: HCZF isn't exclusively about comics. It also includes zine-makers and other publishers from the world of DIY culture. What kind of non-comics practice can we expect to see?
STONE: Yeah, I was really keen to honour the 'Z' in HCZF this year and make sure it wasn't all comics. Zines are such an accessible medium and so flexible in what they can be, so I'm really excited to have so many people representing the zine-making world and hopefully we can help bring some more attention to it.
We have photozines, perzines, poetry zines, pop-culture zines, educational zines and more. Exhibitors like SPAM Press, Livor Mortis, The Green Zine, Rebecca McCormick and Loose End are all making really exciting and interesting work, and Grrrl Zine Fair and Artizine are also promoting their own events and activities too.
In fact, Artizine will be holding a free online zine-making workshop on Sunday 19th September as part of HCZF too, so anyone is welcome to sign up to that and get started with making their own.
AO: You're also involved, of course, with the WIP Comics group bringing aspiring creators together. This year's WIP Comics anthology is a genuinely unique experiment in comics delivery. Give us the lowdown on the Lucky WIP project…
STONE: It's a really fun idea, and all credit to Lara Callaghan for suggesting it and helping me organise it.
After a few years of releasing comics in the standard A5 book format we were keen to shake things up a bit. We did an exercise a few years ago for a fair we tabled at in Berlin where all the members of WIP spent a couple of hours making mini-comics from a single sheet of paper, and then put random sets of five of them in sealed envelopes. We put them on sale at the fair with no way for either us or the audience to know what was inside… and they were the first thing to sell out. Turns out everyone loves a surprise.
We've taken that idea to the next level this year with Lucky WIP. It's the same premise, so everyone who buys a copy will receive a sealed envelope with five random mini-comics, but rather than the fairly last minute thing we did in the past, this time the group have spent the last six months thinking up interesting ideas and inventive formats for them. And some of them are truly inventive, smart and really beautiful. To tie it all together in more so, all the comics are also themed around luck. Some of the envelopes might even have a few other bonus bits in there, like some original sketches by some of the artists and other fun stuff.
AND, if you buy a copy of it from wipcomics.co.uk you'll also get a PDF download of all 30 entries, so you'll still be able to read everybody's work.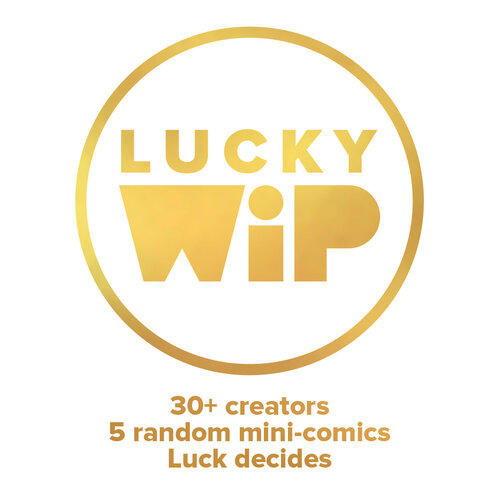 AO: Adjacent to the fair and exhibitors there are a number of online events too. What's coming up on the programme?
STONE: We have a packed schedule over the whole of September, and there is something for everyone.
Gareth Brookes will be giving a talk about the power of small press on 8th Sept. On the 11th then I'll be holding a WIP Comics open day, where anyone is welcome to check out the group and join in. Shangomola Edunjobi will be guiding us through a one-page comic making workshop on the 12th, and we have a panel talk with Gareth Hopkins, Peony Gent, Olivia Sullivan and Miranda Smart about using abstraction in comics on 14th Sept. Then on 18th Sept we have a great panel about how Asian creators work is often pigeonholed as 'manga' despite being hugely varied with Kayla Lui, Jason Chuang, Lee Lai and Kaitlin Chan. Plus the aforementioned zine-making workshop with Artizine on the 19th.
We also have more panels planned including a panel talk led by Hannah Berry on the 24th, and Jules Scheele and Meg-John Barker will be interviewing each other about their collaborations on books such as Queer: A Graphic History on the 28th.
The best thing about most of these events is that the exhibitors themselves suggested them, so there is a real passion about the subject matter and themes. I'm genuinely excited about going to them all myself.
All of them are entirely free to attend, too. You just have to RSVP to them to get a place, which you can do via the events page of the HCZF website.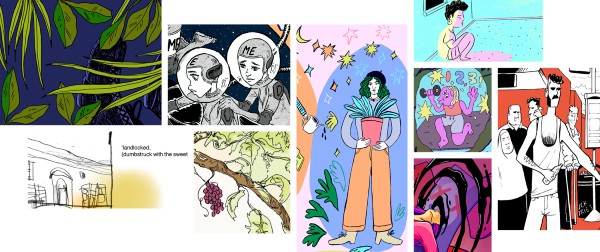 And, finally, there are some exciting physical exhibitions too featuring a number of creators who we have covered in some depth at BF over the years. Where and when can people attend these events?
Yes, the exhibitions are some of the parts I'm most looking forward to.
For the entire duration of the event we'll have an exhibition titled Ink Well (sample art above) up in Gillett Square in Dalston. It's themed around mental health and wellbeing, and is comprised of thirteen original pieces of comic art that we commissioned by Peony Gent, Mike Harman, Ed Firth, Olivia Sualdea, Aleesha Nandhra, Havva Bird, Thunderchair, Laylah Amarchih, Korinna Mei, Nic Mac, Shangomola Edunjobi, Mereida Fajardo and Natasha Natarajan. You'll notice a lot of Broken Frontier Six to Watch artists in there – clearly you were on to something, Andy. The art functions as an 'exquisite corpse' of sorts, meaning each page leads into the next to show a narrative, but each one also stands alone as an incredible piece of art. Tying in to the theme of the exhibition, we've also worked with some local mental health charities to highlight their resources to the local community, as it's something that people still don't talk about anywhere near enough. Come along to see that from 4th-30th September.
We also have another exhibition showcasing the work of the great Jenny Robins! That one will be up at the Ridley Road Social Club from 11th-18th September, and features lots of pages from her fantastic graphic novel Biscuits (Assorted) – all of which will be for sale. Jenny will also be doing some live drawing in the space on the opening weekend of the 11th and 12th, and on the evening of the 11th she'll be interviewed live on stage by Ben Connors of Soho Radio for the launch event. The exhibition is entirely free to attend, but if you want to come to the launch night you'll have to RSVP.
Again, massive thanks and credit to Nora for helping out with the organisation of them both. And also just a general thanks to the comics community who have been so supportive of everything, and all of the exhibitors who are so passionate and excited about the event. And of course, to you Andy and all of Broken Frontier for all your support and your tireless work championing the comics community.
Follow HCZF on Instagram (@hackneycomicfair) and Twitter (@hackneycomics) for updates, and head over to www.hackneycomicfair.com for more information about the event.
Interview by Andy Oliver