HCZF FORTNIGHT!
A new publication from a double Broken Frontier Award-winning artist was always, of course, going to be a must for coverage coming into Hackney Comic + Zine Fair and Katriona Chapman (Katzine, Follow Me In) doesn't disappoint with Highlands Travel Diary, an illustrated zine-style travelogue. It combines two of the most important aspects of work – her slice-of-life observational vignettes and her love of the natural world, always such a vital recurring motif in her practice.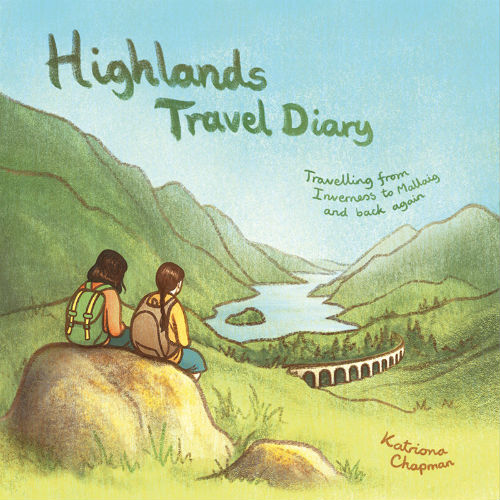 This collection of diary-style comics is subtitled 'A Trip from Inverness to Mallaig and Back Again' with each page capturing scattered events or sequential anecdotes from a day or a half day of her explorations with her friend Rupa. Chapman's delicate and carefully rendered visuals floating across the page as currents of accompanying text swirl around them. Highlands Travel Diary captures both the minutiae of their trip and a sense of excited discovery as the duo encounter the eccentricities of their various accommodations, immerse themselves in their surroundings and the local wildlife, and inevitably manage to get lost in the countryside. Later these diary comics move on to time that Chapman spends with her mother in Scotland – quiet but comforting fragmentary moments on their week together that have a soothingly accessible quality to them.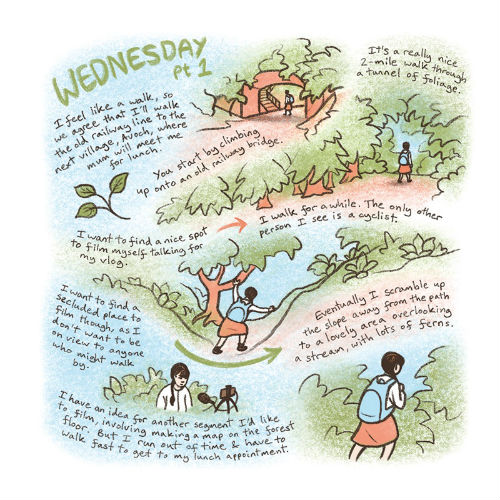 The final part of Highlands Travel Diary presents a handful of more whimsical complementary 'Nature Detectives' strips as Chapman and Rupa consider such posers as whether the tide is higher on one side of the world when it's low tide on the other, or why you never see seagulls  in trees. A lighthearted coda to draw events to a close.
If you're a fan of that certain strand of autobio that exists as much for the creator's own enthusiasm for the subject as it does for a potential audience then Highlands Travel Diary has the kind of understated charm that we have all come to love from Chapman's Katzine series. With a subdued but quite magical colouring approach it's one of those comics that allows us to escape the stresses of our own lives for a short while and simply lose ourselves in someone else's.
This is the joy of much of Chapman's self-published autobio – it's never brash or ostentatious but rather invites us into her world with a generosity and a welcoming appeal. One of the most exciting things about so many of the HCZF debut books is that I've been able to say again and again what excellent starting points they are for attendees who may be new to some of the exhibiting creators. Highlands Travel Diary is another good case in point. Those wanting a fuller multimedia accompaniment are advised to read in tandem with Chapman's vlog series.
For more on Katriona Chapman's work visit her site and store here and follow her on Twitter here.
For regular updates on all things small press follow Andy Oliver on Twitter here.
Review by Andy Oliver
Katriona Chapman will be exhibiting at Hackney Comic + Zine Fair on Sunday September 8th at Table 33.