As part of our ongoing commitment at Broken Frontier to emphasising the vital importance of comics community we're pleased today to be able to run this beautifully written and very personal tribute to the late Tommy Hoodless, the owner of Carlisle's Imagination Station comic shop, by acclaimed British creator Owen Michael Johnson (Reel Love).
On the morning of November 8th, I woke up to a message from a friend warning of sad news. I speak with this person almost every day, but rarely prior to the day's first cup of coffee. I responded, still groggy enough not to be worrying.
Tommy Hoodless, the owner and sole proprietor of the Imagination Station comic book shop in Carlisle had died. A Facebook statement by a retailer I didn't know, reported that Tommy had been found by police in his shop at 41 Bank Street after neighbours had noticed it hadn't been opened for a number of days. If you knew Tommy, you knew he was always at the shop.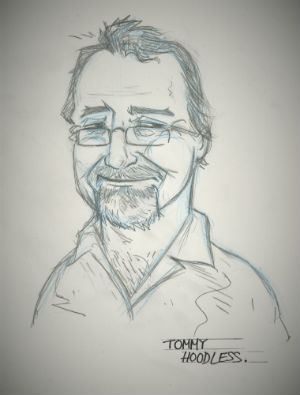 Struggling to understand this information, I did the first and only thing I could think of doing: I called my father. I did this with every intention of simply relaying the news.
Upon hearing his voice, I utterly unspooled.
I first met Thomas Hoodless visiting Imagination Station at its previous Botchergate location. It's long since been converted into a Wetherspoons or a panini café, but when I first visited it had a black and blood red Rocky Horror exterior, with glossy vinyl signage. On each side of a black door, H.R. Giger's fetish insect Xenomorph and a murderer's row of '80s slasher icons stood behind a metal grill inside their own penitentiary yard. Botchergate, Carlisle's main bar drag, can get pretty rough. In hindsight, the grill and bolts were all security features. To an eleven-year-old it looked as forbidding as a sex shop. It appeared to have been built expressly to keep me out, which for a pre-pubescent boy was practically an invitation.
Inside it was just as gloomy. Dim, yellow lighting and a dark carpet. And countless comic books wherever you looked. The centre-piece was a monolithic wooden rack displaying tiers of comics, facing forward to show the top thirds of their covers including the all-important title logos. Behind a heavy desk at the back of the shop stood a man. He was, I guessed, my father's age. He had a purple birth-mark on his cheek, just below his eye, and a salt and pepper beard (which would slowly grow saltier over time, much like his mood). I may have mumbled a hello. He may have replied. All I remember was my shyness, and his authority. I remember the church-like atmosphere. He stood watching me browse the racks with his arms folded. The shop remained silent but for the creaking of the wooden floorboards and whisper of my fingertips brushed across pages.
This wasn't humour weeklies like The Beano. It wasn't packaged 'graphic novels' I'd bought from high-street book-shops or newsstand reprints with heavy covers and the whiff of a cheap bootleg. This was the mother-lode: polybagged 'floppies' imported directly from the mythic source; the U.S of A. This was Comics with a capital C. The genuine article.
"Can you not bend the comics forward?"
I may have mumbled an apology. I don't remember whether I bought anything that day, but probably not. But the promise of the comics themselves must have made a stronger impression than the intimidating customer service because I soon returned to buy a handful of Batman family books, Nightwing drawn by Scott McDaniel being the first.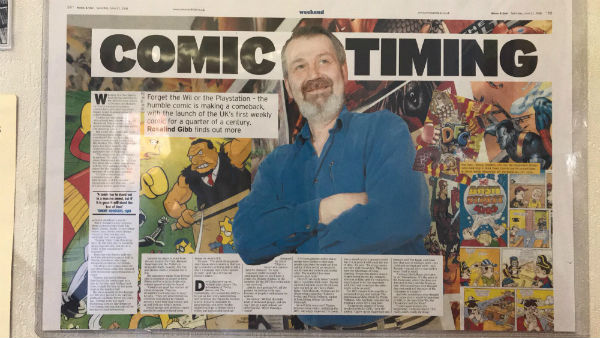 And so began months, perhaps even a year, of near-wordless transactions shared between two people. (It was months before I learned that anyone else shopped there). I monkishly selected books – instinctive and grazing widely. I selected comics on the merits of the ludicrous pledges the covers made: Tommy quietly declared the totals and bagged the books. The entire interaction was conducted with impeccable co-ordination and ritual, formal and grave as a command bunker nuclear test. He would wish me well and I would read the entire stack on the drive home, to the mild frustration of whichever parent had drawn the short straw. This continued week in, week out.
I find it difficult to pin-point when things changed. Probably when I set up a standing order account (or pull list), signalling I was in it for the long-haul and must be pretty serious about this comic collecting thing. It also required the surrendering of a name to attach to the account. I had finally picked up his name from overhearing older, more seasoned regulars saying hello. It was here that Tommy's unique brand of cantankerous kindness revealed itself. A complimentary trade paperback thrown into my standing order as a Christmas gift; promotional posters and alien rings, branded with the insignia of an interstellar peace-keeping force and forged in cheap plastic; a raffle on Free Comic Book Day rigged so every child would win a prize. Infinitely more valuable to me was the knowledge – freely given to a willing student of this Arcana Americana – of the vast histories of characters and worlds, writers and artists. The birth and collapse of empires, of whole dimensions.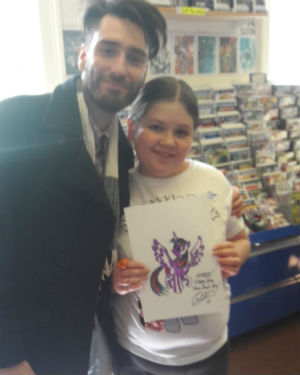 Each recommendation came with a demonstration. The twin strips of sello-tape would be ceremoniously popped, bag pried open, comic unsheathed with a satisfying friction (and without catching on the tape – a skill that would baffle the unpractised). The product would be placed on the desk and pages turned 'for Sir's perusal' with the grace of a waiter proudly presenting a dish he knows to be superior. Marshall Rogers' Joker was 'stunning'. Mike Grell's Green Arrow was 'masterful'. Hallowed Neal Adams' Batman was 'the Good Stuff.' And at the cosmic centre, always Kirby.
Tommy relished staring his love of the Silver Age of American comics. It was infectious. Horror stories of rural comic shop owners talking down to new readers, or intimidating and condescending women are legion. I've come across a few of those dinosaurs myself. But Tommy spoke to whoever was interested, given the time to let him warm up.
In the interests of balance, I should be objective and confess that Tommy would probably loathe this hackneyed eulogy. He would be embarrassed by my in-depth personal memories, uncomfortable or gently scoffing in the face of my earnestness. He would inevitably downplay the role he took in influencing the course of my career. He would shrug it all off. Maybe he would be right. You could argue it was in his business interests to fuel my curiosity in comics. But to suggest this alone motivated the hours we spent talking would be to dismiss an unlikely friendship. In the aftermath of his death, I struggle to name more than a handful of friendships I've maintained since I was eleven years old.
By my rough estimate I visited the Imagination Station once a week for ten years. During that time, romantic relationships flamed, fizzled and imploded. Scores of friendships ran their course. I can still recall which comics were returned to me following a break-up, which were purchased to celebrate the passing of exams. When I moved South for university, a visit to the shop became a bi-annual ritual, second only to time with my family. I never cancelled my standing order, although I often didn't read the comics, or already had duplicates.
The day he was cremated, on a gunmetal grey afternoon in November, the place was packed, with standing room only. It quickly became clear I was only a small part of his life, and knew very little of the extent of his customer base and private life.
Just as fans of sports and sitcoms have found, these serialised entertainments are a form of company. The hours spent on the bridge of the Starship Enterprise are a comfort. They never seem to end, just get rebooted and refreshed, weaving in and out of our lives. Librarians and ushers and comic shop vendors are just that. Keepers of histories, maintaining intricate fictional clockworks. At least, that's who Tommy was to me, for many years. The guide.
In major cities, surrounded by cultural highlights, independent comic stores are ramshackle club-houses. They have banners to stand under and a door forever swinging open. In rural towns, the comic shop can be a lonelier endeavour, but one no less valuable. It is a lighthouse, often with a single keeper, signalling a beacon to guide those who choose to dock, to seek, to connect.
'I'm here. I'm like you. Join me'
Owen Michael Johnson is a writer and cartoonist from Cumbria. The Imagination Station, now owned and operated by Farrah, Tommy's daughter, is open for business at 41 Bank Street, Carlisle. 
Top portrait by Owen Michael Johnson