When approaching today's review of Owen Michael Johnson's Reel Love – the second graphic novel to be published by crowdfunding publisher Unbound after Grafity's Wall – I found myself in the rather odd position of having to effectively plagiarise myself. Early chapters of the story were self-published by Johnson a number of years ago but have been retouched and edited for this handsome hardcover package and presented alongside the concluding segment of a book. My thoughts here, then, are largely lifted from my original reviews with some additional commentary on how the book reads in its final, intended, three-act incarnation.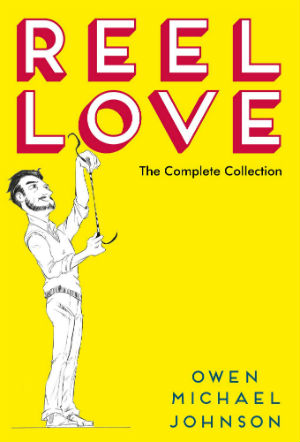 Told with more than a hint of the autobiographical the central character of Reel Love is an avatar for Johnson himself. In a 2017 interview with me here at Broken Frontier he described channelling his own experiences through a fictional construct and said "as a writer I have to primarily entertain both myself and readers and I like to twist and play with the truth to do that." Across the three sections of the graphic novel we observe the formative years of that protagonist from early friendships to teenage angst and first love, through to the disappointments and harsh realities of adult life. All of this is framed by his ongoing relationship with the world of the cinema screen; a connection that changes and evolves over the years but is always central to his world.
In the first act of the book we meet a young boy who becomes so preoccupied with the fantastic locales he encounters through the big screen that he begins to define the world around him in terms of their plotlines and characters. The book's narration, which gives a somewhat otherworldly voice to the very medium of film itself, is highly effective here in emphasising that this is not simply a one-way obsession with an art form but a two-way mutual relationship between devotee and object of celluloid adoration.
It's an association that gets off to a rocky start when our young hero makes that first venture into the forbidding gloomy environs of a picture palace and is overwhelmed by the sensory stimulation inside. But these feelings of trepidation are eventually overcome as his heroes and favourite scenarios on the big screen begin to fade in and out of his daily life, blurring the lines between cinematic fiction and reality. Having become entranced with the Star Wars mythos he forms a friendship with school chum Joseph and a heady summer reliving their favourite movies begins.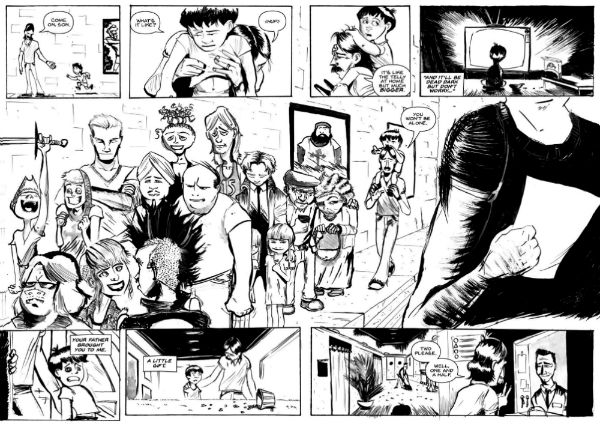 With something of a meta flourish, the second part of Reel Love moves the story on a number of years. Our central character is now a young man, unemployed and living at home in an uneasy relationship with his sister and father. His passion for film has now taken on an obsessive quality with frustrated over-analysis of plot points, characterisation and frame rate having replaced the joy he once took from the medium. Childhood innocence has been sacrificially slaughtered on the altar of teenage cynicism. This sense of pessimism is reflected in the setting of much of Act Two as our "hero" finds himself swept into the corporate system as an employee of the local "cinedome". It's a hideous working experience dealing with the unreasonable complaints of the public , out of control children, and the ever present peril of rubbing jalapenos in your eyes when working on the fast food counter.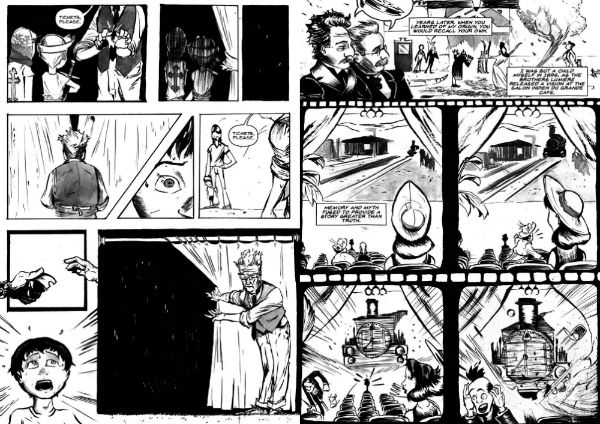 If the first act was recognisable for positive reasons – the unbridled awe of discovery – the second is equally familiar for less welcome ones. It will take you back to the monotony and sense of degradation of early teenage employment; of the spirit-crushing, soul-destroying tedium of those fill-in jobs as the unruly rebel is reduced to being just another cog in the machine. Another layer to the book's thematic heart is apparent now as this sequence takes on the feel of a Brat Pack movie with a memorable cast of wise-cracking characters coming to the fore as supporting players.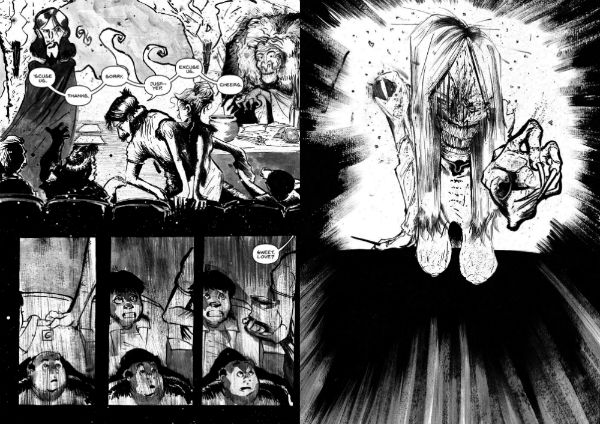 The final act takes us into adult life and a character whose ambitions have been frustrated and his early promise denied. Now lecturing, his life comes full circle as he takes on the role of a mentor figure to a young filmmaker, living his dreams vicariously. It's here that a moment of epiphany will bring events to their poignant, cyclical finale in a denouement that is all the more powerful for its introspective acquiescence.
Artistically, each chapter reflects the period of its protagonist's life in which it's set and the differing tone to each act. The first act roots Reel Love in a gritty but slightly fluid realism that is just shadowy enough to allow the moments of grotesque fantasy and fantastical adventuring that punctuate its pages seem a natural outgrowth of the imagination of its main character. But it's that subtler visual characterisation that is also vital in communicating those familiar childhood emotional swings that we will all identify with; that sense of awe that comes with discovery, childhood terror, the distress that follows the betrayal of friends, and the pain of loneliness are all captured with an evocative sketchy confidence.
In the darker second act Johnson's busy pages can shift deftly from recognisable realism to cartoon exaggeration in the blink of an eye; rapid transitions that emphasise the unbearable ordeal of working in such an environment but also underline the observational comedy that is such a part of the issue. The visual film references throughout are a bonus, reminding us of those sequences from the first act when fantasy and boyhood life became almost indistinguishable. It's expressive physical characterisation that carries the crucial final third of the book, though, where our investment and empathy with the central character is no less intense but has a quieter pathos to it.
This is a book that's not so much about personal redemption as about rediscovering your dreams; of recognising what triggered those aspirations in the first place. An unforgettably powerful and deeply resonant exploration of the complex relationship between time, memory, and the passions that shape us. Reel Love is a truly triumphant breakout work from Owen Michael Johnson.
Owen Michael Johnson (W/A) • Unbound Books, £14.99
Review by Andy Oliver