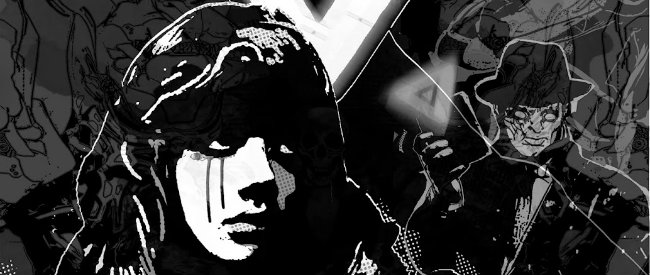 Using his signature multimedia approach to sublime effect, Winnipeg creator GMB Chomichuk puts his distinctive, insightful stamp on one of science fiction's most overwrought conventions, with craft and style.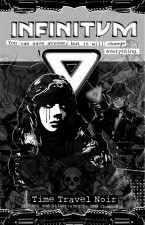 A few years ago, zombies were popular, fueled in large part by the success of The Walking Dead. Before that, the glimmer of impotent children of the night was all the rage, thanks to the Twilight Saga. Then Vaughn and Staples' Saga came out from Image and the space opera became trendy.
This year, writers and artists from across the comics spectrum have keyed into time travel as their chosen vehicle of expression. Some, like Millar and Murphy's Chrononauts, use the concept as a convenient backdrop to prop up an otherwise pedestrian buddy flick-style comic. Others, such as Matt Kindt's Pastaways, treat the subject with tongue firmly planted in cheek, using the concept of time travel as a platform for satire and social commentary. Still others, like Rafael Albuquerque's 8ight, delight in the dizzying array of creative possibilities time travel affords the crafty artist.
Few of these works approach the level of originality, intelligence, and comprehension of the material as Winnipeg artist G.M.B. Chomichuk's Infinitum. Using his distinctive multimedia artistic style, which includes drawing, photography, and collage, Chomichuk constructs one of the most representative and remarkable uses of fractured time since Bryan Talbot's seminal The Adventures of Luther Arkwright.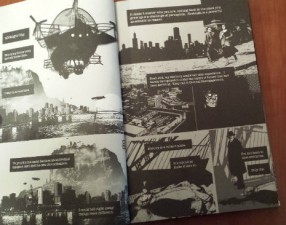 The thing about time travel that makes it so attractive to use as a storytelling device – and so difficult to use successfully – is the idea of paradox. A paradox, as most of us know, thanks to shows like Star Trek and Doctor Who, occurs when the intrepid temporal wanderer meets himself or a close relation (or something of that sort) during their journey into the past.
You know when Marty McFly almost gets it on with his teenage mother in Back to the Future? Well, he avoided a potential time paradox that could have seen him become his own father. Pretty messed up, right? These kinds of complicated storytelling pitfalls can make it difficult for creators to tell a story succinctly, and some avoid paradoxes entirely by explaining them away or ignoring them all together.
In Infinitum, Chomichuk refuses to shy away from paradoxes and instead deftly weaves the concept into his time travel noir so tightly that the plot is predicated upon their existence. Set against the atmospheric backdrop of Midnight City, where a time-displaced diaspora seeks refuge from a temporal war waged in multiple futures, Infinitum is at its heart also a romance story for the ages.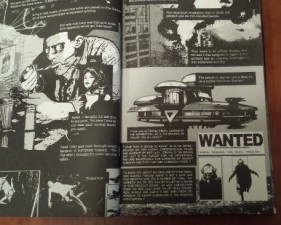 Centered around Chomichuk's hard-boiled protagonist Agent 9, a cybernetically enhanced operative of the Paradox Bureau, the plot unfolds in a non-linear way, following the trail of a temporal terrorist responsible for the murder of a nightclub singer back and forth through the time stream. The challenge for the agent is to avoid muddling the investigations of his temporal copies, also on the trail of the killer.
The only way Agent 9 can solve the crime without sacrificing the future is to change irrevocably the one moment in his past that continues to define him in his ever-shifting present. This pits him against officers of rival law-enforcement agency S.T.A.R. Patrol, who – along with elements within his own bureau – seem hell-bent on seeing 9 fail.
An enormous amount of thought and tinkering obviously went into the finer details of this plot. The twist, when it comes, is heartrendingly logical – inevitable even, considering the precise mechanics that rule Infinitum. Yet despite Chomichuk's technical wizardry with both art and plotting, at its core this is a story of two souls bound inextricably together by fate and the peculiar circumstances of their existence.
Chomichuk's artistic style compliments his choice of subject matter extremely well, accentuating the strangeness of Midnight City and its denizens with dense blocks of shadow, while anchoring the place in familiar noir territory with its timeless sense of style and swagger. The use of collage allows the artist to create an atmosphere of foreboding and claustrophobia with overlapping panels and contrasting imagery. There's a pervasive tension simmering beneath the surface in Chomichuk's work, injecting a sense of urgency into 9's investigation.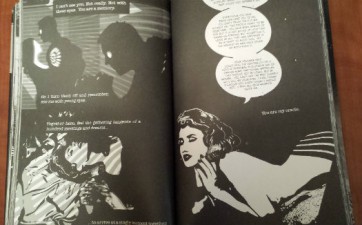 Chomichuk's collage technique also dovetails nicely with the unique conventions of the time-travel story. The measured use of repetitive imagery to reinforce some of the finer plot points serves the artist well and allows him to render his protagonist's temporal echoes with an appropriate, near-mechanical precision.
Infinitum is a challenging book on a number of different levels. Chomichuk's perception of what graphic storytelling should encompass stretches far beyond the traditional application of pencil and ink to a sheet of Bristol board.
He clearly views the medium through a much wider lens than most fans and creators. But he doesn't push the boundaries of the graphic narrative simply to be shocking or different. There's a deep and abiding respect for the medium informing his work, evident in his fluid transitions and sense of pacing.
It is this unique perspective that allows Infinitum to rise above much of the rest of its competition. By embracing paradox and welding it to the inner workings of his story, Chomichuk successfully resets the bar for smart, engaging time-travel stories.
GMB Chomichuk (W/A) • ChiGraphic, US$18.99 (also available as an e-book, C$9.99)