Father, husband, teacher, and artist. People say there isn't much to do in "Winterpeg", especially once the snow falls. Tell that to Winnipeg-based comics creator GMB Chomichuk, who knows a thing or two about time management thanks to his latest graphic novel, the time-travel noir Infinitum.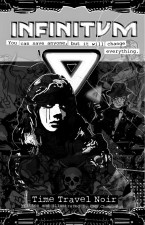 There was a time I could have met GMB Chomichuk, and I'm kicking myself for not taking it. As it stands, I waited almost two years after striding by his table at a local con with a polite nod before finally sitting down with him for a chat. Alas, things happen for a reason, I suppose – even if that reason isn't immediately clear at present.
What is clear to me now is that this mainstay of the Winnipeg comics scene approaches the medium from a unique perspective that encompasses all facets of his busy life. He's an artist in the truest sense of the word, incapable of separating his art from his professional and personal lives. He speaks just as passionately about teaching English and art (among other subjects) to high-school students as he does about his latest graphic novel, Infinitum (which I reviewed last week).
"I'm a teacher and it's not a question of 'I wish I was writing comics full-time', but that I have to be a teacher. It's that I love teaching, so I went into teaching and I love every second of those days.
"So when someone says, 'I have a work-for-hire project for you, do you want to work on this book?' I'm in a position now I don't have to say yes out of some sense of desperation. I instead say, 'How much do I like this project? How much do I want to be invested in it?'"
Chomichuk's first major creator-owned work was a three-volume dark fantasy anthology series called The Imagination Manifesto. Built around a sprawling metafictional mythology centred on a framework of seemingly disparate serial stories, The Imagination Manifesto is at its core a call to creative arms for his audience and an artistic mandate that telegraphs his work in both Infinitum and the forthcoming Underworld with Lovern Kindzierski (Shame).
It wasn't an easy road for him, either. Chomichuk's artistic style challenges most traditional perceptions of what comic book art should be, on a number of fundamental levels. His multimedia approach involves a number of techniques, including traditional drawing, photography, and collage, and often relies as much upon experimentation for its distinct visual tone as it does conventional graphic storytelling techniques.
"Comic publishing is very much like traditional book publishing – I have my hands in a bunch of that too – in that there are these little camps. Like you have these traditionalists on one side, [for whom] a book is only this kind of thing and is only reviewed this way for these markets…"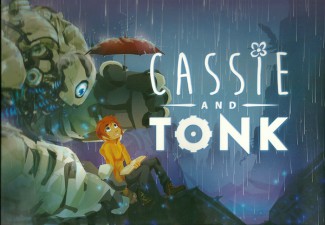 In Infinitum, Chomichuk has perhaps found the most appropriate subject matter yet for his distinctive style. Described by its creator as "time-travel noir", the graphic novel embraces the classic time-travel concept of the paradox as a plot driver, allowing Chomichuk to leverage his multimedia style with the use of repetitive imagery and jarring page constructions. The end result is an atmospheric, labyrinthine visual puzzle that mirrors the complex mechanics of the fictional setting it depicts without sacrificing clarity or pacing.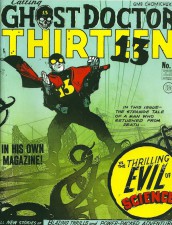 As Chomichuk notes, time travel forms the backdrop of Infinitum, but that doesn't necessarily mean it's the whole story. "The people who are time travelling have changed the world vastly – but that's not the story. That's just what happens. So that's the setting, that's the background, those are the people with alien expressions and weird body shapes and all of these robot people walking around in what is 1930s-1940s America."
For the reader it's a challenging reading experience, but not one without its rewards. As we follow Agent 9 into the underbelly of the time stream and the Paradox Bureau, we feel his pain, confusion and betrayal with an organic immediacy lacking in many traditional comic books. It's a book that works on many different levels, visceral and ephemeral alike.
"What reveals the kind of people we are, are the things we love. When [Agent 9] is investigating the murder using his advanced technology and cyborg body and doing all of these things, he's gets to be a badass detective. But it's hard to relate to that, right?
"When he gets to say, 'Oh, I'll just come from tomorrow and help you fix it later', it's hard to relate to that. But because the narrative that is spread over top is the narrative of him talking to the one thing he doesn't want to change or lose, now you can relate to that."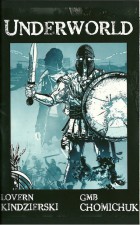 Up next for Chomichuk is the aforementioned Underworld with Kindzierski, from Renegade Arts Entertainment, and Midnight City, in which the creator further explores the noir setting of Infinitum.
Following a collection of public-domain pulp adventurers battling crime and existential Lovecraftian horror on the shadowy streets of his noir metropolis, Midnight City is a book that seeks to answer the big questions in true Chomichuk style:
"For the Midnight City graphic novel, it's populated by a number of public-domain pulp heroes who are cleaning up crime. But that's all human and I wanted to say, 'Okay, can a superhero – a pulp hero – remain a hero when they face true evil?' And so the main villain is the existential horror of the Lovecraft mythos, which is baked into the history of the city itself.
"It's my Gotham; it's my Metropolis. It has a long history and that history has been changed by each type of story I wanted to tell."
You can follow what GMB Chomichuk is up to via his blog, Comic: Alchemy, or his Twitter feed, @gmbchomichuk.