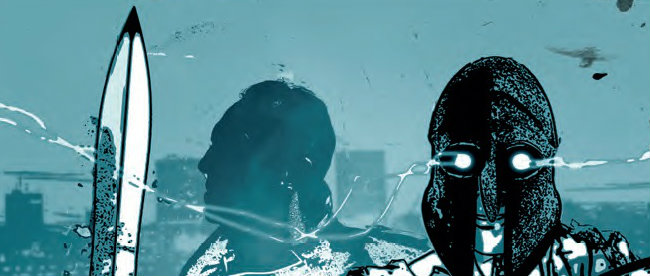 In a book that challenges the established perceptions of the traditional graphic novel, this insightful retelling of the Odyssey also pushes us to explore the origins of our most treasured tales and re-examine how we want our own stories to be remembered.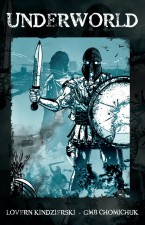 In my second year of university, I took a course entirely devoted to Chaucer's Canterbury Tales. Our professor was a pretty sharp chap and invited us to look at the work as if it were an onion – composed of layers upon layers of meaning.
It's a metaphor I've since encountered many times since, in one form or another, and I can't help but remember it since reading Underworld, Lovern Kindzierski and GMB Chomichuk's retelling of Homer's Odyssey. Fusing noir aesthetics with classic literary archetypes, this kaleidoscopic journey through the tortured psyche of a recovering drug addict (and corrupt politico) engages the reader on a number of levels.
At its heart, Underworld is a modern fable exploring the motivations driving our actions, our decisions. Hector Ashton's harrowing escape from a mental hospital after a near-fatal drug overdose and his subsequent journey through the seedy underbelly of Winnipeg's club district force him to come to terms with the cold, hard reality that he's never really ever been the one making the decisions.
Trapped into a life he never wanted, Hector is the product of a perpetually disapproving father, who used his son as a proxy to live the life he always wanted but never achieved. Eventually, after tiring of the façade, Hector spirals into depression and addiction, sacrificing his livelihood and his family to prop up his flagging ego.
In short, like Odysseus, Hector isn't perfect. In fact, for a long time, he'd been a pretty crappy human being. But as with Odysseus' quest to regain his home and his family, Hector's journey is one of self-discovery. It isn't until he reconciles himself with his own complicity in his life's ruination that he is allowed to return home.
Kindzierski's script reads like epic poetry, as he dovetails the events of Homer's epic into the narrative of his story. It makes for a refreshing reading experience and lends the pace what might have been a martial rhythm, were it not a touch too manic. Hector's running commentary slides in and out of delusion with frightful ease, gradually gelling into something resembling lucidity.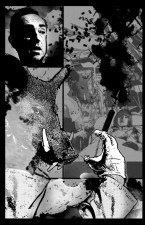 Having recently reviewed Chomichuk's Infinitum a while back, I was interested to see how his unique graphic style would translate to someone else's vision. Fortunately, Kindzierski and Chomichuk share a pioneering spirit, and the resulting collages manifest the complex imagery of the story with a textured grittiness and layered depth that reinforce the book's thematic intricacy.
This is some of Chomicuk's most refined and polished work. His method of embellishing staged photographs and constructing what are essentially page-sized collages is infused with an elegant underlying framework that keeps the story driving forward through Hector's many delusional asides. Even when things are at their trippiest, Chomichuk's deft layouts keep the story in motion.
Every great hero has his flaws, and even if Hector is more properly an antihero, his journey through madness and despair isn't without its lessons. Often we move through life blindly confident in the exercise of our free will, never questioning our moral compasses, unwilling to look too closely at our own motivations.
In their poetic reinterpretation of the Odyssey, Kindzierski and Chomichuk encourage us to stop taking our lives for granted and to treasure the people and things we hold most dear. In this sense, Underworld could be considered a cautionary tale, warning us not to squander the decisions we make on those who only have their own best interests at heart.
A fearless experiment in storytelling combining challenging subject matter with a singular visual signature, Underworld's many layers reveal the simplest of truths: only we determine the outcome of our stories.
Lovern Kindzierski (W), G.M.B. Chomichuk (A) • Renegade Arts Entertainment, $24.99