"I'm always a bit suspicious when people say they are humbled to be part of something. It's such a funny little onion of a word and such a grand sentiment. But when I walked around the Inking Woman private view I honestly felt quite blown away to be on such a wall of wonders. I barely remembered to breath, let alone refill my wine glass the customary amount. The smallish space is bursting full of the wit and rage and smudges and joy of a history-full of women, so completely different from each other and so very inky" – Danny Noble
'The Inking Woman' – spotlighting 250 years of British women cartoonists – recently opened at London's Cartoon Museum to great acclaim. From household names to enthusiastic self-publishers through to historical figures from the medium's rich past, the exhibition has a truly celebratory zeal to it. It runs until July 23rd and you can get full details on admission, opening times and directions from the museum site here.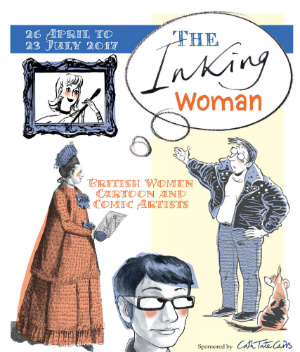 With so many of the exhibition's contemporary artists having been featured extensively here at Broken Frontier (and a number of them getting their very first coverage on this site) it seems only fitting that we support 'The Inking Woman' with a series of BF blog posts linking back to some of our key coverage of individual featured creators – with images selected by the artists themselves!
Today we turn our attention to a creator who has a Broken Frontier review quote under her work in the exhibition! Danny Noble has been one of the most-featured artists here at BF in recent years since we first covered her humorous autobio comic strips in the pages of Monday Morning – her everyday tales of random drunkenness and slacker misadventures – in 2014. After some years away from the small press scene we've been actively championing her work as one of our first Broken Frontier 'Six Small Press Creators to Watch' since 2015 and showcased her comics in our first Broken Frontier Small Press Yearbook (for which she was also the cover artist).
Noble's comics employ a deceptively raw, scratchy visual style that nonetheless show a profound understanding of the pure language of the form. Her dark wit has been most readily seen over the last couple of years in her 'Ollie and Alan' collections – alternate universe tales of actors Oliver Reed and Alan Bates had they given up acting after the film Women in Love and lived together in inebriated semi-bliss.
Noble has also been a regular contributor to UK anthologies since 2015 with her work seen in A Bit of Undigested Potato, Dirty Rotten Comics, Dead Singers Society and Sneaky Business. She was also the Gosh! Comics and Broken Frontier Drink and Draw Artist-in-Residence in its first year and was nominated as 'Breakout Talent' in the 2015 Broken Frontier Awards. Most recently she was illustrator of actor and comedian Adrian Edmondson's children's book Tilly and the Time Machine.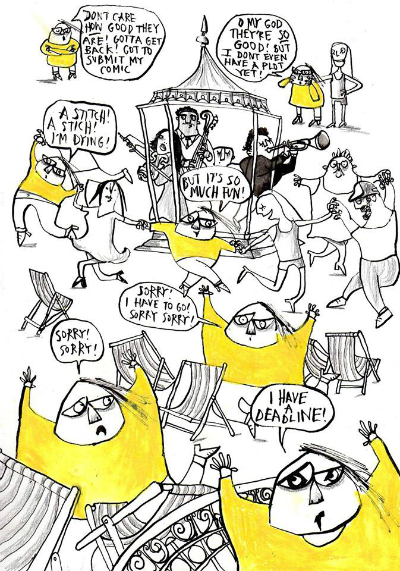 The opening page of the unpublished strip 'Submission' showing the chaotic energy of Noble's work
Key Broken Frontier Reviews
Monday Morning (2014) – "Painfully funny humour with brilliant timing, Monday Morning is a heady mix of everyday humiliation, blasé inebriation and random slovenliness."
Was it… Too Much for You? (2015) – "Wondrously, wildly, wickedly witty, I have no doubt whatsoever that the publication of Was it… Too Much for You? marks the moment that Danny Noble finally begins to get the level of recognition she so thoroughly deserves."
Hangover Farm (2015) – "Acutely observed and painfully funny, there's an emotional complexity to Hangover Farm that is proof positive that Noble's repertoire consists of far, far more than simply jokes about knobs, booze and passing out."
Ollie & Alan's Big Move (2015) – "Danny Noble's comic genius is surpassed only by her comics genius. In a decade of Broken Frontier reviewing I have never encountered an artist with a more naturally instinctive command of the unique storytelling possibilities of the comic page."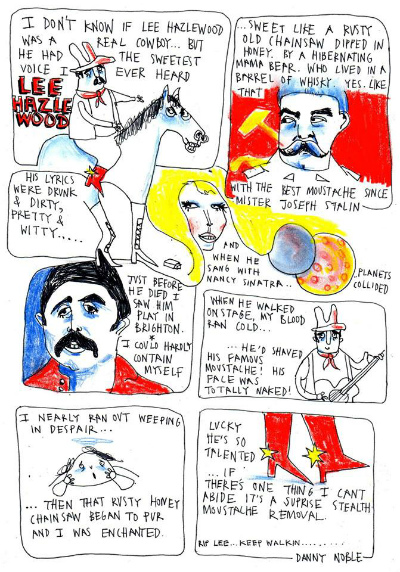 Danny's Lee Hazlewood strip from Dead Singers Society
Key Broken Frontier Features
Interview with Danny Noble (2015) – "I compulsively kept (godawful) diaries when I was little, and so I guess I just forgot to stop. Then it became therapeutic. Monumental embarrassments became funny stories. Devastating heartbreaks became scribbled punchlines. Everything is easier to cope with in panels."
Interview with Danny Noble (2016) – "Be brave, be drunk if you must, but show your work all that you can."
'Inside Look' Creator's Commentary (2015) – "This is how I work. Either I torture myself with a blank page before giving up completely and passing out in front of some god-awful telly, or I compulsively spew forth every little shame and irritation happening in my life, entirely unaware that the room is falling down around me."
Collected Hourly Comic Day Strips (2016) – "Join Danny as she struggles through a day of debilitating sinus problems, child-wrangling, illness-related hallucinations, and even a very special guest-star or two for aficionados of her back catalogue…"

A classic outing for Ollie and Alan displaying the oft ribald comedy of Noble's comics
For more on 'The Inking Woman' visit the Cartoon Museum site here and follow them on Twitter here. The Broken Frontier Small Press Yearbook is available in the museum's shop or online here. 
For more on Danny Noble visit her website here and her online store here. You can also follow Danny on Twitter here.