"I first went to The Cartoon Museum before I got into doing comics, whilst having a secret plan to give it a shot. That I'm now in an exhibition there means my plan worked! I'm particularly thrilled that the exhibition will be moving to Maidstone museum, which is the town I grew up in, and prevalent in my autobio comics work. What I love about this exhibition is that it shows not only the talent of women creators in the UK today, but ones who have been practising for decades. Being altogether in one show indicates that no-one gave up; there is a momentum and there is a future full of inking women." – Wallis Eates
'The Inking Woman' – spotlighting 250 years of British women cartoonists – recently opened at London's Cartoon Museum to great acclaim. From household names to enthusiastic self-publishers through to historical figures from the medium's rich past, the exhibition has a truly celebratory zeal to it. It runs until July 23rd and you can get full details on admission, opening times and directions from the museum site here.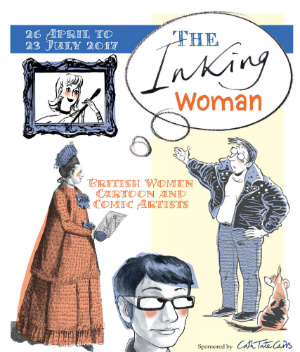 With so many of the exhibition's contemporary artists having been featured extensively here at Broken Frontier (and a number of them getting their very first coverage on this site) it seems only fitting that we support 'The Inking Woman' with a series of BF blog posts linking back to some of our key coverage of individual featured creators – with images selected by the artists themselves!
Autobio artist Wallis Eates is our subject today and she's a creator with a number of past Broken Frontier links. Eates first came to prominence on the UK scene when she was shortlisted for the 2014 Myriad First Graphic Novel Competition for her graphic-novel-in-progress Mumoirs (a competition for which I was one of the judges). Her work often explores memory, its veracity and our relationship with it through slice-of-life vignettes that recreate events and people from her own life on the comics page.
Eates has self-published a number of comics and zines including the Fleeting Faces zines and the longer-form collection of strips Fear of Mum-Death and the Shadow Men. The latter was nominated in the 2016 Broken Frontier Awards in the category of Best One-Shot. She has also been published in a number of anthologies including A Bit of Undigested Potato, Dead Singers Society, Steak Night, Not a New Wave and Sneaky Business. In 2015 she was the Artist-in-Residence at the Quadrant Arcade in Romford resulting in The Magic Quadrant, a comics exploration of Romford life. She has also produced online exclusive work like November (top banner image).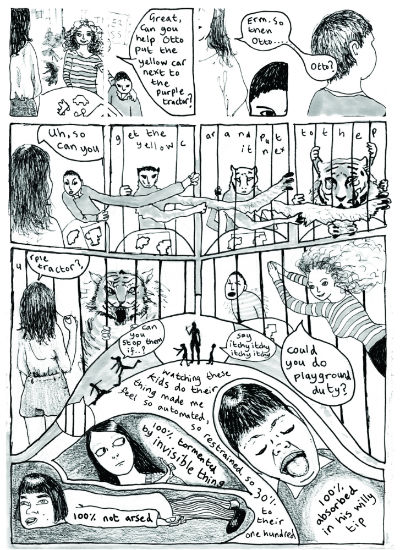 A page from the previously unpublished 'Spectrum and Scale'
On top of all those achievements Eates is also one of the co-organisers of the monthly London Laydeez do Comics. You can find out about her comics in the links below…
Key Broken Frontier Reviews
Fleeting Faces (2014) and Fleeting Faces (2017) – "There's a dark humour to each of these pieces that leaves the reader with a simultaneous sensation of being morbidly amused and yet also awkwardly guilty given the autobiographical nature of the work."
You Chew I Spew (2015) – "If memory could ever be described as a medium to work in then Wallis Eates is one of UK comics' most accomplished practitioners in the field."
The Magic Quadrant (2015) – "Pockets of time juxtaposed; the there and then insinuating itself into the here and now. The group memories of decades past seeping into a single month of Eates's existence. Yet more evidence, if we really needed it, of the power of comics to pull us into the lives of others and experience the world through their eyes."
Fear of Mum-Death and the Shadow Men (2016 – image below) – "Wallis Eates continues to produce comics that speak to us all with their emotional immediacy and unyielding candour. This is work that doesn't just deserve a wider audience, it's owed one."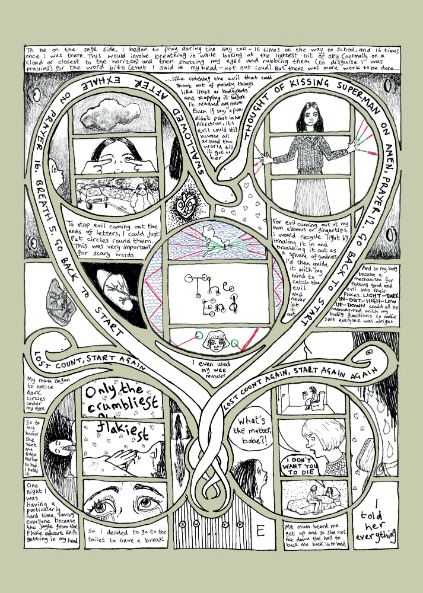 Key Broken Frontier Features
Interview with Wallis Eates (2015) – "I think I use prose to punch, and comics to pull.  A punch is more definitive, I'm saying, 'Here, take this – it's an experience,' while with comics, I'm saying, 'Here, look at this – what do you think?'"
Taking Comics to the Community – Wallis Eates on Her Artist Residency at Romford's Quadrant Arcade (2015) – "My idea was to collate anecdotal stories from the shopkeepers, customers and other town residents and present them in comics format.  With enough stories, I could portray a range of human experience to make a book full of varied content that reaches beyond Essex stereotyping.  I also thought it would be of interest for locals to see themselves, people or places they knew, represented in a way that was accessible and engaging."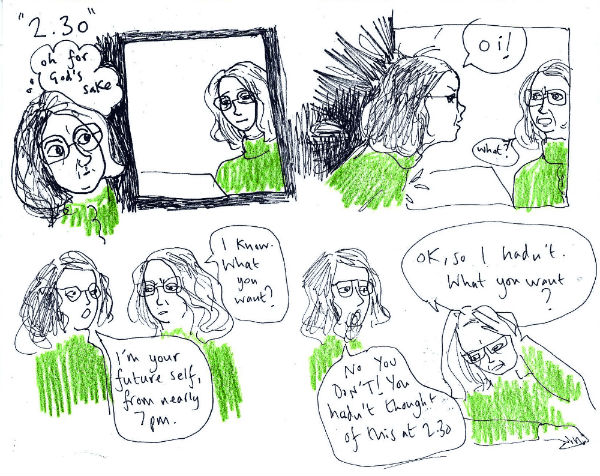 A sample from last year's Hourly Comic Day offering
Bringing International Communities Together Via the Medium of Comics – Wallis Eates on Connecting Teenagers Across the Commonwealth through Sequential Art (2015) – "The intended outcomes were the option that the Commonwealth Countries League Education Fund could use this book as a means to raise awareness with a positive message should they so wish, the beneficiaries would have their voices heard, and the students would learn more deeply about the charity and the experiences of others via prolonged engagement and visualisation that requires empathy, as opposed to simply reading from an academic source or being told."
The International Girl Gang Hit Angoulême! – Wallis Eates, Megan Byrd and Hannah K. Chapman on the 2017 Festival Experience (2017) – "Yes, sexism in comics is obviously symptomatic of the bigger picture of sexism in general, but one theme that kept recurring this weekend was the notion of space and creating it, being in it, and leading it. With that, give us whatever sized picture you got, and we'll make it a mere panel in the bigger story of how we overthrew the patriarchy. That graphic novel will be a hit when it comes out, just you watch…"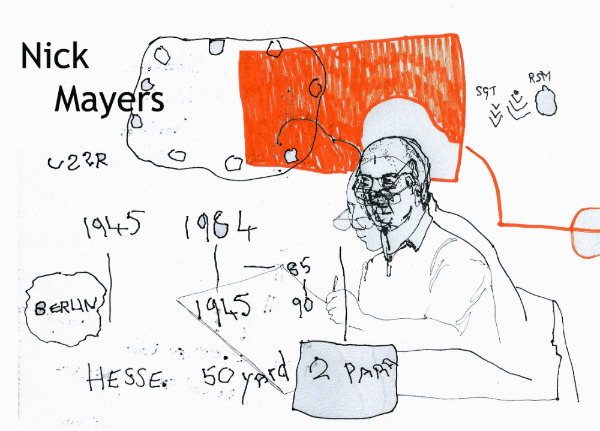 Like an Orange (above) is Wallis's new comic-in-progress focusing on her work with survivors of brain injuries 
For more on 'The Inking Woman' visit the Cartoon Museum site here and follow them on Twitter here. 
For more on Wallis Eates visit her site here and follow her on Twitter here. You can find her online store here.