BROKEN FRONTIER AT 20! In another of our creator commentary 'Inside Looks' to celebrate Broken Frontier's 20th anniversary Joe Stone guides us through the pages of his comic Neurotic Fiction #1. This piece is significant not just for Joe's place as one of our 'Six to Watch' creators but also his community endeavours including running the WIP Comics group for aspiring creators, the Hackney Comic + Zine Fair, and his much appreciated poster designs for the Gosh! Comics and Broken Frontier Drink and Draw.  Over to Joe…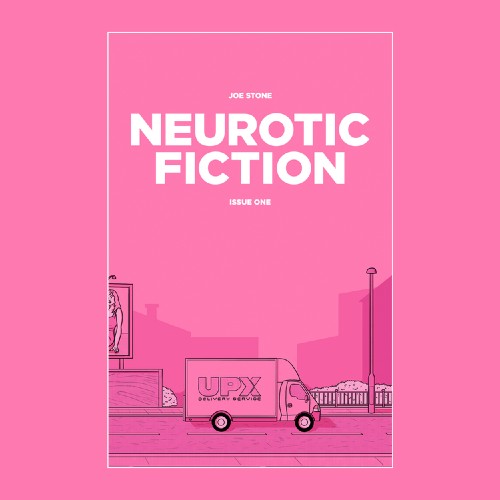 Image 1 – Page 9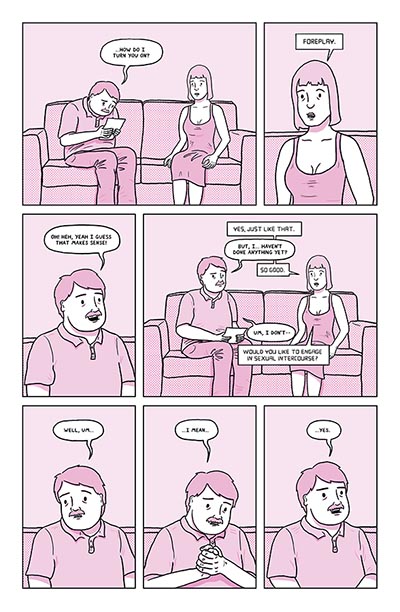 Neurotic Fiction is divided up into three stories, the first of which is about a lonely man who buys a sex robot only to find it isn't exactly what he wanted. I first thought of the idea for this story years ago, back when I was using internet dating apps. It was initially meant to be a story about seeing something on the internet and it ending up being quite different to what you expected in real life. I finally ended up making the comic during lockdown 2020, and largely because of the circumstances the story shifted to being a lot more about isolation and loneliness, and dependence on technology for connection – and how that isn't quite a substitute for the real thing. That sense of isolation and the different ways people deal with it became the main connective theme throughout the rest of the book too, so lockdown was clearly getting to me!
Like most of my work, it was meant to be sort of funny but also heavily melancholic. I leaned pretty hard into innuendo and fairly crude humour in this first story, what with it being about a haywire sex robot and all. I think the juvenile jokes juxtapose even more amusingly with the underlying sadness at the heart of the story.
This first story was also meant to work as a series of one or two-page sequences, so while it all flowed together each page or spread could also be enjoyed and understood in isolation. Maybe this was a hangover from most of my previous comic work, which had been largely short form up to this point.
Image 2 – Page 20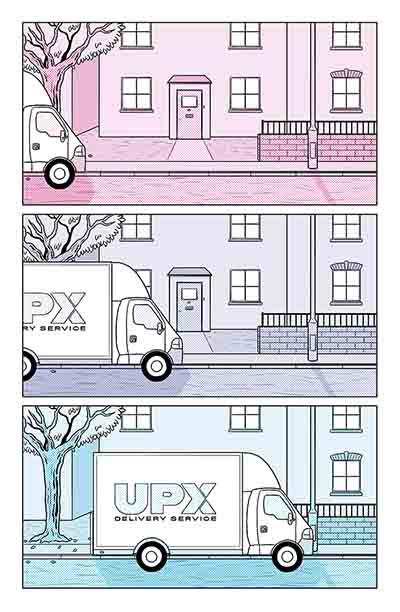 When I started planning it I wanted Neurotic Fiction to be more along the lines of something like Dan Clowes' Eightball or Adrian Tomine's Optic Nerve, where it would be a collection of short stories where I could basically experiment with whatever I want, and they wouldn't necessarily have any continuity or narrative links.
But as I started making it and the themes across the stories became more apparent, I decided to link them together much more overtly. The main influence for how I did this was the Richard Linklater film Slacker, where the narrative shifts focus seamlessly from character to character, ending up as more or a series of vignettes than a single cohesive story. It's a very good film, I highly recommend it to everyone.
I tried to make the distinction between each story even more clear by changing the colour palette, and introduced a transition page between each of the three where the colour subtly shifts between each panel to signal the start of a new chapter.
Image 3 – Page 27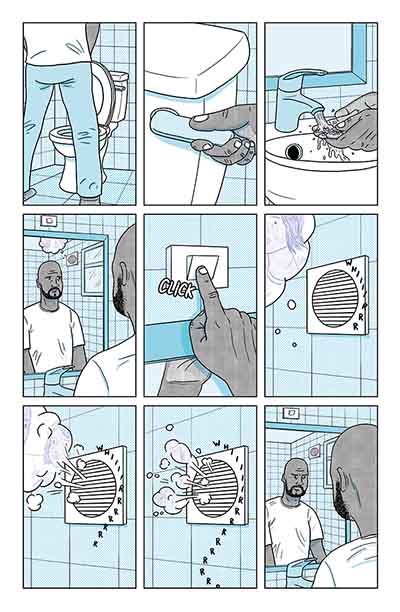 In the second story we follow a man who is having intrusive thoughts, specifically memories of his own past actions that he regrets. Thought bubbles are such an important part of the language of comics and something so unique to the medium, but also one that has largely fallen out of fashion, so I really wanted to focus the story around them as the main visual device.
I had the idea of making the thoughts become actual physical things as a way to heighten the idea of how intrusive they can be, literally getting the way of what the character is doing, often in a sort of comedic way. As mentioned, using comedy as a coping mechanism for depressing topics is something I tend to lean towards in my work, and probably also in my real life too if I'm being honest. As the story continues though, the tone shifts from comedic to much more melancholic and serious, and I wanted to present the idea that you can't always keep ignoring negative thoughts and sometimes the best way to deal with them is to confront them and actually deal with them (something which helped me a lot when having hard times with my mental health in the past).
Keeping with the book's theme of isolation, this story focuses on one single character, so I took a 'show not tell' approach and decided to make it entirely free from dialogue and express the story purely through the thought bubbles and his actions. Because of that I had to be a bit more playful with the various ways he would try to erase the memories. It ended up being the most dynamic and 'action' heavy comic I've made so far, with a lot more movement and dependence on body language than I'm used to drawing.
I think of this section of the comic as a sort of 'slapstick tragedy' – tinged with silly, over-the-top moments and people falling over, but also drawing attention to a very serious and unpleasant topic that people often deal with in silence and solitude.
Image 4 – Page 31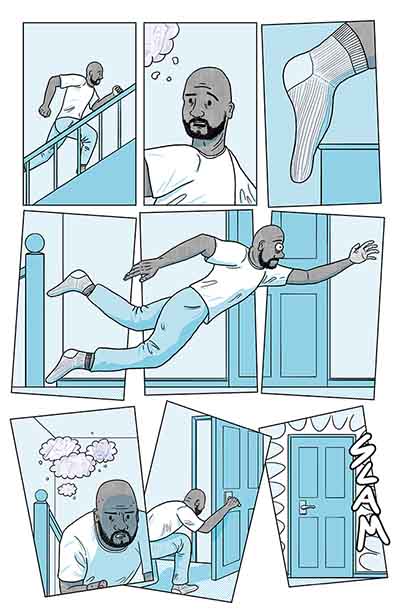 The use of a nine-panel grid throughout the whole comic was very intentional for various reasons, but mostly for this page where I would get to break it apart and start to deconstruct things to represent the desperation the character feels. Adhering to such a rigid structure throughout all of the preceding pages meant that this one (and the next few spreads) would have a lot more impact for the reader.
This page also shows the ultimate futility of trying to escape your own memories, and how damaging living in denial can be. Funny, funny stuff.
Image 5 – Page 48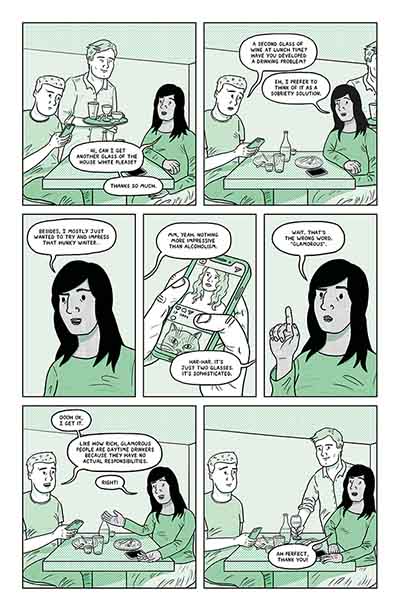 I wanted to end the book on a more lighthearted note (comparatively, at least) so the final story is about a couple of friends having lunch together.
The main goal of this story from a creative point of view was to have something entirely driven by dialogue, especially in contrast to the previous story which was entirely silent. The whole thing takes place in a single space, with the two friends talking across a table, so one of the main challenges was keeping it visually interesting and not just having the same panel repeated for the duration. People coming and going in the background, switching between a wider view of the table and close-ups of each character, looking at their food and drinks, and the occasional glance at social media on one of their phones kept it varied and still grounded in realism.
I also wanted to lean more into overt comedy in this story, albeit still tinged with a dash of embarrassment and social awkwardness. Both characters are actively trying to amuse each other and themselves, which is something me and my friends often do. I hadn't done anything so reliant on dialogue before, so it was definitely a tricky one to get right but also one that I had a lot of fun with and am mostly happy with the results. Making the three stories more connected also allowed me to have fun with the ultimate punchline in this one and tie it all together neatly.
The very end of it also leaves things fairly open for issue two, which I'll probably get around to making someday. I've got a lot of it planned out, but I really want to make sure it's another collection of stories that challenge me creatively rather than just churning a comic out for the sake of it.
Visit Joe Stone's online store here
Top BF logo by Joe Stone