A tragicomic tale of relationships, interpersonal connections, and loneliness, Joe Stone's new comic Neurotic Fiction is an expert blend of explicit gags, snappy dialogue and very human fragility. It follows three interconnected stories all of which, either directly or tangentially, revolve around the existence of the "Love Machine – The Ultimate Adult Pleasure Product". While this android sexual partner may sound like the kind of future tech you might see in a satirical Judge Dredd story its presence in a very contemporary world is the root of both the humour and the drama in this opening issue.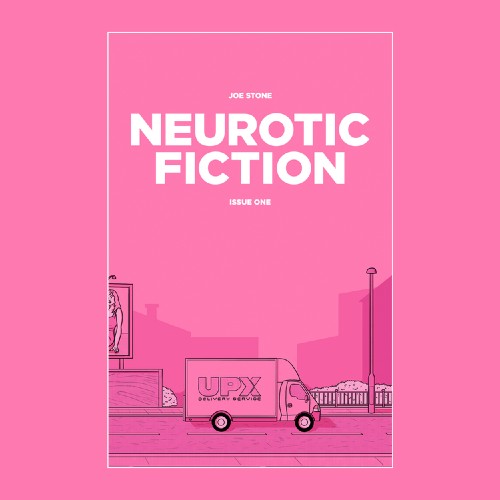 Each story is colour coded with the pinkish hues of the first perhaps reflecting the hope of love and companionship that the initial character – a rather lonely middle-aged man – feels on receiving his "Love Machine". Things do not go according to plan however for this particularly odd couple. Stone uses multiple panelled pages, often repeating similar shots, to underline the awkwardness, and eventually the monotony, of the interactions between the two as our unfortunate first protagonist begins to realise the gap in his life is less a physical one and more a spiritual one. Comedic pacing is superb here with some sly double entendres and punchline-led vignettes.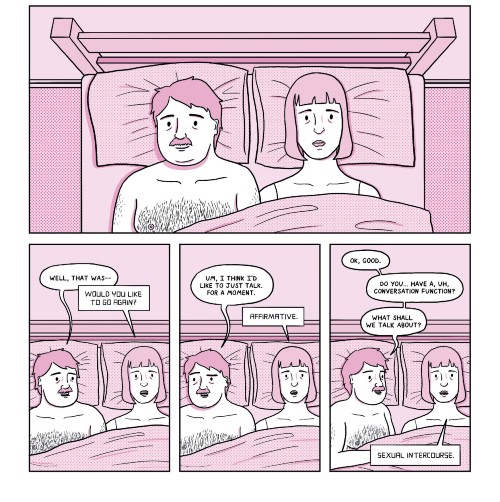 The second section follows the driver who delivered the Love Machine and takes us behind closed doors to his solitary domestic life. Haunted by the mistakes of his past and lost love, his recent history intrudes and eventually overwhelms him in visual ways unique to the form. This is Stone at his "language of comics" best, excelling at using structural tools to tell stories in ways that only sequential art can. In particular his use of white space to emphasise extreme emotional states here is devastating in its composition and, again, colour here is used to heighten the resonance of the situation. In the final story we meet two friends having a lunch date that isn't a lunch date. Relationships are discussed with the candid bantering of friends, with moments of the personal and the impersonal segueing into each other before the narrative comes full circle again.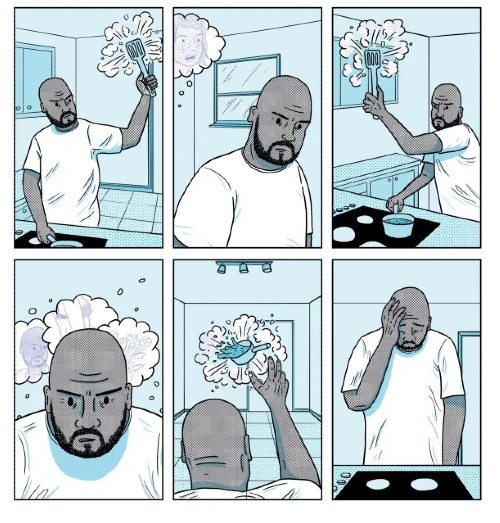 Where Stone is going with these stories in terms of their interconnections remains to be seen but this first instalment offers three beautifully depicted sets of character portraits that, for all the fantastic elements, explore very relatable subject matter. Available this week as a Thought Bubble Online debut book, Neurotic Fiction is a highly recommended entry point into Joe Stone's ouevre with its perfect balance of pathos and humour.
You can visit Joe Stone's site here, his online store here and also follow him on Twitter and Instagram. Joe also has a Patreon here.
Review by Andy Oliver