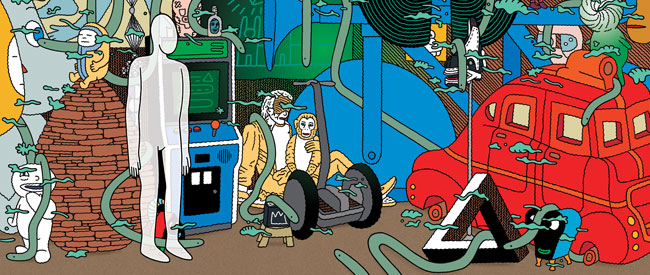 In Intelligent Sentient?, his debut book from Drawn and Quarterly, artist Luke Ramsey and a host of collaborators take the reader on a trip through a world that's both alien and disturbingly familiar.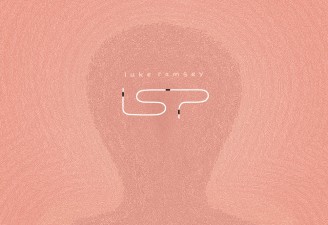 Through recent titles such as Antennas Everywhere and First Year Healthy, Canada's Drawn and Quarterly have continued to publish books that nudge at the boundaries of the comics form. The latest addition to this list is Intelligent Sentient? by British Columbia-based artist Luke Ramsey.
However, while Ramsey eschews the cinematic shot-by-shot storytelling that holds sway in the mainstream (like Julie Delporte and Michael DeForge before him), the easiest way to describe Intelligent Sentient?  is, ironically, through reference to a film.
Avoiding a structured linear narrative, Ramsey forms his book out of a series of 'silent' but complex full-page images, delivered in his trippy and exhaustively intricate style. In a loose sense, they describe the experiences of what Ramsey refers to as an "anti-character" – a Haring-inspired, featureless universal humanoid – as it drifts through a series of dislocated landscapes that are both alien and strangely familiar.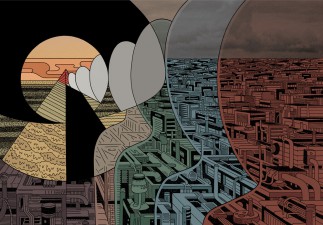 The book has only the vaguest sense of getting from A to B, starting with something that feels like a creation myth and ending with the sense that physical death and the liberation of the spirit might unlock the door to some sort of enlightenment.
Given the book's sense of passive observation, its non-linear approach and the prevalent themes of ecology and technology, I felt pleased with myself when the comparison with Godfrey Reggio's 1982 film Koyaanisqatsi sashayed into my noddle.
However, the wind was quickly taken out of my sails when I realised the comparison was also plastered all over D&Q's marketing bumph for the book. But I didn't get where I am today by missing an opportunity to state the bleeding obvious, so maybe it's worth having a look at the film to shed a little light on how Intelligent Sentient? works.
Second only to Betty Blue (aka 37°2 le matin) as the poster of choice on the bedroom walls of 1980s students, Reggio's film was a feature-length commentary-free montage, cut to a ground-breaking soundtrack by Philip Glass, depicting the destructive collision between the battering ram of technological progress on one side and the fragility of the environment and pre-industrial human society on the other.
And, looking at the world created by Ramsey and his collaborators (who include comics and illustration luminaries such as Michael DeForge, Andy Rementer and Jesse Jacobs), it's easy to see similar themes coming to the fore. As in Koyaanisqatsi, the key tension seems to be between the organic/natural and the technological.
The incredible intricacy of Ramsey's work – and that of his collaborators – rewards close attention: despite its brevity (64 pages), this isn't a book you'll whizz through in a few minutes. It also takes a number of readings to unlock some of its details.
For example, one of the most literal pages depicts a beautiful natural environment being despoiled and stripped of its resources. However, on closer inspection, coming into view like an old Magic Eye illustration, the contrails of a jet and the tracks of one of the digging machines combine subtly with other elements to describe dollar signs.
Other images recur throughout the book, like recurring musical themes. A mysterious pyramid becomes a ubiquitous symbol for commercialism, conquest and control, while the serpentine river seen in the magnificent landscape described above is reduced to a branding device.
One element of the book that has left me a little conflicted is the fact that around one-third of it is given over to the double-page spreads by guest artists. Ramsey's lack of ego and willingness to collaborate do him credit, and the spreads are all in keeping with the book's overall style and substance. However, as the whole project is drawn from his vision, it would have been interesting to see Ramsey mine a little deeper and throw up more of his own personal correspondences.
Nevertheless, Intelligent Sentient? is an enthralling book. It demonstrates the unique power of illustration to create a universe of imaginative wonder while also nailing some unpleasant real-world truths. It might not be one for the Comics 101 student in your life, but it's a volume that richly rewards the attention you lavish upon it.
Luke Ramsey and others  (W/A) • Drawn & Quarterly, $22.95, February 2015.