Armor up for an Iron Man epic like no other in Iron Man: Fatal Frontier—the latest game-changing Infinite Comic hitting digital devices this October! Following Wolverine: Japan's Most Wanted, Iron Man: Fatal Frontier is designed specifically for mobile devices and fully embraces the technological opportunities. Representing the latest form of comic book storytelling using tablets and smartphones as a new canvas, each new Marvel Infinite Comic continues to take advantage of modern technology while staying true to medium's greatest strengths!
Blockbuster writer Kieron Gillen (Iron Man) & red hot writer Al Ewing (Avengers Assemble) team with fan favorite artist Lan Medina (Venom) to launch Tony Stark into the cold depths of space for a star-spanning adventure that only an Infinite Comic could contain! When an powerful new element is discovered beneath the moon's surface, a cosmic gold rush breaks out between the Marvel Universe's greatest factions and foes—including the Master of Evil himself, Doctor Doom. As chaos erupts, Iron Man must race to the moon—yes, THE MOON—for a knockdown, drag-out war with the Lord of Latveria.
This ties into the continuity of the monthly Iron Man book and you'll see characters from Kieron's run playing crucial roles in this story," explained Marvel Senior Editor Mark Paniccia. "But…something big is going to happen in Iron Man: Fatal Frontier that will impact Tony in moving forward and Tony may never be the same."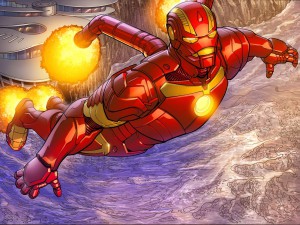 Fueled by the overnight success of Infinite Comics, and combined with the demand from fans and creators who saw a world of infinite potential in this new format, these stories are designed specifically for mobile devices and fully embracing the technological opportunities.
"When it comes to technology, Iron Man is always three steps ahead of world," said David Gabriel SVP of Publishing, Print & Digital Sales.  "With all the technological innovations that the Infinite Comics hold, Tony will feel right at home in a comic that's light years ahead of anything else."
With this strange element up for grabs, who will claim what might be the greatest power source in the Marvel Universe? Can Iron Man quell the lunar grudge-match and the might of Doom without attracting the entire galaxy's attention? Find out in Iron Man: Fatal Frontier this October!
Available right at your fingertips, these new Infinite Comics will be available for purchase this October on the Marvel Comics app (for iPhone®, iPad®, iPod Touch® & AndroidTM devices) and online in the Marvel Digital Comics Shop!