It's a new era at Broken Frontier and to usher in the next stage in BF's evolution we've been building an expanded writing team to broaden our scope and approach to our coverage. Over the past few months we've been introducing you to the members of our committed crew of comics commentators with a view to connecting you to the names behind the bylines.
This week we continue our 'Meet the Broken Frontier Team' features with one of the stalwarts of the BF team – our Operations Editor Jason Wilkins.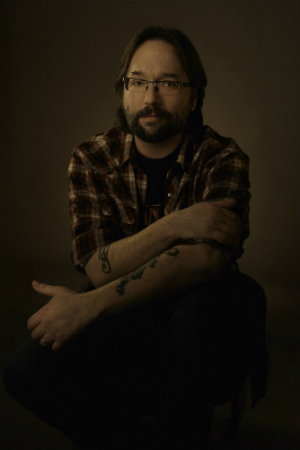 Introduce yourself to our audience in 50 concise words or less…
I'm a freelance writer, editor, and storyteller living and freezing in Winnipeg, Manitoba, Canada. I've loved comics my entire life and couldn't imagine a world without them.
How, when and why did you become a part of the Broken Frontier team?
I've been with Broken Frontier for the past six or seven years, now. There've been a couple of breaks from the site in that time but I couldn't stay away for long. I love BF's publishing mandate as a hub for self-published, small press, and indie comics. There are plenty of other sites out there covering mainstream comics and while we do touch upon some of those books every once in a while, I feel our focus on new talent and new ideas is an important and valuable contribution to the ongoing conversation about comics.
Tell us about your role at BF? What are your areas of coverage?
I originally joined the team as a staff writer and reviewer. Over the years I've contributed all kinds of content to the site, including reviews, interviews, features, and columns. Currently, I serve as Operations Editor, which is just a fancy way of saying I try to help our EiC Andy come up with content strategy and help our wonderful team of writers connect with publishers, creators, and each other. I also find time to write the odd piece myself.
What's your very first memory of comics?
I don't know that I remember my very first exposure to comics. Seems like I've always read them. As a kid I was into both DC and Marvel, with no real preference between the two. I followed books I liked, regardless of who published them. I've also always been intrigued by comics history. One of my favourite books from childhood was Roy Thomas's All-Star Squadron, a rocking retcon fest that piqued my curiosity about comics Golden Age, while creating new adventures for long-forgotten characters.
What is it about comics as a storytelling medium that you are most passionate about?
I believe comics are just about the best storytelling medium out there, a perfect marriage between words and pictures that allows a high level of audience interaction. It's a versatile medium that easily lends itself to all kinds of stories, regardless of genre.  And I think we're still only scratching the surface of what the medium can do.
Name three current favourite (plus three all-time favourite) graphic novels or comics…
Current
There are so many books out there right now that I love, it's hard to choose just three.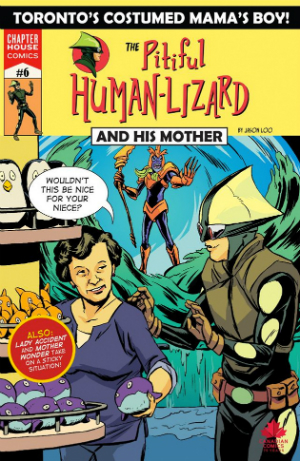 The Pitiful Human Lizard, Jason Loo (Chapterhouse Comics)
Imagine a DIY superhero like Mark Millar's Kick-Ass without all of the annoying shock (or is that schlock) value. Jason Loo's book is a love letter to his hometown of Toronto, features an amazing, eclectic cast from diverse backgrounds and healthy dose of good old fashioned comic book ridiculousness. Loo's writing and artwork are always on point. Without a doubt, my favourite superhero book on the shelves today.
Seven to Eternity, Rick Remender and Jerome Opena (Image)
Despite how much I love prose fantasy and sci-fi, those genres have been really hit or miss with me in comic book form. Seven to Eternity pushes all of the right buttons, though. It's epic yet intimate (as the saying goes), boasts world-class world-building from both creators, and an original premise driven as much by the characters as it is by its system of magic. A gorgeous book that keeps you coming back for more, it evokes the same feeling I got when I watch Star Wars for the first time.
Grass Kings, Matt Kindt and Tyler Jenkins (BOOM!)
Grass Kings is only a couple of issues in but it's immediately hooked me, probably because I live in Winnipeg, the so-called gateway to the Canadian prairies. Kindt and Jenkins are a comics dream team. A simmering plot, mysterious setting, and intriguing characters infuse this book with deceptive complexity. You know the creators are at the top of their game, when they make it look so easy. Jenkins art is a revelation, easily some of the best of his career.
Honourable Mention: Monstress by Marjorie Liu and Sana Takeda.
All-Time
This one's a doozy. There are so many books and creators that have had an impact on me over the years but here goes…
Essex County, Jeff Lemire (Top Shelf)
If you've read any of my work for BF, then you know I possess what might be called an unhealthy passion for Lemire's work. And it has nothing to do with him being a fellow Canadian. Absolutely nothing…
Essex County is one of my top three comics. Period. There's such emotional depth embedded in Lemire's characters and his mastery of comics' unique storytelling vocabulary is off the charts. You'll laugh, you'll cry, you'll tear your hair out in anguish. Seriously, one of the best reads of my entire life.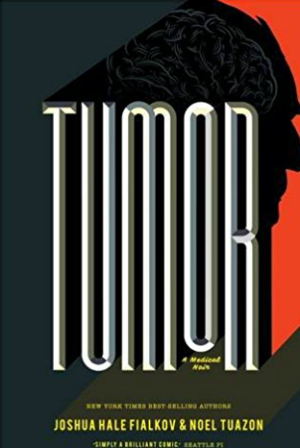 Tumor, Joshua Hale Fialkov and Noel Tuazon (Oni Press)
A wonderful, bittersweet, emotionally taxing take on the classic crime comic, Tumor tells the story of a down-and-out private eye suffering from a brain tumor, who takes one last case before he cashes in his chips. Past and present collide in one of the most accomplished examples of the genre out there. Noel Tuazon's artwork perfectly complements Fialkov's emotionally-charged script with surprising facility. It's amazing how much can be conveyed in just a few brushstrokes.
Sandman, Neil Gaiman et. al. (DC/Vertigo)
A Vertigo classic that should be required reading for anyone who loves comics. Gaiman and his numerous collaborators explore not only the realm of Dreams but the potential of graphic storytelling as a whole. I remember exactly where I was when I bought the first issue and still don't regret blowing my last dollar picking it up.
Honourable Mention: The Tale of One Bad Rat by Bryan Talbot.
Are you involved in comics or any other artistic practice outside of your Broken Frontier work?
I've had the good fortune to have a few short stories published in comics anthologies from Grayhaven Comics and Vancouver's Cloudscape Comics Society. One of my stories was featured in Cloudscape's Epic Canadiana #2, a comics anthology that one the Gene Day Award for best self-published comic at last year's Shuster Awards. As much as I love writing about comics, creating them is really what I want to do. Hopefully, I'll have a few more stories coming out in the months ahead. Keep your eyes peeled!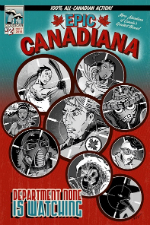 And, finally, give us one creator or project you think we should be looking out for in 2017 and tell us why?
Although it only just debuted this past week, I'd have to encourage people to pick up Godshaper by Si Spurrier and Jonas Goonface (Boom! Studios). It's a strange, surreal trip into a world of totemic magic and music; featuring a unique visual tone and its own in-world vocabulary. Keep your eyes on this book because I think you'll be hearing lots about it in the weeks and months ahead!
You can check out Jason's past work at Broken Frontier here and follow him on Twitter here.