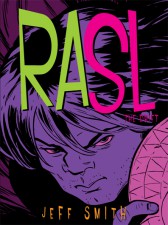 RASL, the first major work from cartoonist Jeff Smith since his award winning BONE series, will be released to the book market in September by Cartoon Books. The critically acclaimed tale of a dimension hopping art thief was serialized in black & white comic book form from 2008 to 2012. It will now be collected in a single volume for the first time, completely edited, expanded, and in full color.
Years in the making, Smith began thinking about RASL as early as 2000. After wrapping up BONE in 2004, Smith spent two years, part of it in the Sonoran Desert,  researching locations and studying String Theory.
The 472 page hardcover graphic novel is available for pre-order at all comic shops and online bookstores.