Cartoon Books has announced that Jeff Smith's science fiction thriller RASL will be published this month.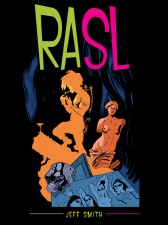 RASL
Publication Date:    September 2013
Format:        Jacketed Hardcover, 4 color  w/spotgloss and foil
Retail Price:        $39.95
Length:        472 pages
Trim:            7.5" x 10"
Genre(s):        Graphic Novel, Science Fiction, Crime Fiction
ISBN 13:        978-1-888963-37-3
ISBN 10:        1-888963-37-9
Author/illustrator:    Jeff Smith
Publisher:        Cartoon Books
When Rasl, a thief and ex-military engineer, discovers the lost journals of Nikola Tesla, he bridges the gap between modern physics and history's most notorious scientist. But his breakthrough comes at a price. In this twisting tale of violence, intrigue, and betrayal, Rasl finds himself in possession of humankind's greatest and most dangerous secret.
RASL is a gritty, hard-boiled tale of an inter-dimensional art thief caught between dark government forces and the mysterious powers of the universe itself.
RASL, the first major work from cartoonist Jeff Smith since his award winning BONE series, will be released to the book market in September by Cartoon Books. The critically acclaimed tale of a dimension hopping art thief was serialized in black & white comic book form from 2008 to 2012.  It will now be collected in a single volume for the first time, completely edited, expanded, and in full color.
Years in the making, Smith began thinking about RASL as early as 2000. After wrapping up BONE in 2004, Smith spent two years, part of it in the Sonoran Desert, researching locations and studying String Theory. The 472 page hardcover graphic novel is available for pre-order at all comic shops and online bookstores.