Dwarfs, slaves, superstitious gospel-mongering priests, maimed circus freaks and extremely violent gunslingers are sprinkled with a touch of Zen buddhism, Christian mythology, black magic and Eastern philosophies. The movie El Topo will forever be etched in the mind as Jodorowsky's masterpiece. And now the mind-broadening universe of El Topo is brought to the world of French language comics.
El Topo was burned into the frontal lobes of my 20-year-old self. Not so much for the mystical overtones but for expanding the boundaries of cinema in terms of morals, philosophy, genre-bending and its reflections on not only the audience but on human relations and how power warps those affiliations. It laid the foundation of the Midnight Movies concept.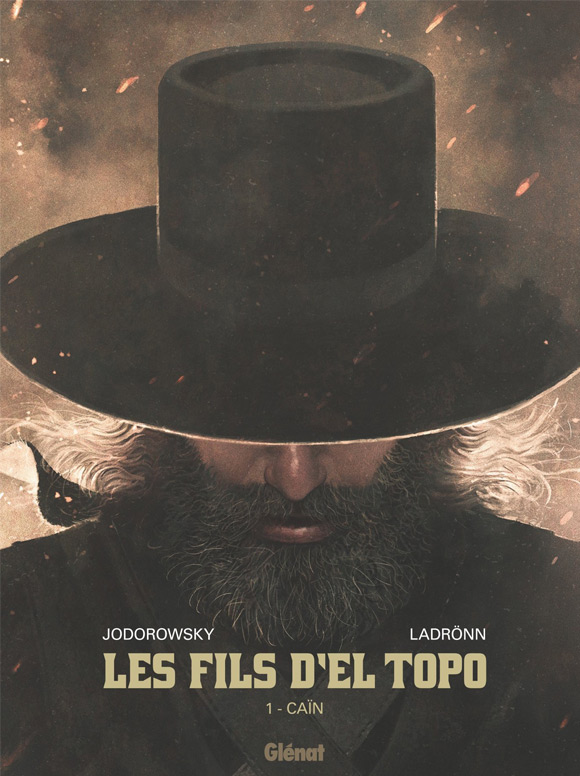 Alejandro Jodorowsky is not only a talented filmmaker but has risen as a superstar writer of European sci-fi and western comics, from Jean Giraud/Moebius to Milo Manara and François Boucq, he has written stories for a who's who of top European artists. These include hit successes like The Metabarons, The Incal, The Borgias, Bouncer and The Technopriests, mostly published in the US by Humanoids.
Ever since the Nineties, Alejandro Jodorowsky has been trying to gather the funds for a sequel for El Topo. After finding out the hard way that studios thought the venture far too risky he turned to comics to broaden the El Topo saga. It is a mystery to me how he was not able to find the necessary funds for the sequel, admirers of his cult movie are a regular who's who of directors and actors. Maybe he should have turned to crowdfunding?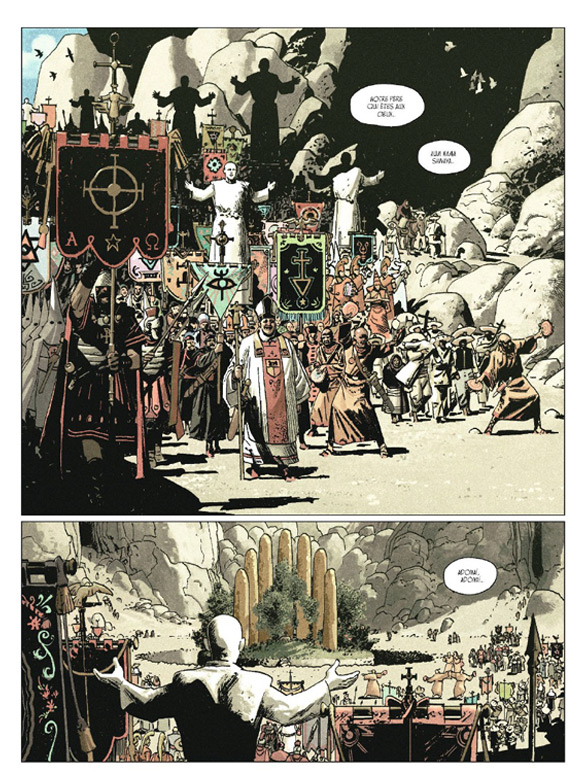 Another person's loss (the movie audience) is another person's gain though (the comic audience) and now Jodorowsky, together with superstar artist Ladrönn, has released The Sons of El Topo – Volume 1  Kaïn. Kaïn is the eldest son of two, sired by El Topo by two different women. Vowing revenge for abandoning him, Kaïn sets upon a doomed journey to murder his now holy father. Names are power though in Jodorowsky's world and it soon becomes apparent why his son was named Kaïn. What follows is a drug-induced savage spectacle that features plenty of bizarre and violent confrontations between Kaïn, the world and El Topo's followers.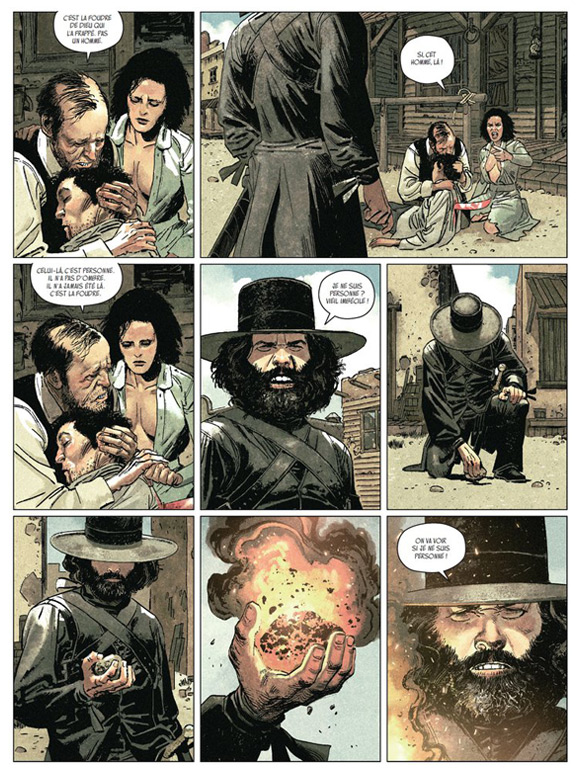 It's hard to judge from this first book where Jodorowsky is going with the story but it is clear that he focuses once more on human nature and the deep troughs one can find oneself plodding through when on missions of revenge, born out of loss and blood. For a first book though, I felt a bit underwhelmed after reading it. That's because it all stays rather on the surface, forgetting to add depth and character motivation. Jodorowsky is used to big canvasses and spun-out storylines so here's hoping that subsequent books will provide a more in-depth look into Kaïn and his brother Abel.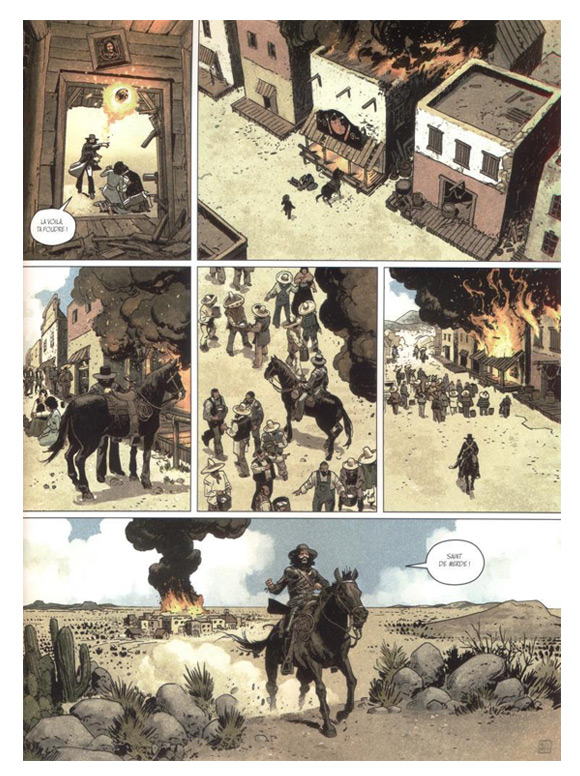 Readers only familiar with Ladrönn's US art on titles like Marvel's Cable and Image Comics' Hip Flask will notice that he has taken an almost evolutionary leap to the point where this is almost unrecognizable as being the work of the same artist. His realistic approach coupled with his cinematographic storytelling is simply stunning. It's a piece of art that one can gawk at for hours on end and is almost too beautiful to look at. Unfortunately it misses the mark  in terms of visceral impact in the El Topo universe. The roughness of the visuals of the movie, the harsh setting and ingrained crumminess is exchanged for an inherent beauty and love for the scenery of the Californian deserts and Mexican borderlands. Luckily, Ladrönn revels in the violence and bizarre characters Jodorowsky comes up with, which lends some balance to the grand splendour of Ladrönn's landscapes.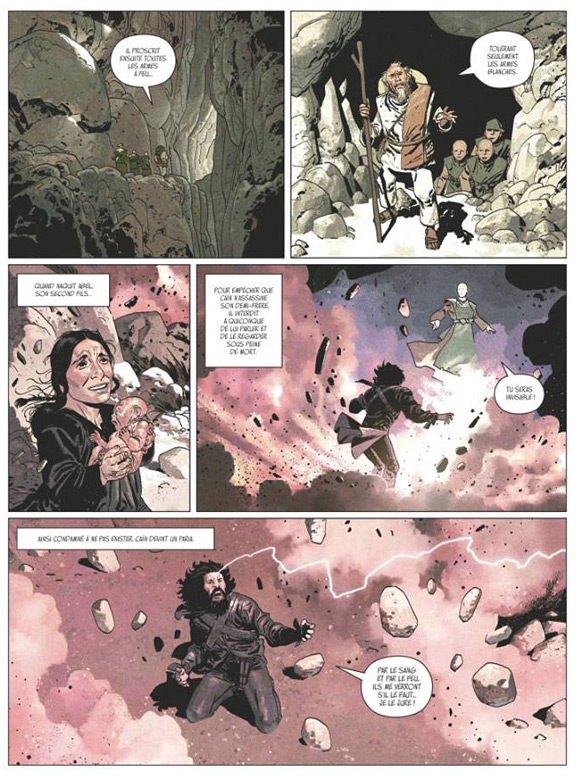 Laying the foundations for a transcendent masterpiece or exploiting the mystical aura that permeates the original movie to produce a cash cow? Volume 2 and 3 of The Sons of El Topo will lay bare the truth but, for now, enjoy the splendour of Ladrönn's breathtaking art and bask in the wonderful offbeat and violent world of … Jodorowsky's El Topo.
The Sons of El Topo Volume 1 – Kaïn by Alejandro Jodorowsky and Jose Ladrönn is published in French by Glénat. It is a full-color hardcover counting 64 pages and retails for €14.95.

For more news and info from Europe's comics community, follow me on Twitter right here.