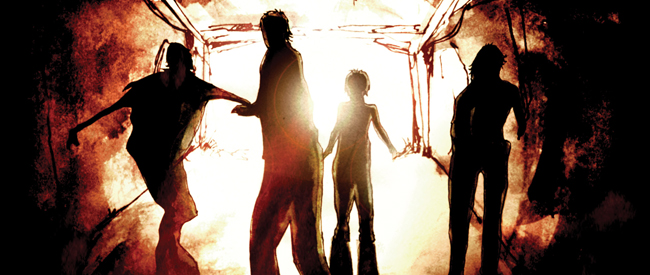 Not very many comic creators get the opportunity to celebrate 10 years in the industry by going back and re-releasing their first work, but that's exactly what Eisner-, Harvey-, and Emmy-nominated writer Joshua Hale Fialkov gets to do this fall at Oni Press.
Originally published in 2005, Elk's Run is a chilling tale of a small town called Elk's Ridge, founded as a closed haven by Vietnam veterans looking to create a utopia: a home without violence, chaos, or corruption. Series creators Fialkov and artist Noel Tuazon wanted to fully release the story as individual issues, but instead had to settle for a trade paperback collection published by Villard.
Now, 10 years later, they finally have the chance to present the series to new readers as it was intended to be read. Oni Press will release Elk's Run weekly as digital chapters, beginning on August 25th and continuing every week through October 13th, leading up to the full physical release of the 10th-anniversary hardcover graphic novel on November 11th.
I was able to catch up with Joshua Hale Fialkov during a trip up to his publisher's hometown, Portland, OR, where he and his wife, fellow writer Christina Rice, were doing a signing at the local comic shop, Cosmic Monkey.
Your graphic novel Elk's Run is celebrating its 10th anniversary with a new edition from Oni Press, but you'll be releasing it first as digital chapters through ComiXology. What was the appeal of doing it this way?
JH Fialkov: Elk's Run started out as a monthly comic through my own small press, and then it got acquired by another publisher called Speak Easy, who then promptly went bankrupt. So it was written to be serialized as issues and it never was, which is why it's really exciting for me to finally have the whole series come out. People are going to get to read it monthly, which is how we intended for it to be read when we made it.
And again, even through there was a trade paperback collection, it's something that's been out of print for a long time. I rarely see copies… other than the one that's right here (pointing to the copy available at Cosmic Monkey).
So it's nice that people are going to have the option to read it as issues first, and then we'll have this beautiful deluxe hardcover from Oni. It's a dream come true because I always wanted the book to have a fancier, high-end version, and it worked out perfectly because of the fact that it's the 10-year anniversary. The whole thing just came together.
You'll also be relaunching The Life After series with a new volume called 'Exodus'. What can fans of the title expect from this new storyline?
We like to think of the first series as Genesis. It's the story of the creation of this world, right down to ending with the flood myth. And so when we get to Exodus, it's a new beginning. It's a great place to start for people who haven't read the series before, but also, for people who like the first volume, it's very much a continuation of those stories, but now we have the whole world established and our characters have a plan. They think they know what they're going to do, but – like all great plans – it doesn't go great for them.
I think it's a really cool chance to get new readers. It's one of those books that, at least anecdotally, everyone who reads it really, really likes it. And for us, now the trick is getting more people to read it. It's a project that for me and for Gabo and for Crank, who's the letterer, for all of us it's a passion project. It's a thing we care about and love deeply. And anything we can do to get more people reading it to make sure it can live as long as we want it to, would be awesome.
Exodus: The Life After #1: regular cover and variant by Francesco Francavilla
You obviously have a strong relationship with Oni, publishing The Bunker, The Life After, and now the new editions of Elk's Run through them, but you also just launched a new series, King, through Jet City Comics, which is an imprint of Amazon.com. Why did you choose to branch out and work with them?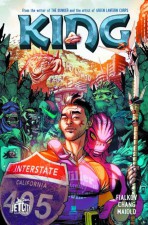 Oni's certainly my creative home and they're a place where I can do what I love to do, but they also have a very specific kind of book that they do. I think with King, Bernard (Chang), Marcelo (Maiolo) and I wanted to find a place to do this weirdo, crazy book that had access to a wider and different audience than what a lot of mainstream comic publishers do.
With Jet City and their connection with Amazon and how they do outreach, they gave us a chance to try this book in a weird way that's thus far been really good for us. I think the first issue is just about sold out in the direct market. It's available digitally now. And I've always been experimental. I like trying new things and trying different tactics to get my books into people's hands.
I see that your wife, Christina, is writing the My Little Pony comic. Is she new to the business and what's it like having two comic-book writers in the same household?
Christina's been a writer for as long as I've known her. She wrote a non-fiction book about a 1930s movie actress named Ann Dvorak (Ann Dvorak: Hollywood's Forgotten Rebel), which has been the project she's worked on our whole relationship.
When she finished it she had fallen in love with being a writer – not just the actual writing, but what that life means. So as she started developing more stuff and working on her own stuff, one of the things that happened with our 5-year-old is that they fell in love with My Little Pony together. It was a situation where she got in there and she pitched and she worked her butt off just like anybody who wants to break in, and she's really made a great career for herself.
As far as our relationship, I think it's helpful because we can talk about comics and we can talk about story through a prism of honesty that we get because we're married. It's really helpful. We each read all of each other's work and we talk about it together and give notes and there's no animosity. It's really great. It's a pretty awesome situation.
Issue #1 of Elk's Run is available now on ComiXology, and issue #1 of  Issue #1 of King is available from Jet City Comics. Exodus: The Life After will be in the shops on November 4.