Press Release

To put it mildly, we ARE FLIPPING OUT about what 2014 holds for Oni Press and its creators, so we decided to let it (almost) all out!  We've got a lot of awesome things on the docket, so without further ado, here's a chronological look at many (but not all) of the new things fans and retailers can expect to see hitting shelves in the coming months.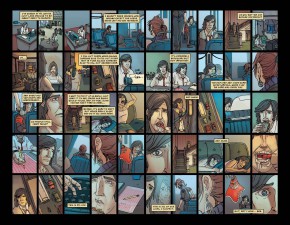 THE LIFE AFTER
July 2014
In an infinite city fueled by despair, there is one man capable of breaking free. The Life After tells the story of Jude, a unique man who will fight good, evil, and bureaucracy to escape purgatory and save humanity. Kicking off in July after a special preview issue at WonderCon in April, this dazzling, unique, new ongoing series comes from the deft hands of writer Joshua Hale Fialkov and artist Gabo and features covers by The Manhattan Projects' Nick Pitarra!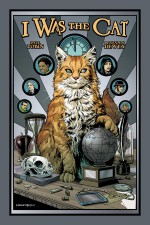 I WAS THE CAT
August 2014
To Burma, having nine lives means having nine chances to conquer the globe.  Written by Paul Tobin and illustrated by Benjamin Dewey, I Was the Cat is an original graphic novel that tells the tale of an aspiring feline despot, present for many of the modern world's pivotal changes, but perhaps playing a more active role than anyone would suspect…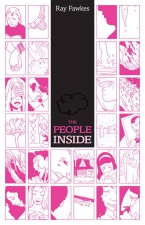 THE PEOPLE INSIDE
August 2014
Ray Fawkes, creator of the Eisner-nominated One Soul, has created another groundbreaking, wholly unique take on the graphic novel.  16 people travel through the stages of life, love, and death, changing the page with each new step they take. Joining together, being torn apart, burning bright, fading away—each stage of life becomes an indelible change to the storytelling format.  Simply put, The People Inside is not a book to read, it's a book to experience.
THE SIXTH GUN: DAYS OF THE DEAD
Summer 2014
Comics supergroup Cullen Bunn, Brian Hurtt, Mike Norton, and Bill Crabtree spin a prequel yarn to the ongoing The Sixth Gun series, uncovering how the villainous Pinkerton Jesup, and Sword of Abraham priest Brother Roberto became embroiled in a race to thwart the awakening of the monstrous god Yum Kimil in this spin-off to the critically acclaimed fantasy-western saga!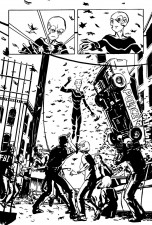 METEOR MEN
September 2014
On a summer night, Alden Baylor sits in a field watching the largest meteor shower in human history. What began as teenage adventure becomes something more–the celestial event brings travelers who will change the world completely, and Alden discovers a connection to one of them.
How does a young man who had to grow up fast handle the invasion of his planet? Can Alden keep humanity from oblivion? From writer Jeff Parker (AQUAMAN, HULK) and artist Sandy Jarrell (BATMAN 66) comes this original graphic novel about adolescence, friendship, and hard decisions.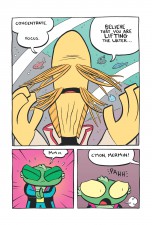 MERMIN BOOK 3: DEEP DIVE
September 2014
Joey Weiser's all-ages hero, the prodigal merman returns! No one knows much about Mer, the underwater kingdom where Mermin the merman was born, but due to a rising conflict with the people of Atlantis, Mermin is needed back home immediately. Which means that his human friends get to accompany him and see all the aquatic wonders of Mer. But once again, Mermin is tight-lipped about his past – even when it's swimming right in front of him. And there are enemies lurking in the seedier depths of Mer, who've got their sights set not only on Mermin, but on Pete and his friends!
STUMPTOWN
September 2014
Dex Parios is  back in action and she's sticking around! This September, Portland's favorite beleaguered P.I. stars in a brand-new, ongoing Stumptown series written by Greg Rucka and illustrated by Justin Greenwood with colors by Ryan Hill and letters by Crank!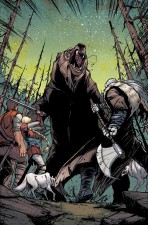 BRIDES OF HELHEIM
October 2014
Cullen Bunn, Joëlle Jones, and Nick Filardi return to their smash hit Viking horror/fantasy series Helheim! Alone in the wilderness and living in seclusion, the Viking warrior Rikard is confronted once again by black magic and arcane monstrosities. But this time, Rikard seeks vengeance against the warlock who was once master to the witches who wove our undying hero's bloody fate.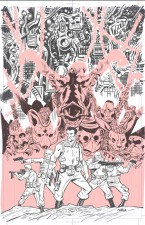 HELLBREAK
October 2014
Not black ops. The blackest of ops. A group of elite soldiers has been recruited by the shadowy Kerberos Corporation for a series of special missions—breaking souls out of Hell and returning them to their bodies… and replacing the evil demons possessing their mortal shells here on Earth.
A gothic, action-packed vision of Hell in a new ongoing series that evokes Inception and Aliens by way of John Carpenter from the creative forces of writer Cullen Bunn, artist Brian Churilla, and colorist Jordie Bellaire!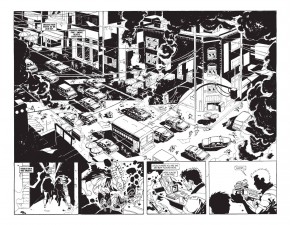 CIUDAD
December 2014
Created by acclaimed writer Ande Parks and Joe and Anthony Russo, the directors of the upcoming Captain America: The Winter Soldier, with art by Fernando Léon, Ciudad is a brutally violent, action-packed thriller about a world-weary mercenary hired by a powerful drug lord to pull off an impossible retrieval mission in one of the world's most dangerous locales while battling warring factions, a corrupt police force, and an city full of hired killers.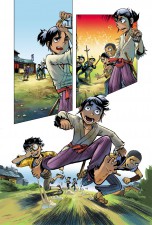 ORPHAN BLADE
December 2014
From the team of late, great writer Nick Almand and artist Jake Myler comes a manga-tinged graphic novel that tells the classic tale of a boy and his sword. Hadashi is a simple boy with simple dreams, but his life changes when a horrific accident maims his hand. Unable to hold a sword, he's kicked out of the dojo he once called home. But the Orphan Blade is no ordinary sword. When Hadashi finds it abandoned in a marsh, he finds that not only is he able to wield it — the sword seems to be wielding him! Too bad Hadashi isn't the only one interested in the Orphan Blade, and his ownership draws the attention of the Five Fingers of Death — a legendary and deadly group of mercenaries who have their own magical weapons.
JUNIOR BRAVES OF THE APOCALYPSE
Early 2015
After a camping trip out in the mountains with their grizzled old scoutmaster Padre, a troop of scouts, the Junior Braves, discover that the world has been wiped out in an apocalyptic disaster, and overrun with bloodthirsty mutants. Using all their scouting skills and knowledge, these young boys try to survive on their own, while searching for clues to the whereabouts of their evacuated families. It's The Goonies meets The Walking Dead, in this first in a new young adult graphic novel series by writers Michael Tanner & Greg Smith, and artist Zach Lehner.
ARES & APHRODITE
2015
A new original graphic novel by Jamie S. Rich and Megan Levens! Will Ares is a successful divorce lawyer — which means, invariably, that he's always pissing someone off. He's also a hopeless romantic (go figure). Gigi Averelle is a wedding planner who's seen enough failed marriages to know that true love doesn't exist. And with their respective clients — movie producer Evans Beatty and Hollywood starlet Carrie Cartwright — getting hitched, Will and Gigi are about to see a whole lot more of each other. As Beatty's ex-wives come out of the woodwork and cause mayhem for the upcoming marriage, Gigi proposes a bet — should Evans and Carrie go through with the wedding, Gigi will go on a date with Will. Should they break up, as Gigi suspects, Will must put a full-page ad in the paper revealing the number of marriages he's ruined. Is Will a fool for love, or is this the start of a beautiful relationship?
CONVENTIONS
Come see Oni Press at the following 2014 conventions across the continent! At each convention, we'll be giving away special items and publications exclusively to fans that come to our panels and line up for signings at our booth.
Emerald City Comicon – Seattle – March 28-30
WonderCon – Anaheim – April 18-20
TCAF – Toronto – May 10-11
VanCAF – Vancouver – May 24-25
HeroesCon – Charlotte – June 20-22
SDCC – San Diego – July 23-27
PAX Prime – Seattle – August 29-September 1
NYCC – New York – October 9-12
Emerald City ComiCon will see the premiere of The Bunker #2 with an exclusive cover by Chew's Rob Guillory as well as the debuts of Rick Spears and Chuck BB's Black Metal Volume 3, and Cullen Bunn, Joëlle Jones, and Nick Filardi's Helheim Book One: The Witch War!
WonderCon 2014 is fans' first chance to get their hands on some of our exciting new titles as we premiere early editions of The Life After #1 and Princess Ugg #1!