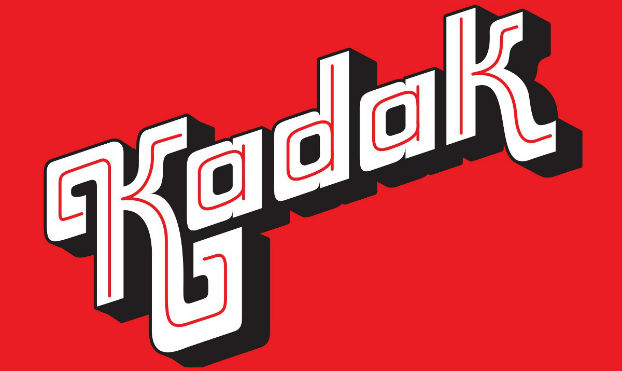 Given that it's the East London Comics and Arts Festival (ELCAF) this weekend, where I first met artists from the Kadak Collective three years ago, it seems a most appropriate time to be looking in more depth at their first major project – the Bystander anthology – currently crowdfunding on Kickstarter. Bystander features the work of 50-plus South Asian creators (including Broken Frontier 'Six to Watch' artists Sabba Khan and Aleesha Nandhra).
We've covered the collective a number of times over the years at BF and today we're very pleased today to push that Kickstarter campaign in a major interview with Kadak's Shreyas R Krishnan. We talk about the evolution of Kadak, the premise of Bystander and the creators involved. Do give the project your crowdfunding support if you're in a position to do so!
ANDY OLIVER: With your ambitiously exciting anthology Bystander the talk of comics crowdfunding could we begin with a very brief history of the Kadak Collective to date for those discovering you via the Kickstarter?
SHREYAS R KRISHNAN: Kadak is a collective of women, non-binary, and queer folk who work with graphic storytelling of different kinds. The original iteration of Kadak came together for ELCAF 2016 with the intention of being a space for self-authorship, allowing members to invest time in non-commercial original work, and has slowly and continuously been expanding into a more fluid entity to include voices that are typically ignored in mainstream comics and self-publishing.
In the years since ELCAF, Kadak has been invited to show work at London Design Festival, LA Zine Fest, Chicago Art Book Fair, Gaysi Zine Bazaar, and most recently, this year's Fumetto Comics Festival, received commissions from The Goethe Institute & Sandbox Collective, Akshara Center, Gaysi Zine, British Council among others. Kadak's travelling Reading Room – a growing collection of self-authored and self-published zines and comics – has been displayed in several cities and venues, and is also housed online.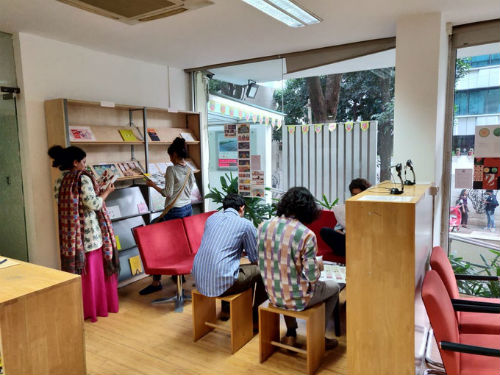 The Kadak Reading Room at the Goethe Institut in Bangalore
AO: How would you define the philosophy of the group and how have you expanded in scope since we last spoke in our interview series with you back in 2018?
KRISHNAN: The group's practices are defined by a non-hierarchical approach to collaboration, with a focus on original authorship. Realizing the need for more diversity and inclusivity even within a South Asian identity, Kadak began collaborating with and opening up the group to more illustrators and storytellers. I began getting involved in Kadak first for a commission from Akshara Center, and have since represented the group at tabled events, collaborated with Akhila Krishnan for the collective's entry to Gender Bender 2018, and am now a part of the Bystander project.
Since the expanded group is so widespread around the world, we've been experimenting with individual people or smaller teams taking the lead on applications and initiatives that they would like for the collective to be involved in, allowing for others to participate in different capacities and abilities. It enables the group to work in many more permutations than before, although like most works in progress this format of working  is also something we are still testing out and adapting.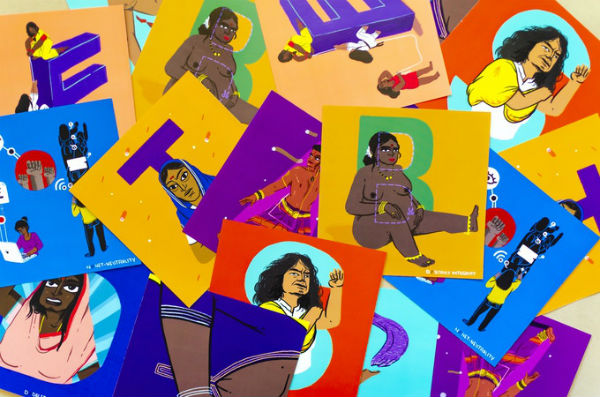 Kruttika Susarla's Feminist Alphabet Sticker set from the Kickstarter rewards
AO: Putting together a project like this is an incredible logistical undertaking. Who makes up the Bystander editorial and promotional team?
KRISHNAN: The Bystander editorial and promotional team is Aarthi Parthasarathy, Akhila Krishnan, Gopika Bashi, Mira Malhotra, Sabika Abbas Naqvi, and me, Shreyas R Krishnan. Aarthi, Akhila and Mira are part of the original Kadak group, I have been with the extended group, Sabika and Gopika have come on board for their first Kadak project. Between the 6 of us, our practices span (in no order) film making, design, illustration, projection for live performance and VR, education, gender justice, comics, poetry, self-publishing, and this places us in a very unique position in organizing a project like this.
All of us are putting in the hours on this project in addition to our jobs and professional practices. We've spent a LOT of virtual time with each other over the past few months, in texts, emails, phone calls, skype calls, shared online documents – it's taken us 6 months of work to get to the launch of our Kickstarter itself, with contributor shortlists, budgets, contracts, social media plans, fundraising strategies, designing and producing the book cover and some of our bespoke rewards. The editorial team is spread out over 3 continents and time zones, so there have been several weeks where my days began and ended texting with the group about anthology prep.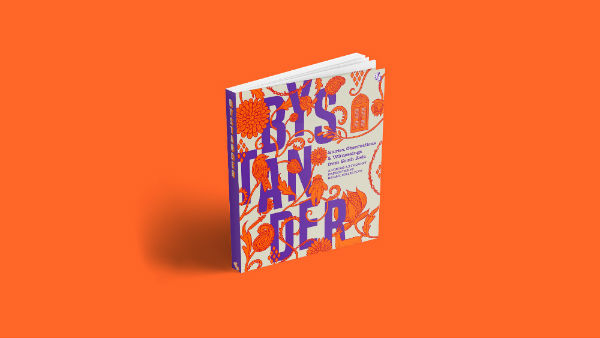 AO: How would you describe the premise of Bystander? What are the themes and issues that the collection looks to explore and address? And as a collection of narratives what are the kinds of discussions you're hoping the book will open up in its audience?
KRISHNAN: Two years ago, Akhila and Mira had written a pitch together on women and public spaces. Akhila built on it and floated the idea of the anthology to Kadak. As the editorial team brainstormed ways to make this theme more pertinent to the kind of big conversations we are having today on socio-political developments in the subcontinent and around the world, Aarthi identified that a lot of the subjects we were talking about (gender, power, navigating spaces, marginalization, displacement) all circled around a central idea: the bystander. We realized that the notion of the bystander necessarily goes beyond the first read of simply someone who doesn't act.
Who is a bystander? Is being a bystander a choice? What roles do marginalization, ability, and circumstance play in this? How does the idea of bystander fit into the south Asian context? In the subcontinent, the word bystander carries many tensions and meanings, in culture, language, behaviour. With everything that is going on in the world right now in politics, the environment, intersectionality, oppression, allyship, LGBTQ rights, mental health, immigration and displacement… breaking down what it means to be or not be a bystander becomes all the more critical. We reached out to our contributors with our initial concept note for the theme and almost like an academic call for proposals, posed to them several questions that they might consider in their response. Of course, they all went above and beyond, and opened us up to an expanded set of inquiries into the theme.
The main discussion we're hoping to get out of all this is simply opening up the floor to talking about these experiences. We've had many of our backers express that simply our first step of articulating the relevance of the bystander in our Kickstarter pitch and video, has made them introspect and reflect on their own relationships with the idea. In that sense, the potential impact our contributor's pieces will have on readers cannot be underscored enough. The anthology's biggest strength is that it brings together all these wide and varied narratives around the same issue – this is also why it's a necessary project.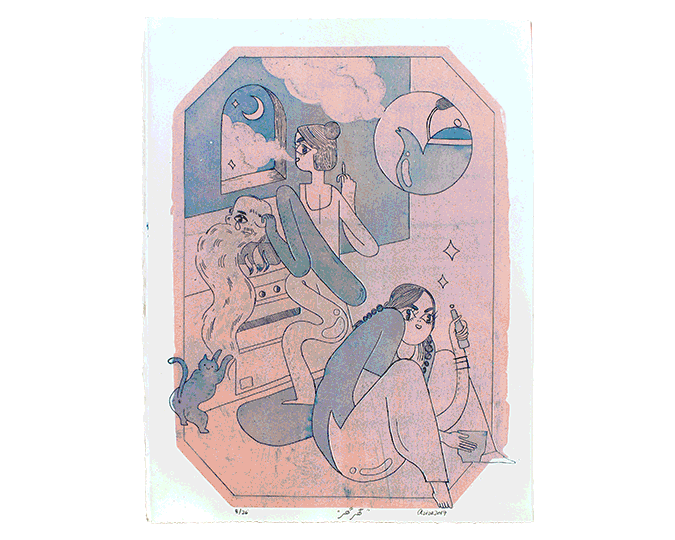 AO: With around 50 creators involved it's obviously impossible to talk about everyone but who are some of the names Broken Frontier readers may recognise? And conversely, because anthologies are always a wonderful opportunity for discovering new talent, who might they not be as familiar with in terms of emerging creative voices?
KRISHNAN: Some names that Broken Frontier readers would know are Aleesha Nandhra, Sabba Khan, and folks who have been part of a Kadak spotlight for their work at ELCAF 2016: Kaveri Gopalakrishnan, Akhila Krishnan, Mira Malhotra, Janine Shroff, and Pavithra Dikshit. Saffa Khan, who runs Tender Hands Press is also a part of our project.
Of course, with 51 contributors, the Bystander anthology is crammed with talent, old, new, and emerging. In our Kickstarter video, I very excitedly said the words "cumulative storytelling amazingness" and I think that's still the best way to frame how we feel about our lineup. It is immensely exhilarating to consider the collective strength of all of our contributors, and almost a dream to think that all of them want to be a part of this project and have their work be displayed in the same space. It's an overwhelming feeling and their faith in us and this project is quite humbling.
In my opinion, a few people that the world should watch out for in our anthology (and everywhere) are:
Sab Meynert's comics are abstract, intricate, and nothing short of breathtaking
Jasjyot Singh Hans has been, over the years, consistently tackling ideas of body, queerness, Sikh identity, and fashion in his comics and illustration work
Kruttika Susarla is simultaneously fearless and nuanced in her comics that address politics, gender, and challenge the status quo.
Priya Dali's comics manage to talk about heavy subjects in the most humorous way possible
Aziza Ahmad treads very interesting lines between cute and creepy, illustrated and designed, serious and silly.
Zara Fayaz is unapologetically feminist in her comic work, treating it as an extension of her activism.
Nabigal-Nayagam Haider Ali brings a distinctly Tamil voice into his illustration and comics that revolve around religious themes and south Asian LGBTQ identities.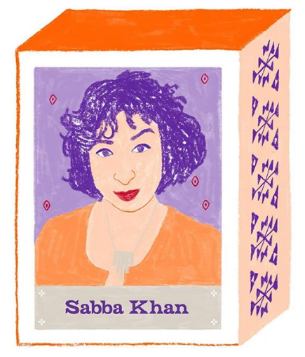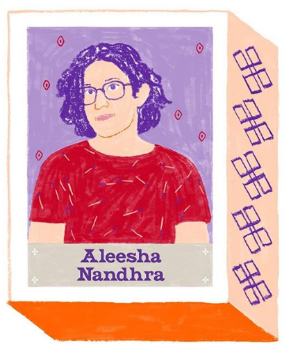 Portraits of Broken Frontier 'Six to Watch' artists Sabba Khan and Aleesha Nandhra
AO: Kadak has been notable for the cross-media practice of its members. Will this be reflected in the anthology? Will there be other forms of graphic narrative alongside comics?
KRISHNAN: Yes definitely! Some of our contributors are working in writer-illustrator pairs, and those pieces especially (because of the contributors' own individual practices) broaden the range of subjects and formats that these narratives tackle because several of them stem from research. Among many other exciting concepts, we have a PhD dissertation research on disability being translated into a visual essay, research on Indian comics history and the intersections between gender studies and visual culture as a comic-essay, political geographies and marginalized histories, the impact of urban development infrastructure on rural migrants.
We have folks who are tremendous comic makers, but also several who excel at building narratives through formats like photo collages, single image illustrations, photography, films, animated gifs, designed information. To make room for all of this, the Bystander anthology will have two components: a website, and a book (which will contain a facsimile of the web pieces). Within the spaces of both web and print anthology, every piece speaks with other pieces in some way, every contributor in some sense is in conversation with the others.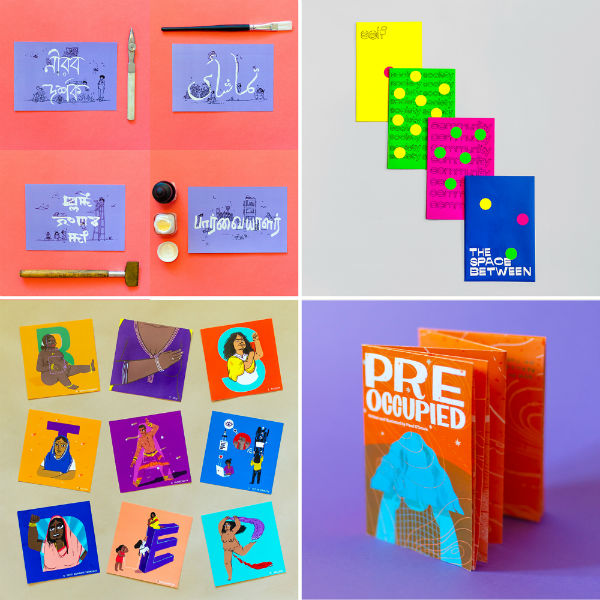 AO: With the crowdfunding campaign launching what kind of rewards can backers look for beyond the book itself?
KRISHNAN: There are several exciting and beautiful rewards (samples above) that our Kickstarter backers can have and own. The book itself, of course is one of our rewards – it is the only place that the book is available as a matter of fact, since we don't have immediate plans to retail it post-fundraiser.
In our editorial team discussions we were clear that our custom Kickstarter rewards also in a way act as support pieces to the main anthology, by interpreting the Bystander theme in different ways. We had several ideas while brainstorming, and chose the ones that seemed most effective in how they connected to the theme, and also would work well in terms of production. We commissioned two of our rewards from our contributors – the Lost in Translation postcard set by Priya Dali, and The Space Between zine set written by Gopika Bashi and designed by Mira Malhotra.
Lost in Translation, a set of 4 postcards, comes at Bystander through the lens of language: how does the word we know and the meaning it carries shape our cultural understanding and behavior? We chose 4 languages that transcend geographical borders in the subcontinent, Tamil, Urdu, Bengali, and Meitei, with the script and meaning sourced from within our team and friends. Priya's illustrations visually interpret the meanings of these words.
The Space Between is a set of three zines tackling bystander intervention: what can we do to bridge the many gaps between being a bystander and not? Gopika has framed this in three degrees, self, community, society, and the three are each a zine that list out ways to identify and take action in measurable and tangible ways.
Our other rewards include Kruttika Susarla's very famous Indian Feminist Alphabet as 9 stickers that spell out the word Bystander. Kruttika has very generously lent us use of this previous work for our rewards. Pre-Occupied is a poster-zine adapted by Pearl D'Souza from an existing piece of hers that examines psycho-geographies.
We've been very fortunate to have so many of our other contributors offer their zines, comics, prints (as a Print Potluck, a tier that is all gone now!) and original drawings from the pieces they will make for Bystander for our fundraising rewards too. Our higher end reward tiers offer one-off art prints and originals from four contributors (Jasjyot Singh Hans, Aleesha Nandhra, Janine Shroff and Shreyas R Krishnan), the chance to accompany Mira Malhotra and watch the Bystander anthology go into print production, and a one-on-one show-and-tell with Aarthi Parthasarathy on the 'History of Comics in India'. Our highest tier offers donors the opportunity to be named as a co-publisher of this exciting project.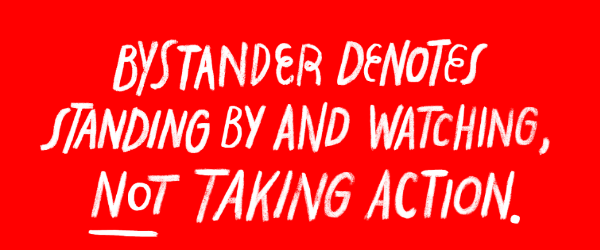 AO: As a true collective can you tell us a little about how Kadak works as a supportive creative environment and how, given your international make-up, you interact as a group?
KRISHNAN: Kadak operates almost entirely online and virtually. Some of us have never met in person before, but that has never come in the way of everyone supporting each others' work. There's a willingness to boost each other's work unasked, and sharing of works in progress for feedback and brainstorm whether or not it is part of a Kadak project or collaboration. Illustration, zine-making, comics – all can be isolating, so this virtual community offsets that in many ways. Folks in the group who have been around in the industry/on the scene longer than the others recognize the importance of transparency in information, from how much to charge for a project, to which clients to avoid.
There have been several points when the group has acted as a safe space and whisper network to identify predatory behavior in the industry, and to offer support to those affected by these people and practices. I'd say that there's a lot of friendships and creative partnerships that emerge from this that don't always live under the umbrella of being a "Kadak" project – and that's great, because ultimately the goal is to be able to foster more interactions and connections that go beyond just the immediate circles of people we each know.
AO: Offline, where can we look to see Kadak next in terms of events and exhibitions?
KRISHNAN: Right now our energies and attentions are entirely devoted to the Bystander anthology – considering the scale and scope of this project, if we are fully funded (fingers and toes crossed!) we are going to be very busy with this in the coming months. We're also hoping to run a series of on-ground workshops tied in to Bystander that decenter the narrative from our own self-authored works.
If this project is a success, it sets up a plan for future self-publishing from Kadak with the goal of supporting independent voices.
AO: And, finally, given how exciting 2019 looks set to be for the collective what directions would you like to see Kadak going in the future?
KRISHNAN: Bystander anthology is a first step in creating larger self-authored projects that take on bigger themes. The hope is to be able to repeat this with another, or more such anthologies (ideally with different editorial teams and contributors) – a lot of how we're set up right now for this project and how we're tracking and organizing our work is with the intention that it is usable by future teams as a scaffolding to build on.
For more on the Kadak Collective visit their site here and follow them on Twitter and Instagram.
You can back the Bystander anthology here.