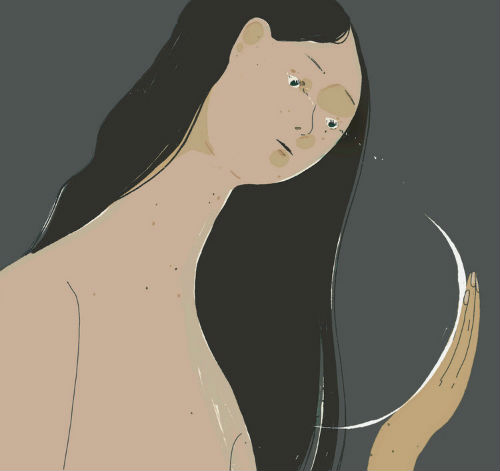 ELCAF FORTNIGHT!
Ahead of ELCAF, we caught up with Vancouver-based illustrator Karen Shangguan, whose subtle drawings fuse ideas of warmth, vulnerability and the natural world in a palette of earthy tones. Karen will be bringing a range of work with her to ELCAF this year. Here's what she had to say!
BROKEN FRONTIER: How did you get started as an illustrator? How long have you been drawing and creating art?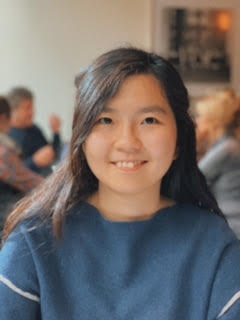 KAREN SHANGGUAN: I think Illustration crept up on me, slowly and naturally. I grew up in love with art; from writing, to photography, to design, to fine art. I always had a desire to create things and I always felt strongly about poetic or emotional subjects. I explored a lot of different media in art school but out of everything, drawing and poetry stayed with me and they became the best way to convey my thoughts and ideas. I'm really fortunate I was able to find a way to comfortably express myself! I think it's been 4 years since I seriously decided to start illustrating and writing narratives, but I've been creating all my life.
BF: What themes and ideas inform your work?
SHANGGUAN: I'm always aiming to create work from a place of honesty and tenderness, something that feels deeply moving and distinctly internal. Quietness, warmth, and fragility seem to be recurring themes in my work, and that's maybe because they feel the most satisfying and authentic to me. I try to put a lot of myself in my art, so it definitely feels autobiographical, and that naturally entails femininity and small parts daily life. I also really like drawing from the subconscious; I find psychology very intriguing and meaningful!
BF: What's a project that you're most proud of, or a good introduction to your work for the uninitiated?
SHANGGUAN: I like my illustration 'Melt'. It's an image that I feel is simple, soft and emotional – a good mixture of all the things I like to convey. I also recently put together a small zine of some drawings and poems from my sketchbook. Because it's from my sketchbook, it's unrefined and raw; something that feels closer to my core, and directly influenced by my immediate way of thinking.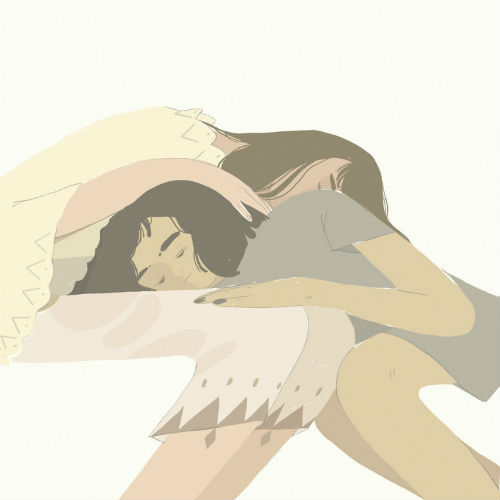 BF: I love the tactile quality of your images! Can you tell us a little about your process? What is your workspace set-up?
SHANGGUAN: Thank you! I usually begin with sketches and little writings. I like to pick out and develop the most interesting ideas into something more thoughtful, something that speaks out to a certain feeling. Sometimes one drawing is enough, and other times I like to explore different ways of portraying the same subject. It's an intuitive process, where I'm constantly molding my drawings to accompany my narratives and vice versa.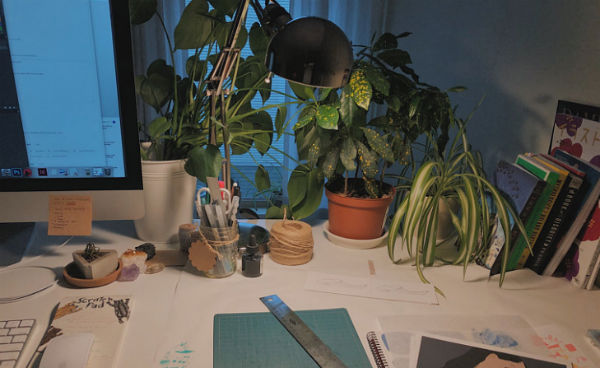 As for my set-up, I actually really like working outside! I really like working in cafes, in forests, in any simple or beautiful space. The world is so vast, it really makes my mind feel very open when I'm noticing all the beautiful nuances. But I really appreciate solitude as well. I really love being able to do and think what I want in my own space and time. I have a setup in my bedroom where I can do just that. It's small but arranged in a way where I have a large desk situated in front of a bright window in view of a lot of things I love – plants, books, the sky!
BF: You live in Canada, which in my mind has a strong comics heritage and a great output of cartoonists. Do you agree? If so, why do you think this is?
SHANGGUAN: I never really thought about that, perhaps I've taken it for granted. There is definitely a wonderful and large art community here, a lot of which is associated with comics or animation in one way or another. Perhaps influenced by American superhero comics or perhaps influenced by the booming animation industry here.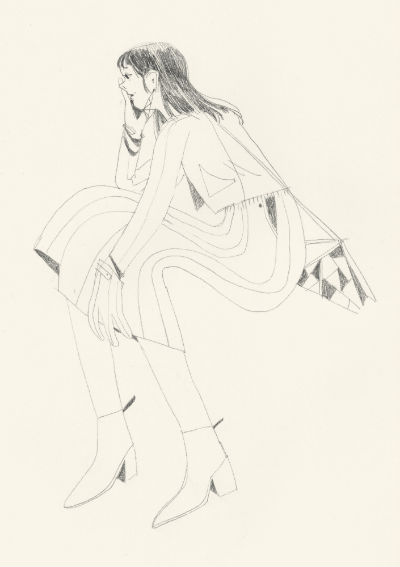 'Spectator'
BF: Who are some of your favourite artists and creators?
SHANGGUAN: I've always admired the works of Seiichi Hayashi, Jillian Tamaki, and Dadu Shin, all of whom have such amazing talent in portraying poetic and honest narratives. I've also been reading a lot of Clarice Lispector's writing. I've been finding it so beautiful and profound, as if she was writing the way I always wished I could write!
I also graduated about 3 years ago from an Illustration program at Emily Carr University among a lot of talented artists. They've all come so far and worked so hard, it's truly inspiring to see their work transform into what it is today.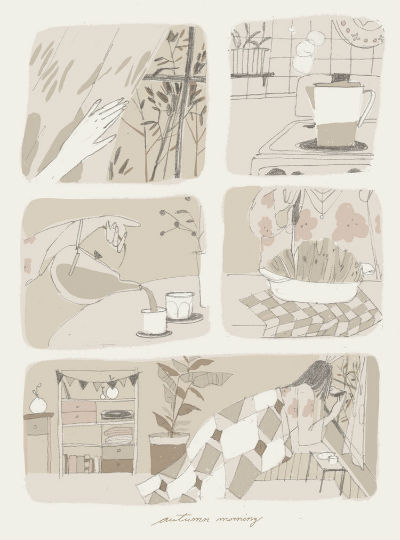 'Autumn Morning'
BF: What will you be bringing with you to ELCAF this year?
SHANGGUAN: I have some short and sweet narratives I printed and handbound at home. One about prosopagnosia (which is a disorder where one is unable to recognise faces), a little book about my thoughts on space, my sketchbook zine, and among other things some prints and stickers!
BF: Are there any other exhibitors or events on the programme that you're looking forward to seeing?
SHANGGUAN: Yes, there are so many talented artists on the list that I'd love to see at ELCAF. I would love to attend the Hato Press workshop, Tom Haugomat's workshop, and the Broken Frontier panel. But I'm really excited in general to experience the illustration/comics scene in London!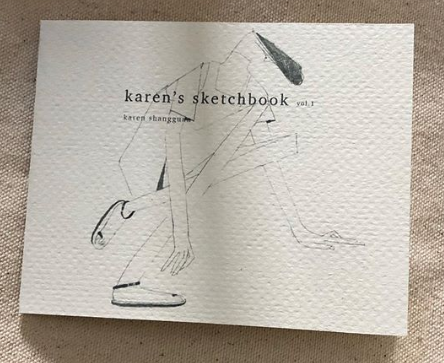 BF: What are you working on next?
SHANGGUAN: I'm working on an anthology book of comics and drawings. I've just wrapped up the ideation stage and started writing and sketching. It's a project I've been wanting to pursue for a while!
Interview by Ally Russell
Karen Shangguan will be exhibiting at ELCAF. For more on her work visit her site/shop here and follow her on Instagram.
For more on ELCAF 2019 visit the festival site here and follow them on Twitter here.