A busy daytime in the city and the Overseer's young apprentice takes advantage of his master's drink-inspired stupor to follow the object of his desire – the entrancing (apparent) daughter of the keeper of the Curiosity Shop – back to her abode. There, in that treasure trove of strange trinkets and seemingly magical objects, he initially feigns interest in a purchase to gain her approval. But with her father away and only Bushi, a talking suit of samurai armour keeping her company, the mischievous Suzie has other, darker plans for her apprentice admirer…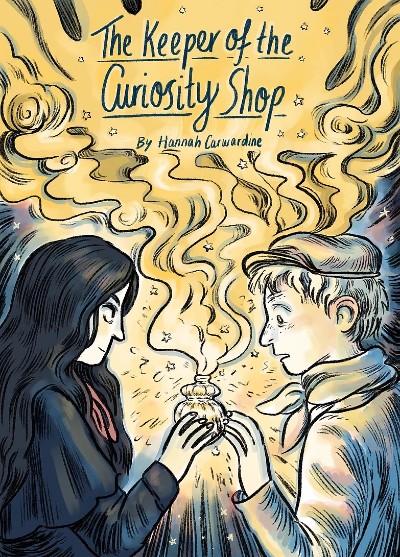 Hannah Carwardine's flowing visual style was an immediate draw for me when considering who would make up this year's Broken Frontier 'Six Small Press Creators to Watch' and her short online fantasy comic The Keeper of the Curiosity Shop is the perfect introduction to her approach to the page. Look, for example, at the way she builds up a sense of place and space through differing perspectives as we travel through the environs of the city, or the way that she constructs scenes bursting with background detail, inviting the reader to immerse themselves in the fantastic locales they depict. Carwardine's use of colour is also always carefully chosen throughout her work and here the restricted palette adds to the sense of mystery, with the one breakaway from the pink and blue hues that saturise most of the pages of The Keeper of the Curiosity Shop emphasising a pivotal moment in the story all the more dramatically.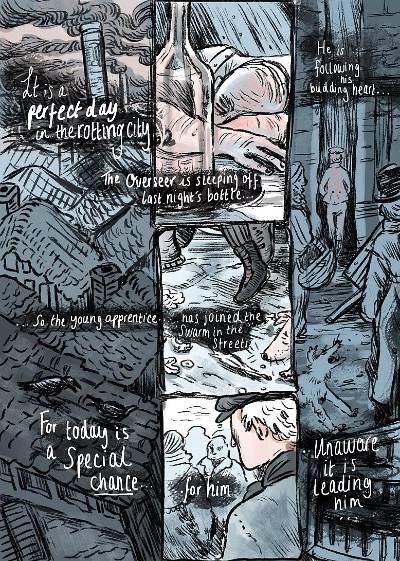 Beyond its fantasy influences The Keeper of the Curiosity Shop sets up a number of mysteries that leave the reader eager for follow-up stories. What is the true purpose of the Curiosity Shop? Who is its Keeper and what is his real relationship with the mysterious Suzie? What is the story behind Bushi and the suit of armour he appears to haunt? And is there anything to the rumours that the city's population repeat about the shop and its inhabitants?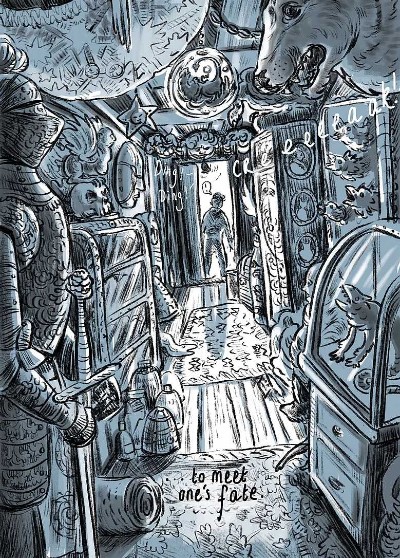 There remain aspects to The Keeper of the Curiosity Shop that are indicative of an artist finding their way around the structure of the comics page and learning as they progress. Carwardine mentions in the comic's afterword her awareness of this, describing the end product as "a little rusty" after a period away from comics. But while there are occasional awkward transitions in terms of narration and lettering placement, for example, Carwardine's visual storytelling is a delight throughout.
The Keeper of the Curiosity Shop is free to read online on Hannah Carwardine's site here. Take a look at it but also take the time to get familiar with the wider practice of the first of our latest crop of Broken Frontier 'Six to Watch' creators to be reviewed in 2021. It's an investment that will pay dividends.
For more on the work of Hannah Carwardine follow her on Twitter here and on Instagram here. You can visit her site here.
Review by Andy Oliver