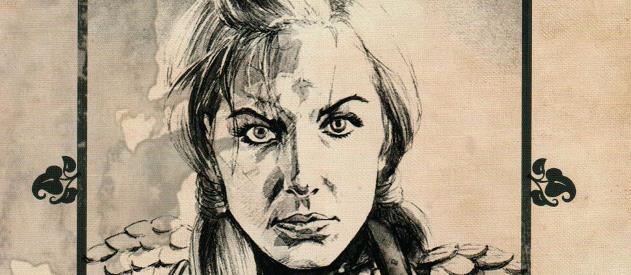 Writers Conor McCreery and Anthony Del Col are off to a great start with the first two issues of Kill Shakespeare: The Mask of Night. A pirate adventure featuring Shakespearian characters in sometimes unfamiliar roles, it's a high-stakes adventure on the high seas that offers a welcome balance of action and story.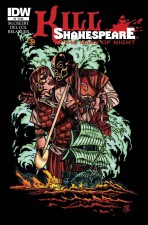 Viola and her lover, Captain Cesario, are living the pirate life aboard their ship, the Boreas. The treasure of a recent victory includes Juliet, Hamlet, Othello, and Shakespeare, after they survived the destruction of Prospero's island. And, unfortunately, their presence aboard the Boreas has made the pirate ship the target of the Lavinia, the mightiest ship in the armada of Titus Andronicus.
Viola and Cesario are of opposing views as to their course of action, and a great fog gives Cesario the idea to head straight for the Lavinia and pass it under cover of the mist. A deranged Othello cries out that Desdemona is aboard the Lavinia, thus giving away the position of the Boreas. The Lavinia fires upon the exposed ship, and Viola decides to relieve Cesario of his captaincy.
As the tension builds throughout issue #2, aided by a nail-biting four-page "silent" scene, McCreery and Del Col move their characters through wrenching emotional upheaval. It's a recipe for success in a comic that delivers riveting action, and a credit to artist Andy Belanger, whose bold lines and subtle expressions offer intrigue and propel the story forward.
McCreery and Del Col recently sat down and answered my barrage of questions about The Mask of Night.
Let's start with Cesario and Viola. In Twelfth Night, Cesario is Viola's alter ego. Here, they are lovers at a dangerous crossroad in their relationship, and Viola isn't as much in charge as she'd like (although she'll change that soon enough). Discuss conflict for Viola: there is an open confrontation with Cesario, but she also has an inner turmoil brewing.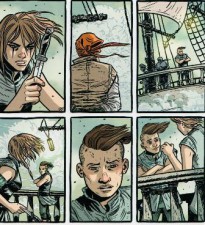 Conor McCreery: One of the things we thought was interesting about the idea for The Mask of Night was playing a classic Kill Shakespeare "What if" game: "What if Cesario was real, and that in the play Twelfth Night Viola says she's this guy Cesario because she knew him?"
We want to leave the audience guessing, however, as to whether or not she took this name to honor Cesario or to reclaim the name from someone whom she felt was unworthy of it.
We also wanted this arc to be a bit of an "anti-romance": Cesario wants to settle down and have babies with Viola, fundamentally misunderstanding how the woman he loves is going to see that idea as a cage.
So you have Viola having to battle herself as far as dealing with this proposal from Cesario. Is he trying to "decide for her" as she claims? Or is Viola turning away from something that could make her happy? Essentially, it boils down to career versus family, which I think is a pretty universal question for both men and women.
Anthony Del Col: The question of how people change as they grow older or when entering a relationship (whether it's a romantic relationship, friendship, business partnership, etc) is a great one to ask. How many traits of the other person do they take on? How much stays the same? And how much does the person fight this sort of change?
You accomplish much of the character development in The Mask of Night between the action sequences without relying on heavy amounts of dialogue. How do you typically script sequences like the silent scene of ships passing in issue #2?
ADC: The main characters of The Mask of Night (Cesario, Viola, the other pirates) are not poets or beings of learned education, despite being Shakespearean characters. As such, we've made a point to keep the dialogue a little simpler and—importantly—of lesser volume.
For the four-page silent ship-passing scene, we really wanted to capture the feel of a tense moment to make readers feel they are there in the boat with the characters. It was also something that we thought artist Andy Belanger would relish; he's gotten to be amazing at focusing on characters' emotions in these sorts of scenes.
CM: Basically I just got out of the way. Actually, I was worried four pages were too many, but people love the sequence, once again proving how little I know about comics. [GRIN.]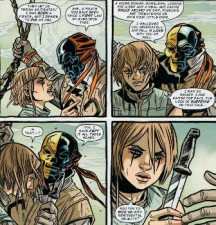 How do you determine which parts of Shakespeare's works to include in any given issue?
CM: Some of it is planned out ahead of time, as far as major plot beats. For example in the original Kill Shakespeare series [SPOILER ALERT], we knew we wanted to have a reverse balcony scene, with Juliet the one climbing the balcony, before we started the scripts, but we didn't yet know where or how that would play out.
Most of the specific Shakespeare references come in the moment of writing. Anthony and I spend a lot of time on the wonderful Ben and David Crystal's website Shakespeare's Words to help find the perfect Shakespearean quote for a scene.
ADC: When I sit down to write an issue I always break down what's going to happen and try to find a similar scene/situation in one of Shakespeare's plays (or even a sonnet), to see if I can draw a parallel and bring some of that into our scenes. If you're gonna steal from someone, steal from the best!
Your characters say volumes with their eyes, but Cesario's mask doesn't permit us to see his eyes. Rather, the position of his mask provides insight to his emotions. Can you discuss this interesting trait?
ADC: A lot of Shakespeare's characters are dual-natured – they think and act in many various, often opposing, ways. And that's what makes the use of a mask so interesting—it adds another level to this deception.
We also like the fact that it's a symbol of Cesario's lore—his trademark, if you will. Without the mask, he looks like any other pirate. With the mask, he's the fabled Captain Cesario. It's great to add this sort of detail to a character.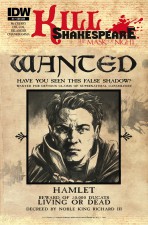 CM: I think this shows just how brilliant Andy Belanger is as an artist. Here we went and gave him a major character that for more than half the tale Andy wasn't going to be able to have him do any face acting to get his point of view across. Andy didn't even blink – and I think, half way through The Mask of Night, it's become clear that this wasn't a handicap in the least.
We thought that the two-toned mask could do a lot, because it takes all of Cesario's pronouncements and makes them seem as if they could be jovial or sarcastic or deathly serious.
And of course it is a literal mask. It's no accident that Cesario tends to doff this "false face" when he really needs to say something important.
What question about your work do you wish journalists would ask, but they never do?
CM: I feel that the deal with the devil we made to be so awesome has been woefully short-changed by the comics press. We negotiated really hard with the great horned one and that just gets ignored. I mean, come on, we got commemorative key-chains and everything!
ADC: I sold my commemorative key chains for some magic beans—I don't know why more people don't ask me more about that.