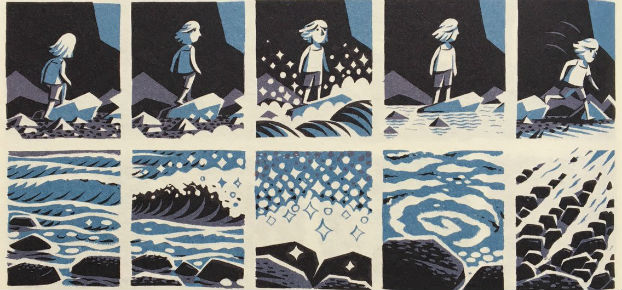 The profound eloquence of artist Jon McNaught's storytelling lies in his ability to speak to us without words; to evoke a sense of shared experience on a purely empathetic level; and to visually articulate emotion with the subtlest yet deepest potency. There's a Broken Frontier pull quote on the back of Kingdom, McNaught's latest graphic novel from Nobrow Press, that I hope communicates something of the appeal of his distinctive approach to comics narrative. Taken from my review of his book Dockwood on the site back in 2013 it speaks of his "canny knack for for finding something compelling in the humdrum and the monotonous; of imbuing each tiny moment with a flowing, rhythmical splendour of its own."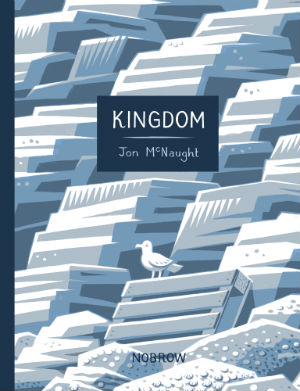 The power of McNaught's practice then is in the nuanced delicacy of his sequential craft and his ability to tap into memories that are so recognisable that they feel almost communal. Kingdom follows a family holiday as a mother takes her children Andrew and Suzie on a weekend trip to a caravan park near the seaside (the titular Kingdom Fields).
Over the course of the time we observe them they will explore the unloved environs of musty museums, the incongruous yet entrancing pull of amusement arcades, and the enchanting tackiness of local gift shops. But running parallel to these experiences is the chance to immerse themselves in the local countryside, to experience the flora and fauna of the coast, and to make fleeting holiday friendships. During their stay these worlds will converge in ways both obvious and surprising.
The term "psychogeographical" seems to have lost currency in current comics commentary yet Kingdom's insightful examinations of how we interact with our environment, and the symbiotic way in which we shape it just as much as it shapes us, is very much at the heart of this visual essay on place and memory. McNaught is at his finest when recreating a childhood perspective of the wider world, whether that be in Suzie's perceptions of the vastness of the motorway in the opening pages – as it reduces her to one insignificant traveller outside of the comforting confines of her own everyday existence – or as so poignantly captured in her mother's disappointment later in the book at realising the local "Mermaid's Cave" of her own younger years was preserved as something far more magical in her memories.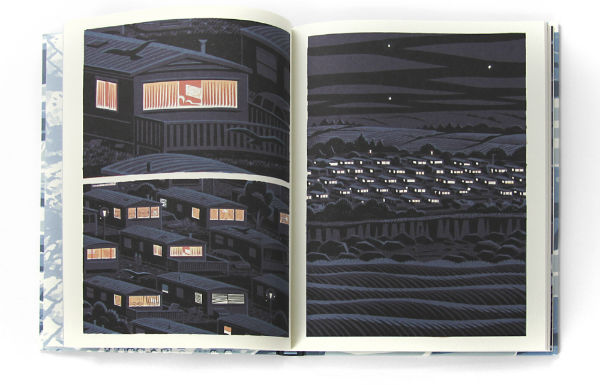 McNaught needs no overt exposition to convey these themes. Through his measured pacing and careful changes in locational perspective he makes us feel his comics rather than read them. The overwhelming artificiality and clinical coldness of the supposedly welcoming and relaxing service station, for example, or the dilapidated museum acting as dormant repository, unaware of how brutally ironic it is that time has passed it by. Realities are juxtaposed in Kingdom before slowly interweaving and merging. It's apparent in the unobtrusive social commentary inherent in Andrew's immersion in his video games as boredom overshadows his vacation, for example, or in the contrast of the enormity of nature with the existential transience of those who are under the illusion they control it.
The lyrical symmetry of McNaught's art is as beautiful in construction here as ever with the monochrome hues building up the most affecting sense of mood and atmosphere. His densely packed pages create a sense of movement and of the rapid passage of time, and yet also invite us to linger on the detail of each panel, gleaning their hidden truths and thematic vitality in isolation but also inviting us to consider not just what is happening between panels but just off them as well. Similarly, McNaught paints a picture of the family's complex inter-relationships with a graceful and delicate narrative economy that works on intuition rather than exposition.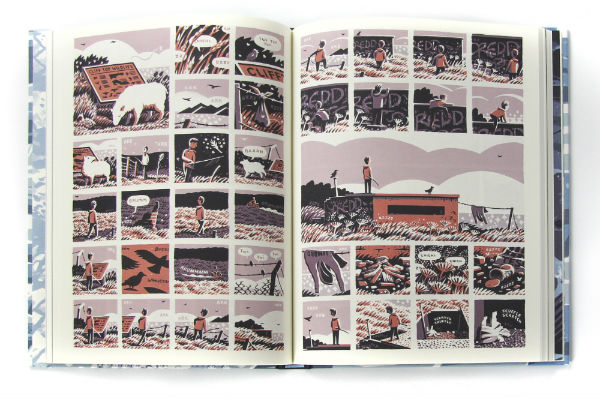 Kingdom is carefully and intricately designed structurally but without ever feeling sterile; every page signifying the sheer humanity of the venture. It's an unforgettable and unlikely alchemy of idiosyncratic artistic vision and realism with a huge emphasis put on the way comics can be used to depict differing aspects of time's passing. One particularly memorable sequence uses the language of comics quite brilliantly to portray a wider environment, despite using closely cropped and densely packed panels, as the family's consumption of fast food is contrasted with the geographical space around them. It allows us to see the same event in a variety of incremental perspectives, from the viewpoint of both the human characters and bird life; those multiple fragments combining to give us the fullest picture of the moment despite their fractured nature.
In these pages McNaught takes us back to the echoes a British seaside tradition; a nostalgically remembered past just tangibly out of reach with a splendour that probably only ever existed in the realm of wistful nostalgia. Without ostentation or indulgence, the sheer craftsmanship of Kingdom underlines its position as a paragon of the medium's unique storytelling potential. This quietly melancholic masterpiece is a tour de force of slice-of-life comics; one that won't just repay constant re-reading but positively demands it.
Jon McNaught (W/A) • Nobrow Press, £16.99
Review by Andy Oliver