It's time for another spotlight interview for one of our 2023 Broken Frontier 'Six to Watch' creators and today's subject is Spanish artist Kry Garcia whose Shortbox Fair comic Meteors we reviewed so enthusiastically here at BF last year. Ahead of her appearance at Gosh! Comics on Saturday, as part of the Broken Frontier signing line-up on Small Press Day, Kry talks to us about her practice, inspirations and the Spanish indie comics scene…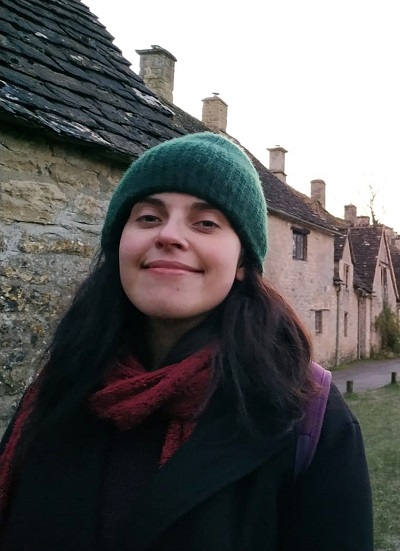 ANDY OLIVER: As one of our 2023 'Six to Watch' creators let's start with you telling us a little about your wider artistic background and your earliest entry points into comics?
KRY GARCIA: I'm lucky – I am the youngest of three siblings so I have always had access to comics from an early age. I was first interested in comic strips and publications like Dibus! Magazine and the Sunday newspaper comic supplement El Pequeño País. Then I got completely obsessed about Manga for a few years, and when I was around 11-12 I discovered Vertigo Comics and I never looked back. I was always drawing – I filled sketchbooks during family trips, I drew Pokémon characters to make friends when I started on a new school, and I created comics on stacks of paper that my parent stapled for me. But it was when I found Vertigo Comics that I thought "OK, this is definitely what I want to do": the stories were strange and dark, surrealist at times and whimsical – all the things I still love.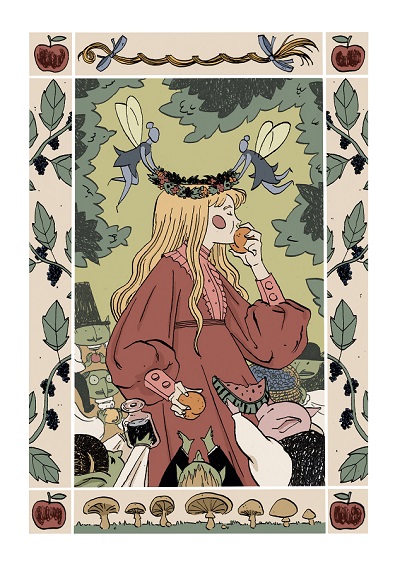 AO: How does the Spanish small press scene compare to the UK one in terms of visibility, practice and size? Is there a similar sense of community?
GARCIA: I am from Southern Spain (Cádiz), which is not exactly the epicentre of the indie comics movement, sadly. In 2013-2014, after finishing a degree in Fine Arts, I spent one year studying at Escola Joso (the first comic school in Spain if I'm not mistaken) in Barcelona and that was a different story. I made zines with my classmates, I attended small press festivals, … That was my real first experience with indie comics and it was fantastic. So to answer your question, I feel that in Spain we are not close yet to the wonderful small press community we have in the UK, but it's becoming more and more popular, and festivals like the Gutter Fest and Graf are great examples of that.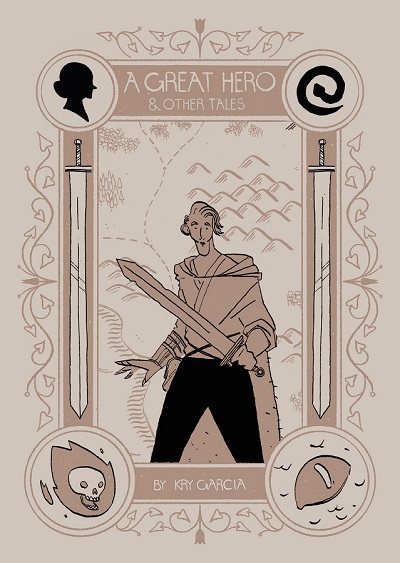 AO: There's a rich vein of fantasy and folklore that runs through your work like the anthology A Great Hero. What do you consider among your influences and inspirations?
GARCIA: I have always loved ghost stories, legends, fairy tales, … that sort of stories where magic or unknown forces play a big part. I have a good collection of folktales anthologies, particularly Northern and Eastern European, but I also enjoy learning about a fairytale from anywhere else in the world and spotting common themes. That's what I like the most about folklore – it might seem wildly different in every country but if you dig deeper you'll notice that, no matter your culture, all human beings desire and fear pretty much the same things.
Then there is the Hero archetype, which I always go back to. It's a way to cope with my own saviour complex, but also to reflect on themes like expectations, fate or loss. There are plenty of heroes in folklore and mythology, and obviously the Hero's journey is a major influence for me, but I also find inspiration in more contemporary sources, from Hellboy to Buffy or Finn the Human.
Lastly, I feel that's only fair to address the self-indulgence of it: writing and drawing fantasy is simply a lot of fun.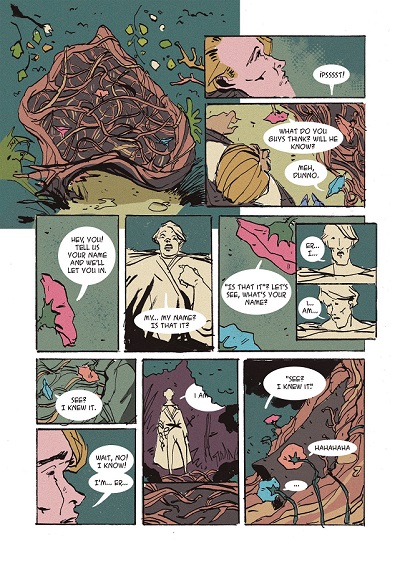 From A Great Hero
AO: Your short comic Meteors was selected as part of last year's Shortbox Fair. As a slice-of-life story it was perhaps something of a departure for you. Can you elaborate on the themes of that comic? And how much of a boost in confidence was it to be selected to be a part of such a highly-regarded event?
GARCIA: I feel autobiographical comics are huge here, especially in small press, and I wanted to do something more personal and stop hiding behind fantasy tropes, so to speak. It still has a fair amount of fantasy and fiction in it but there is so much of unfiltered, personal stuff. The last six years have been wild – I left my country and my family behind, I turned 30, the pandemic… all of this made me reflect on the person I used to be and how that person is somehow gone, like she disappeared and the world didn't even notice. It's also about growing apart from friends and, more literally, about the mystical experience of witnessing a meteor shower, something that I used to do every year. And being selected for Shortbox? A dream come true. I love Shortbox and Zainab is a small press superhero.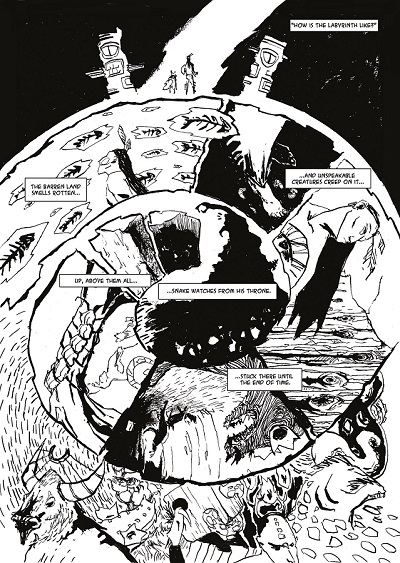 From A Great Hero
AO: You've dabbled in webcomics too. What have been the challenges for you in delivering digitally both in terms of presentation and building an audience?
GARCIA: It's weird because I actually started as a webcomic creator – when I was 15-16 I published a serial, silly webcomic about a cat that ate people. Then more than 15 years later I decided to give it a second chance and well, things couldn't be more different. I'm still figuring out the presentation part – there's so much to keep in mind! In terms of the audience, it's a funny thing: it seems to me that finding an audience is harder than ever and yet people are craving webcomics, so it might be a matter of choosing the right platform (or being in almost all of them at the same time, as exhausting as it can be).
However, I admit that using all the potential in webcomics is not my main goal. I admire the work of people like Emily Carroll or Javi de Castro and maybe in the future I will try to be more ambitious about this, but for now I see webcomics as a way to share my most experimental work directly to the readers.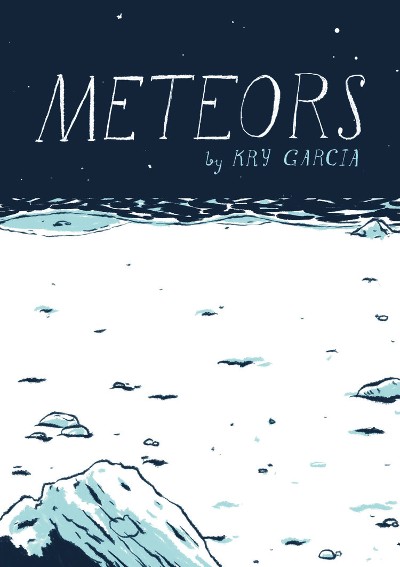 AO: Can you describe your artistic process? What mediums do you work in?
GARCIA: When I'm also writing the story, I try my best to separate both stages, writing and drawing, almost becoming two different people. First, I focus on writing the story down: I love to go to a coffee shop (to avoid distractions and make it more enjoyable) with a pen and a notebook and write a messy, raw version of it without thinking too much. A few days later, I type it all on my computer and that's when I first edit the story. I usually write one or two more drafts and that's it. My scripts are written like screenplays – this helps me explains things like mood and intention to my "future self", the one that will draw the story. It sounds a bit mad but I swear it works.
Then it's time to draw. I usually thumbnail and ink traditionally, but draw and colour digitally, just because it's much easier to move things around and try different compositions this way. Meteors was an exception – I made the whole thing digitally on my iPad due to time constraints and it was an interesting experience but I wouldn't try it again.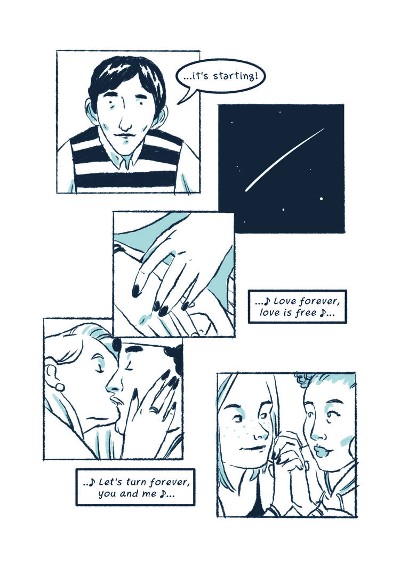 From Meteors
AO: Your comics to date have been shorter narratives. Do you have any plans for anything longer-form?
GARCIA: I feel way more comfortable with short stories but my next project will be a long story broken into small ones. I think it's a nice compromise!
AO: And, finally, what's next for Kry Garcia. What are you currently working on?
GARCIA: I've been working on a webcomic since 2014 (!) and it has changed so much through the years, but recently I decided to put everything else aside and just get it done. It's this sword and sorcery, road-movie-like tale about a girl trying to save her older brother. I spend most of my energy trying to fight my Impostor Syndrome since it's a lot of "firsts" for me: first longer story, first love story, first queer characters. But it has all the things I love, it will be funny, heart-breaking and exciting, and I'm trying to enjoy myself more than ever, thinking about it more like a "playground" than anything else. The idea is to start posting the chapters before the end of the year.
You can visit Kry's online store here. Follow Kry on Twitter here and Instagram here.
Interview by Andy Oliver
Kry Garcia will be at Gosh! Comics this Saturday, August 5th for Small Press Day