One of the great draws of Latvian publisher kuš! comics' signature anthology š! is that its cross-continental line-up gives us markedly diverse approaches to sequential art storytelling from across the globe. That's of particular interest with the most recent edition of the acclaimed digest collection, given that the theme this time around is 'Queer Power'. Artists from Canada, the Netherlands, China, Argentina, Brazil, Slovenia and more give their own perspectives on the subject including stories that range from easily accessible autobio strips to abstract, representational offerings. (Cover below by Dottie Gordon).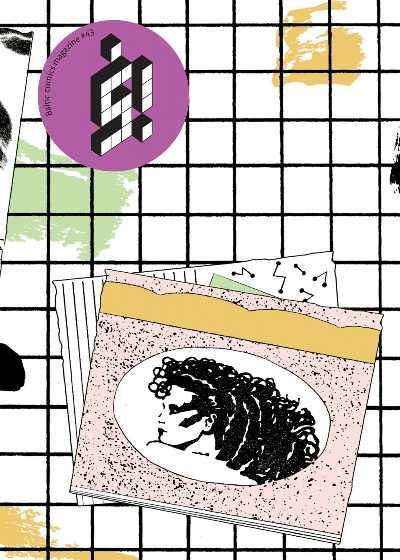 In that slice-of-life category is Jana Ribkina's 'My Womanhood' (below left), an account of growing up in Russia in the '90s on that dissects heteronormativity and the repressive nature of traditional gender roles with precision and thoughtfulness. Similarly Latvia's Sabine Moore combines very personal experience of being compartmentalised and abused to the point of not being able to express one's true self in 'Finding My Voice' (below right) which blends powerful narration with a sprawling stream-of-consciousness visual style.
Gosha Elaev's 'What is Queer Power?' takes on an extra layer of the personal through its presentational style of rough doodles on photographed torn-out notepad pages, while Laura Ķeniņš uses a simple visual metaphor for a growing self-comfort in queerness in 'Patternmaster' which uses colour to great effect as patterned clothing becomes representative of an eventually exultant acceptance of identity.
From Argentina Jules Inés Mamone gives us 'Relieved' (above left), a tender tale of coming out to someone close in later life that is delicately and sensitively paced. Meanwhile Momo Gordon's 'Ja' (above right) frames a relationship in terms of objects and environments with some truly inventive use of white space and unconventional lettering placements. And Barrack Rima explores gender identity in 'Boy or Girl?' (below) through cut-out figures that subtly embody the fluidity of gender.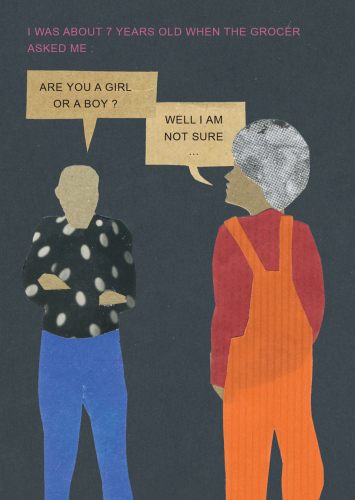 As often happens with anthology offerings I have barely touched on the range of strips and stories in s! #43. But the many varying styles here give fascinating alternative perspectives on the 'Queer Power' theme from a number of international vantage points. s! remains a consistently essential and rewarding collection.
Atis Jākobsons, Barrack Rima, Dottie Gordon, Erik Nebel, Georgy Elaev, Ivo Puiupo, Jana Ribkina, Joana Estrela, Joris Bas Backer, Jules Inés Mamone, Laura Ķeniņš, Mētra Saberova, Momo Gordon, Nanqibai Zheng, Nuka Horvat, Sabine Moore, Sean Christensen, Timur Aloev, Vivanna Maria Stanislavska (W/A) • kuš! comics, $15.95
Review by Andy Oliver